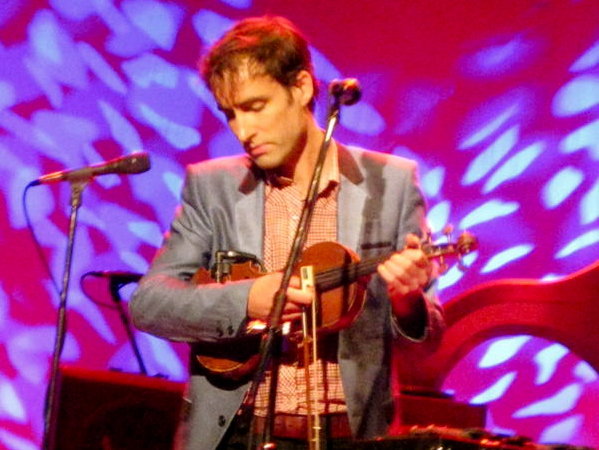 Bird soars during an intimate show at The Pabst
After a crowd-pleasing show on Friday night backed by a full band, Andrew Bird returned to The Pabst Theater Saturday to show off his acoustic talents, accompanied by indie songstress St. Vincent.
A serious guitarist with a sweet and breathy school-girl voice, Annie Clark, aka St. Vincent, is the former guitarist of Polyphonic Spree and Sufjan Stevens. She highlighted music from her latest album, "Actor," including "Save Me From What I Want," "Black Rainbow," "The Party," "Marrow" and "Actor Out of Work."
Clark's profound, dramatic lyrics and soothing voice often mixed with harsh, incongruous guitar solos. This juxtaposition of sounds, from mellow to mad, demonstrated Clark's range as an artist.
St. Vincent was a perfect lead up to Andrew Bird's eclectic improvisation. This was Bird's first Milwaukee appearance since he performed with Peter, Bjorn and John in 2007. This solo show gave fans a more intimate peek into Bird's diverse talents.
Bird, a Chicago native, is a multi-instrumentalist proficient on the violin, guitar, mandolin and the glockenspiel. He carefully layers samples of sound constructed using multi-track recorders and loop pedals. Bird produces a sound so unique and abundant, he is the epitome of a one-man-band.

Bird's candid and humble banter with the audience was engaging and fun, as he admitted that he "wasn't sure what was going to happen tonight."
Famous for recreating his songs during live performance, Bird did just that to an attentive crowd as he performed, early on, a version of "Dark Matter." He also performed "Tenuousness" and "Effigy" from his latest album, "Noble Beast."
As a classically trained violinist, Bird revealed both influences from classical and blues music in his new material. Perhaps what gains him the most recognition, though, is his uncanny ability to whistle. Bird's melodic whistling mirrors his surname and is just another element that sets him apart from other musicians.
Bird only played a few of his older songs: "Masterfade," "Tables and Chairs" and an exceptional rendition of "Sythian Empires" with St. Vincent and her band.
For the encore, Clark and Bird covered Bob Dylan's "Oh Sister" and Bird concluded with "Natural Disasters" from the "Noble Beast" album. One highlight that came before the finale was St. Vincent and Andrew Bird's duet of "Marry Me John," from St. Vincent's 2007 album, "Marry Me."
Bird continues his tour in the Midwest before heading to Europe, Australia and Asia later this fall. Fans made it clear that both Andrew Bird and St. Vincent are welcome back in Milwaukee any time.
Facebook Comments
Disclaimer: Please note that Facebook comments are posted through Facebook and cannot be approved, edited or declined by OnMilwaukee.com. The opinions expressed in Facebook comments do not necessarily reflect those of OnMilwaukee.com or its staff.