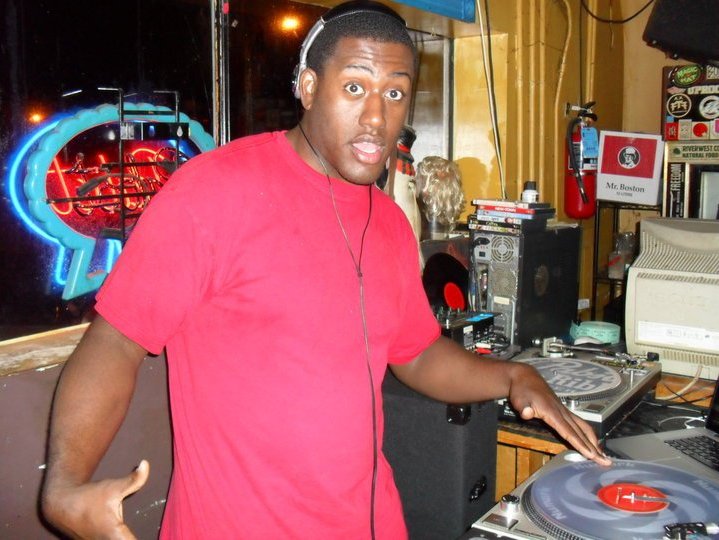 DJ Bizzon ready to deliver Takeover Freestyle Battle finals
Graffiti painting, breakdancing, deejaying and emceeing are all pillars of the hip-hop culture, and the hip-hop culture is something that local club DJ and radio personality Tyrone Miller has been doing his best to push forward in a positive manner through his series of Takeover events.
Several months ago Miller decided to take his Takeover platform to the stage in the form of an emcee battle that called all lyric-spitting rappers to test their skills in a freestyle competition.
Freestyling, an art of rapping that calls on the rapper to construct lyrics and verses on the spot, is an excellent test of wit and verbal prowess. Being able to think on one's feet is crucial when participating in a rap battle because the freestyling turns from lyrics about anything and everything to being solely focused on the opponent one's facing.
It's raw. It's in your face. When done right, it can exhilarating to witness.
This Friday Miller, who also goes by DJ Bizzon, is holding the finals of his Takeover Freestyle Battle series at Stonefly Brewery. The four winners of the preliminary rounds will be joined by the best four freestylers that didn't win their specific night of competition.
With a list of some of the finest Milwaukee hip-hop acts also scheduled to perform, this event promises to be an interesting evening for even the most novice hip-hop fan.
I talked with Miller about the event and he delivers some good information about why this event is so special to him and also reveals that he will once again incorporate another aspect of the hip-hop world.
OnMilwaukee.com: Tell me about the finalists and what got them to the finals.
Tyrone "DJ Bizzon" Miller: The finalists are the winners of the previous four battles and the best of the rest. The winners include newcomer K.G. and veterans Scott Summers and Yo-Dot. Scott Summers and Yo-Dot were both finalists in the Mic-Club Tournament which happened a couple years ago and they are still bringing it. The rest are the emcees I felt performed the best, but didn't win that night but could have easily won on a different night. They include Denku, Sean Snipes and Truth. I might have some other surprise battlers as well so stay tuned.
OMC: Why is freestyling so important and how do you feel about people using loosely memorized verses as freestyles instead of actually coming up with their lyrics right on the spot?
TM: I think freestyling is important because as an emcee, when you are on stage performing and something goes wrong, you have to keep things going. Blaming the sound guy doesn't get you any points if the track cuts out, so finishing your verse or freestyling keeps the show going properly. Also, I think it just makes emcees better. Practicing this art, which not a lot of emcees do anymore, brings more styles, words and lyrical patterns into your arsenal. What emcee doesn't want that?
Using the loose, memorized verses, a.k.a. "free verses," are very obvious to people who've seen battles before. So, an emcee can do it but you'll get booed off stage very fast. So go ahead and try, which people have, but it won't work. It's one thing to plan out a strategy as you walk in the room and see your competition. If someone is looking really bummy, you gotta call them out on it, you know? But, it's another thing to sit at home and memorize lines that sound funny in your house but will probably be completely irrelevant on stage. These eight finalists have proven themselves as able freestylers which is why I'm glad I was able to bring them all back for this final battle.
OMC: Who do you have performing during the night and why did you pick those specific acts?
TM: I have Speakeasy, AUTOMatic and The Rusty P's as the performers for the night. I've gotten so much feedback about the performers in the prelim rounds, positive and negative, which I appreciate. As a fellow blogger, you know how it is to have your opinion out there for the world to see.
These were the acts that I feel are some of the best hip-hop performers Milwaukee has to offer. They draw the crowd in, the lyricism is on point, the beats bang, and they know how to hold a mic without blocking it, which makes for a great live show. I wanted to give the crowd different aspects of emceeing so they can see and understand the difference and how much work these emcees put in.
Performing as well are Elias Vallejo and Field Lehmann in a live art battle. There are tons of great artists in the city, too many to name, but these guys are good people and great artists so I had to have them involved. I'm consistently impressed every time I see them live or see a final piece so it was kind of an obvious choice for me.
OMC: If nobody has ever been to a freestyle battle before, what can people expect from those who are participating?
TM: They can expect the raw energy of hip-hop. We all think we can freestyle so great in the car when no one is around – at least I do – but when an emcee is on stage letting it out for the people to see, it's dope. You'll see some solid lyricism and creativity live on the mic, nothing scripted. And, if you don't like it, let your voice be heard. The crowd is the extra judge so they are just as much a part of it as the people on stage. The emcees feed off the crowd so if they are good, they'll be on stage longer and if they are wack it's the crowd's job to get them gone.
OMC: What's next for The Takeover?
TM: Man, I don't know. I will definitely continue this battle series for years to come. This was the first shot and I'm glad to say it's been successful so I'd like to plan it out better, more scheduled, get more people involved. I'm glad to have sponsors like the clothing store Re-Threads because they help the community and I want more of that.
The Takeover is all about giving people more options than just standard club nights or the same old thing. Also, letting people know if they are into hip-hop or just into cool stuff, there is a place for you. Sometimes all the aspects of hip-hop aren't broadcasted and I take it as my job to spread the knowledge around.
Facebook Comments
Disclaimer: Please note that Facebook comments are posted through Facebook and cannot be approved, edited or declined by OnMilwaukee.com. The opinions expressed in Facebook comments do not necessarily reflect those of OnMilwaukee.com or its staff.