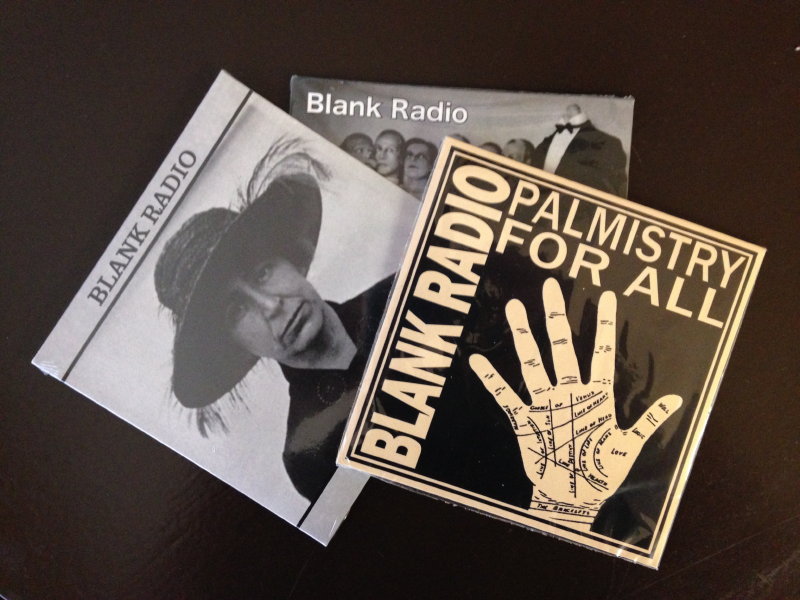 Blank Radio finds inspiration in musical improv
The world of the music industry is typically defined by an impressive amount of fussiness. Almost any single, much less album, can't hit the Top 40 airwaves without some careful managed tinkering in order to reach the record execs' goal. A goal which is almost always give the audience something they've both heard before yet just new enough so we can make money.
The goal of Blank Radio? Give the audience – and itself – something completely new ... and have fun doing it.
"The idea is to cross all boundaries stylistically," said David Schoepke, one of the founders of Blank Radio.
For the past several years, drummer Schoepke, his musical associates Matt Miller and Joey Carini and multiple members of the Milwaukee music scene have accomplished this by meeting up at Schoepke's home recording studio and playing music. The catch: Everything they play is completely improvised.
"Every minute of it is improv," Schoepke said. "There's nothing that's preplanned in any way."
Schoepke and his two fellow collaborators started Blank Radio back in 2007 after being inspired by a live improvisational series at the BBC, as well as the thriving, vibrant improvisational music scene already present here in Milwaukee.
"There's been a strong improvisational music scene here for quite some time," Schoepke said. "Hal Rammel and Peter Woods are two people who've been at this for a while – 40 years for Rammel, building his own instruments and curating a series at Woodland Pattern. That's always been in existence, but there's been a bit of a resurgence."
Schoepke, Miller and Carini, however, wanted to bring a slight twist to improvisational music. Their plan was to invite other musicians of all different genres, instruments and specialties to join them in Schoepke's basement recording studio.
"We just started thinking, 'What would happen if we asked this person to join us?' What would happen if we asked that person to join us?'" Schoepke said. "It just kind of evolved where all of a sudden, I was compiling a list of 15, 20, 30 and now this year 50 musicians, people who I've known in the scene or people who are interested."
Schoepke, Miller and Carini may be the lead organizers of Blank Radio, but they rely entirely on the support and participation of their fellow musicians who decide they want to take part in their project and are alluring by the idea of trying to make music of all varieties with others at the drop of a hat.
"I try to keep maintaining the same disposition about music that I had as a kid," Schoepke noted. "You play with different things. You play with different people. You play different styles of music. To me, again harkening back to when I was a kid, you just sit down and play and have fun with it. And I look at this the same way. Have fun with it, meet people, have no plan. If the music goes in a certain direction – toward free jazz or rock or ambient or whatever – I don't care. Let's just have fun with it."
Schoepke and the rest of the Blank Radio project start recording each season around March and go through July, with each session running a total of about three hours a day.
"A lot of times, they don't know each other; other times, they know of each other," Schoepke said. "Since I'm manning the recording device, I'll say, 'Alright, it's running.' You'll maybe hear somebody mixing some stuff up or coming up with something – musicians are always noodling – and you can kind of hear something happening. Or else, sometimes the second everything is up, somebody just starts playing, and from there, it's just reaction.
"We've done different things where we maybe said we should start together, but other than that, nothing – no tempo, no key – has been determined."
It can be different, especially since there's no audience or crowd really to help the musicians kind of discern whether it's time for a change or if what they're doing is coming together sonically. However, usually the recording sessions get into a version of a groove, something that Schoepke says resembles "conversation."
"I always tell people to just do whatever they would do in their normal situation," Schoepke said, "other than sitting down and playing a blues jam where people are playing solos over and over again. That's the one thing we don't want. We're looking at it as, 'Let's write a song.'"
So far in the 2014 season, the Blank Radio project has done about nine recording sessions, each one with a completely different set of instruments and players – as well as completely different results.
"We've had sessions where we've made enough music to make an album, and then there's some where nothing comes of it at all," Schoepke admitted. "It's a part of what's happening. You're coming together with people you don't know, playing music that nobody's discussed. There's always a good chance it's not going to work, but there's usually there's a piece in every session."
By the end of a five-month recording season, Blank Radio usually has enough material to create about five albums of music a year. Each one is usually released the following year after being recorded in order to give Schoepke time to properly mix and master them, as well as give the musicians, Miller and Carini a chance to hear the work and put in their input. Blank Radio then posts the albums online for sale on the band's website, iTunes and CDBaby.
The project's latest album – a compilation of two separate sessions, including percussionist and "gong master" Michael Bettine – is going to be returned to the performers this week, which means it should be released to the public within the next month. However, Schoepke notes that Blank Radio's goal isn't really about making albums and making money off of them. For him and Blank Radio, it's a way of capturing a moment of creativity, one that could otherwise disappear as quickly, as suddenly and as spontaneously as it was created.
"It's not about mass producing and selling," Schoepke said. "It's more like a document of this period of time."
Facebook Comments
Disclaimer: Please note that Facebook comments are posted through Facebook and cannot be approved, edited or declined by OnMilwaukee.com. The opinions expressed in Facebook comments do not necessarily reflect those of OnMilwaukee.com or its staff.