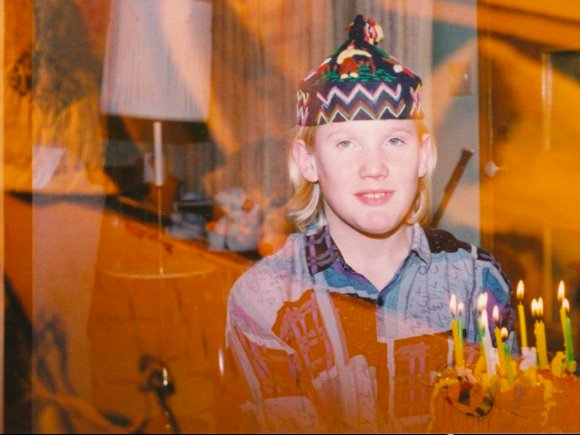 Milwaukee musician remembered with fund-raising memorial event
Ben Cervenka didn't take his birthday, or any day, for granted.
Diagnosed with cystic fibrosis at a young age, he knew the disease would someday take his life. And so, from a place of humor and reverence, he threw "another year I didn't die" parties on his birthday.
Cervenka passed away on Halloween, just six weeks from reaching his 32nd birthday, but friends and family will celebrate in his honor as well as raise money for cystic fibrosis research.
"Ben was loved by many in Milwaukee so we are coming together to honor him and raise funds for the Cystic Fibrosis Foundation. He was a patron and supporter of many local businesses, musicians, bartenders and was a really wonderful friend," says Michelle Badura.
The memorial / birthday party and benefit takes place Saturday, Dec. 13 at Uptowner, 1032 E. Center St., from 3 to 9 p.m.
Cervenka was a singer-songwriter who lived in Riverwest. He died at a hospital in St. Paul, Minn.
The benefit will include a silent auction of Cervenka's musical instruments and other miscellaneous items including an Epiphone guitar, Mexican Fender guitar, Fender six-string lap steel guitar, old Harmony fuzz pedal, Nintendo Wii, Cervenka's black leather motorcycle jacket, his motorcycle boots, a hockey sweater and more.
Jaill and Scrimshaw will provide live music and Sprecher beer will be available for $2. There will also be a slideshow featuring photos of Cervenka, storytelling and a playlist of his favorite songs.
All proceeds – including the bartenders' tips – will go to the Cystic Fibrosis Foundation.
A raffle will include gift certificates provided by local businesses, including The Irish Pub, Hi Fi Cafe, Acme Records, The Odd Duck, Sky High Skate Shop, Nick's Musical Instruments Repair & Construction, The Gig, Collector's Edge Comics, Milwaukee Urban Acupuncture, Cafe Corazon, Fischberger's Variety, Vanguard, Riverwest Public House, Foundation, Milwaukee Pet Supplies and others.
"The support I have received in donations has been wonderful," says Badura.
Cervenka grew up in Grand Marais, Minn., and had a strong interest in music. In high school, he started to form bands. After graduation, he moved to Milwaukee to study film production at the University of Wisconsin-Milwaukee. During his time at UWM he managed the campus theater.
After he graduated from UWM, he moved to Riverwest where he had many friends and acquaintances.
Cystic fibrosis is a disease passed down through families that causes a thick mucus build-up in the lungs, digestive tract and other areas of the body. It is one of the most common chronic lung diseases in children and young adults and is usually a life-threatening disorder.
"Ben was a gentle and kind-hearted person. He never had anything bad to say about anyone and I have never encountered anyone who could say anything negative about him. He was a great listener and an amazing friend," says Romina Cordoba, one of the organizers of the event and Uptowner bartender.
People are also encouraged to donate money by sending a check made out to the Cystic Fibrosis Foundation, 20875 Crossroads Circle, Waukesha, 53296. Please write, "Ben Cervenka Memorial" on the memo line.
Find more information about the event here.
Facebook Comments
Disclaimer: Please note that Facebook comments are posted through Facebook and cannot be approved, edited or declined by OnMilwaukee.com. The opinions expressed in Facebook comments do not necessarily reflect those of OnMilwaukee.com or its staff.