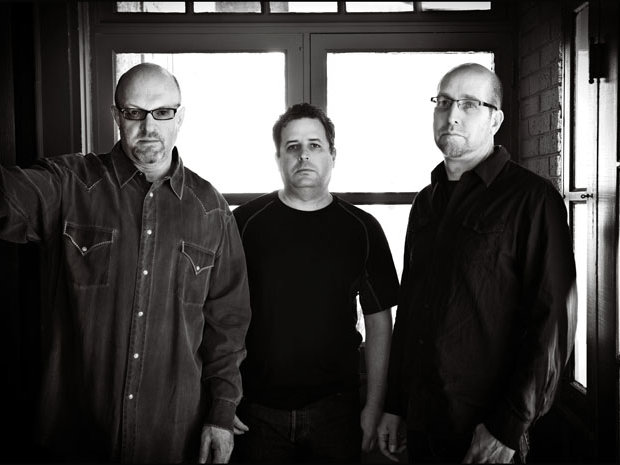 Commander Tang rocking up the block and into the rest of the city
You never know where you might meet your future bandmates. Maybe you'll meet them through a mutual friend. Maybe it'll be a chance meeting in a railway station. Maybe you'll meet them half a world away.
That certainly wasn't the case with Milwaukee rock outfit Commander Tang. The trio, comprised of 50-year-olds George Phillips (drums), Howard Bishop Ellis (guitar) and Bill Neilson (bass), didn't have to go very far at all to come together and start playing music. In fact, Phillips didn't even have to leave his front lawn or his block.
"One day, I was cutting my grass, and I turned around and Howard was standing on my sidewalk," Phillips recalled. "I had been in a band with Howard 20 years prior or something like that, so I asked, 'Howard, what are you doing here?' He said, 'I just bought the house four houses down.' It wasn't too long after that we collaborated on some things."
Finding the third member of their band was even easier; a few years later, thanks to some music serendipity, Neilson moved in right next door to Phillips.
"Everyone told me, 'The guy next door, he plays bass,' and I brushed him off for a couple of years," Phillips said. "One summer, though, we had a block party. Howard and I were collaborating on a couple of small things here and there. Howard's wife told us to go play together, so Bill came over and played with us. It was instant mojo."
"We played very well together, which isn't a given just because you live on the same block," Neilson noted.
The guys came together, performing with a few different members and groups before eventually centering their focus on being a three-piece band performing original songs. A name, however, would be needed.
"We had the obligatory frustration of coming up with a band name," Neilson said. "At this point, we were going to Maharaja for lunch about once a week, which was awesome."
"We were driving home, and we started riffing on food," Ellis added. "And I said, 'Remember Tang? My mom would buy us a jar of Tang, and I remember my mom buying us this stuff called Space Food Sticks.' And I thought: Commander Tang and the Space Food Sticks."
The Space Food Sticks didn't quite end up making the cut, but lo, Commander Tang was born. Since then, they've been stretching out from their one block in Washington Heights to bringing their music to the rest of Milwaukee, including a show Friday night at the Up and Under and another show Saturday night at Kochanski's Concertina Beer Hall, 1920 S. 37th St.
Though they all live on the same block now, the members of Commander Tang all come from very different backgrounds and regions. While Phillips is a Milwaukee native, Neilson hails from Los Angeles, and Ellis originally called Alabama home. Yet somehow they all wound up on the same road, and together, their various musical influences – ranging from William Faulkner and other Southern gothic authors to XTC to R&B groove – helped create Commander Tang's sound.
Though their inspirations may be disparate, stretched across a nation, the band's music and lyrics – according to Ellis – hit on one particular theme, one somewhat inspired by musicians like Steely Dan: examining the human condition.
"I don't know how it came to be this way other than serendipity, but we've written a lot about people involved in war, people involved in inner city struggles, people involved in situations where they are struggling with the issues life throws at them," Ellis said. "There's a collective empathy. Not a bleeding heart, look how sad this is, but just looking at the difficulty of the human experience and feeling compelled to write about it."
"We write love songs too, but we write a lot about people: the good, the bad, the ugly, the people who are struggling, the people who have it great, the people who want you to think they have it great. There are so many angles to the human experience."
For Commander Tang, that mission extends beyond merely writing songs. A part of their goal is to participate in concerts, shows and events that will hopefully help the greater Milwaukee community. For instance, on May 3, the band is presenting a fundraiser concert once again at Kochanski's in the hopes of raising money for Hope House, an organization that offers resources to those fighting off homelessness and promotes community health.
"These are precarious times for people," Neilson said. "It doesn't take much to slip down just enough to be homeless or need some help. So it's great that we can play and support people in need by playing music."
It's a lofty mission, but it's one that fits considering Commander Tang's overall musical aspirations.
"I think what we're really trying to do is find a place, if we haven't already, where we're inventing genres that are, like, look at that new and different thing glowing in the bowl there," Ellis said. "Is it likely that we'll go out on some label that would be willing to put ten cents into us to get a bunch of guys our age to drop everything and go tour for even a month? Who knows; anything's possible."
"At the end of the day, we have a fervent belief – almost obsessive belief – in the viability of what we're writing, and therefore the belief that, if we keep working at it, something will occur. We just don't know what that looks like."
And to think it all started on one block with a lawn that simply needed trimming.
Facebook Comments
Disclaimer: Please note that Facebook comments are posted through Facebook and cannot be approved, edited or declined by OnMilwaukee.com. The opinions expressed in Facebook comments do not necessarily reflect those of OnMilwaukee.com or its staff.