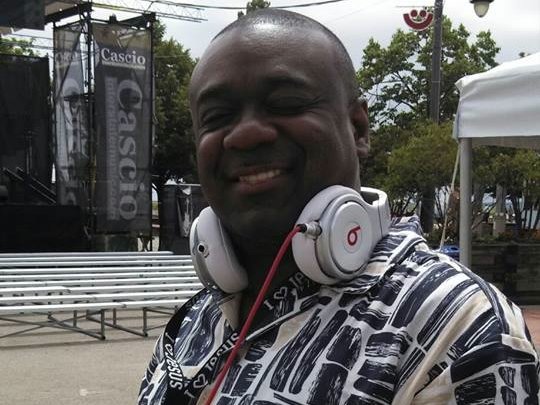 DJ McNeal mixes music, motorcycles and mentoring
Today, DJ Craig McNeal works at numerous clubs in Wisconsin and Illinois and is the co-host of The Boogie Bang on WMSE with Barry Johnson every Saturday from noon to 3 p.m.
McNeal says music has been a priority for him since he was very young. The 48-year-old grew up on 19th Street and Capitol Drive and attended Milwaukee Lutheran High School where he played bass in an R&B group called Sapphire Band.
Around the age of 17, he started DJing at the now-defunct Club International on 24th and Vliet Streets.
"I was DJing in clubs before I was old enough to drink," says McNeal. "The owners (of Club International) gave me a chance."
In his late teens, McNeal honed his skills and started entering local competitions, some of which he won.
"People started acknowledging my mixing skills," says McNeal.
By his early 20s, McNeal had regular gigs at numerous clubs, but when he found out his girlfriend was pregnant, he decided it was time to get a "real job." (McNeal is the father of four children who range in age from 27 to 6.)
McNeal started to work as a roofer with the Opportunities Industrialization Centers (OIC) program. He still works part time as a roofer today.
"I put on 70 percent of the roofs in the inner city over the years," says McNeal.
Despite his steady work as a roofer – and a job as a machinist – McNeal wanted to get back into music, so he went to MATC to take broadcasting classes to further enhance his skills.
Seven years ago, McNeal went to WMSE and talked to station manager Tom Crawford about getting a shot on air. He started an internship at the station and eventually connected with Johnson who "showed him the ropes" and invited him to co-host his Boogie Bang show.
"I was always a fan of WMSE radio, it inspired me a lot and I always wanted to be a part of it," he says.
McNeal usually hosts the "Miltown Thang" segment of the show which focuses on local artists. Supporting and exposing local talent is extremely important for McNeal, both on and off the air.
About a decade ago, McNeal started hosting events called "Sounds from the Underground." The events took place weekly at different clubs and featured performances by local, underground DJs along with an information session to educate hopeful DJs and recording artists about the music industry.
"I'm dedicated to helping people in all genres further their careers," says McNeal. "A lot of people just need someone to show them the path and then they'll make it. I want to promote them in any way I can. I love this city and promoting this city."
McNeal continues hosting "Sounds from The Underground" events today, but less regularly. However, he continues to provide information and advice to musicians as often as possible.
"Milwaukee has a lot of amazing talent, but a lot of artists don't have the budget or the knowledge to promote themselves. Back in the day, if you were hot, you were signed and promoted. It doesn't work that way anymore. You have to have your own budget to promote yourself and you have to be really marketable," he says.
McNeal is a "Core DJ" – a member of a worldwide organization that DJs may join by invitation only. There are about 1,000 Core DJs in the world and roughly 30 in Milwaukee.
"It's the biggest DJ family in the world," says McNeal.
As a Core DJ, McNeal is invited to attend music conferences every six months in different states – he will travel to Jackson, Miss., next week – where he receives information on what's hot in the industry and what labels are looking for.
Most of McNeal's DJ gigs are beyond Milwaukee – including Madison, Neenah, Menasha, Oshkosh, Appleton, Waukegan and Rockford.
He says there used to be more work available in Milwaukee, but over the years, a lot of clubs have closed down and consequently, the market is saturated with talented DJs competing for very few jobs.
"Instead of fighting with my brothers over a club or a night I extend my talents to other places," says McNeal.
Locally, McNeal has longstanding contracts with Bayshore and Mayfair Malls as well as Schlitz Audubon Nature Center in Fox Point. Being versatile and willing to work at a variety of events is key to making a living as a DJ.
"If you want to make any money as a DJ, you have to be well-versed in all genres. I'll play anything from Elvis to today's R&B. That's opened a lot of doors for me," he says. "I'll DJ a bar mitzvah during the day and then a hip hop club that night."
When McNeal started out DJing, he had two turn-tables, a Realistic mixer from Radio Shack and two milk crates filled with records. (He bought most of his records at two now-defunct shops: Radio Doctors on Old World Third Street and Audio Vibe on 24th and North.)
"Man, those things got heavy," he says.
Today, he brings a digital laptop to gigs. McNeal isn't nostalgic for the gear of the past, nor does he miss records.
"I don't have to worry about the needle jumping or a scratched record anymore. And the sound is clearer," he says.
McNeal appreciates a wide array of music, but he loves R&B and old school rap / hip-hop the most; bands like Earth, Wind and Fire, The O'Jays, Parliament and Funkadelic.
"I want an all-around, feel-good sound," he says.
McNeal, who started riding a motorcycle at the age of 15, is also the president and founder of a non-profit biker club called The Furious Riders MC. The club is open to male and female riders and McNeal's wife, Beverly, serves as the "first lady" of the club.
All of the members ride sports bikes ("crotch rockets") and they often host rides to raise money and awareness for charities or organizations.
"I love the speed that's at your fingertips, the breeze in your face and the thrill of being on two wheels," says McNeal. "I ride my bike every chance I get."
He's also a member of a rollerskating club called "Icy Rock." Milwaukee is home to numerous rollerskating groups, including the Miltown Rollers and a female-group called Wicked on Wheels.
"We travel all over the country to network wth other skaters and represent Milwaukee," he says.
Despite his many endeavors, McNeal continues to educate himself daily on the music industry through research, reading, traveling, attending conferences and networking so he can share as much information as he can with others.
"I feel it's my job as a DJ and a Milwaukeean to help my fellow brothers," he says.
Talkbacks
Otto | Sept. 12, 2014 at 12:57 p.m. (report)
Part of what makes WMSE just a great station, they have something for just about every musical taste played volunteers who share their love of music.
Facebook Comments
Disclaimer: Please note that Facebook comments are posted through Facebook and cannot be approved, edited or declined by OnMilwaukee.com. The opinions expressed in Facebook comments do not necessarily reflect those of OnMilwaukee.com or its staff.