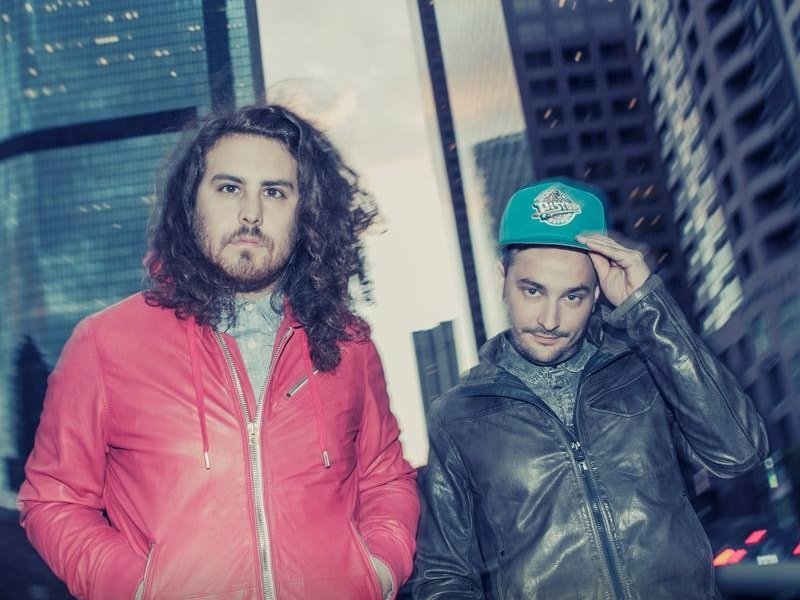 Forget rubber, Dale Earnhardt Jr. Jr. burning up dance floor instead
When you hear the name Dale Earnhardt Jr. Jr., there are certain sounds – growling engines, fierce loud automotive roars, squealing wheels – you instantly imagine. But don't be fooled by the odd NASCAR-themed moniker. Or maybe do be fooled. Maybe that's the point.
Dale Earnhardt Jr. Jr. – comprised of Detroit natives Daniel Zott and Joshua Epstein – is actually a bright, electro-fueled indie pop band, far removed from the loud, hyper-masculine world of fast cars and burning rubber. Its current lap around the U.S. brings the group to Milwaukee's Turner Hall Ballroom Thursday night.
Before they get their musical engines revving, however, OnMilwaukee talked to Epstein about the band's origins, their musical motivations and, of course, their wacky name.
OnMilwaukee.com: I have to ask, where did the name come from?
Joshua Epstein: Well, we had to call the band something, and we decided that if we called the band something ridiculous, then we'd be free to go in whatever direction we wanted as opposed to a name that felt more focused or pointed.
OMC: Do you ever worry about picking a name for the band that relies on the fame on another person, as well?
JE: No, that's not really a question we honestly think about. We think about the music, and really, I think we always forget what our band name is, to tell the truth.
OMC: How did Dale Earnhardt Jr. react to the name?
JE: He's been really cool about it. He wrote us an email that was really nice, and he mentioned it in an interview, so he's been really cool. He's a really nice guy.
OMC: How did you guys come together as a band?
JE: Well, we were hanging out in Detroit in separate projects for a while. I'd seen his band play; he'd seen my band play. I heard a solo album that he made that was just really great, so I just called out of the blue and asked if he wanted to make a song with me. So we made a song, and then another and then we made 13, a whole album.
OMC: Who are your musical inspirations that got you into music, and who do you listen to know that gets you writing music?
JE: I listen to a lot of the Grateful Dead and a lot of Prince. I just listened to the new Metronomy album; that's really good. That got me in the mood to right some new stuff today.
OMC: In your concerts, you guys used to come out wearing ad-covered NASCAR apparel and stuff like that. Why'd you stop?
JE: It was like three years ago that we stopped doing that. We thought it was an interesting idea to present people with all of these advertisements while we were playing, but people ended up liking it too much and freaking us out.
OMC: That, combined with your first album "It's a Corporate World," creates quite a commentary from you guys. Was that the whole mindset and thought process behind that first album?
JE: Yeah, I think it's a commentary on all things corporate. That's really the state of our world. We live in a world where corporations can have a say in how men and women live and their freedom, and because of that, it just made sense to make a whole record as a response to that stuff.
But (the onstage costumes) were less shocking to people than we had assumed it would be. People were, like, enjoying it too much, and we never intended it to be a gimmick. So when it started to feel like people perceived it as such, we decided to stop.
OMC: What was the thought process between your first album and your second album? Was there anything you learned or improve upon or a new idea you wanted to dive into?
JE: Yeah, I mean, we had some new gear, and that was inspiring. We had spent a long time touring, longer than either of us had ever toured before, so I think we were consciously – or maybe not consciously – making music that might be a little bit more fun to play live. But, you know, there's only so much you can plan when it comes to writing.
OMC: Barely a month ago, you released an album of remixes called "Produce Vol. 1." What was your mindset for that?
JE: We are in a place where we want to let everybody know who we are, and that was just one of the things. I think people were a bit skeptical when we were putting out a more hip-hop infused record, but for us, it's just a part of what we do.
OMC: Where do you see the music industry right now and where it's headed?
JE: Well, as we speak, I'd say the whole music industry is at SXSW (laughs). I don't know; I can't really focus on that right now. I just have to focus on creating things that I want to create. If you get too caught up in what you think you should be doing or what other people are doing, it gets detrimental to your work.
OMC: Is it harder to avoid that, especially as your profile has gotten bigger and bigger?
JE: It's actually easier. We don't have to worry as much any more. Now that we have all this music out there, we don't really have to worry about if people are going to listen to what we've done. It seems like people are listening to it, and there's a real freedom that comes with that. There's also a freedom in making music that no one is going to hear. In between those both extremes, it gets a little weird.
Facebook Comments
Disclaimer: Please note that Facebook comments are posted through Facebook and cannot be approved, edited or declined by OnMilwaukee.com. The opinions expressed in Facebook comments do not necessarily reflect those of OnMilwaukee.com or its staff.