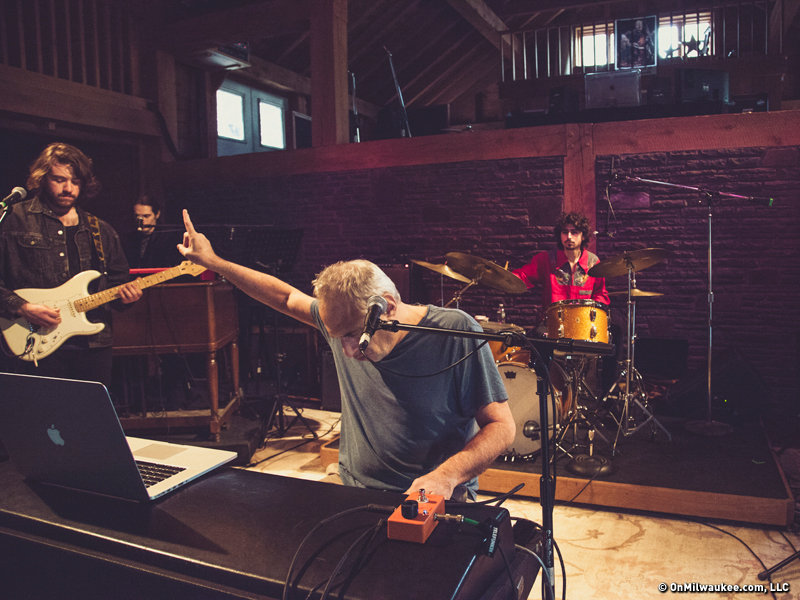 Fagen's gigs - like upcoming one here - mix music of Steely Dan and solo era
He was a co-founder of all-star cover band Dukes of September, has had a solo career and now works with a group called The Nightflyers, but let's face it: Donald Fagen will always be the co-founder of Steely Dan to most.
And whether or not he likes it, that makes perfect sense, considering the fact that of the group's nine full-length releases, all but one achieved at least gold status (500,000 or more copies sold), seven sold at the platinum level (more than a million) and the astonishingly successful "Aja," released in 1977, has sold more than 5 million copies.
Fagen – a Rock and Roll Hall of Fame inductee – brings The Nightflyers to Milwaukee on Tuesday, Aug. 29 for an 8 p.m. show at the Riverside Theater. Ticket details can be found here.
Fagen must be comfortable with fan expectation, because at his recent shows, at least half the setlist has been Steely Dan tunes (like "Kid Charlemagne," "Reelin' in the Years" and "Peg"), as well as a few covers, like the Dead's "Shakedown Street" and Chuck Berry's "You Can't Catch Me."
But he's, of course, included a few songs from his four solo records, too.
Fagen's most recent solo outing, "Sunken Condos," was released in 2012, but his first, "The Nightfly," emerged 35 years ago.
Fagen told a group of music journalists on a conference call recently that his solo work feels more personal to him than the music he made with Steely Dan partner Walter Becker.
"I think my solo albums attempt to be more – I just think the songs tend to be more personal, maybe, and where in contrast with the Steely Dan material in which Walter and I were perhaps more journalistic in some ways, that is to return and telling stories about stuff we – commenting on things and so on. That happens with my solo stuff too, but generally speaking, I think, they're more autobiographical."
The Nightflyers also provide a different perspective, Fagen said, because he's now playing with musicians much younger than himself. The oldest in the group – which includes Connor Kennedy (guitar, vocals), Lee Falco (drums, vocals), Brandon Morrison (bass, vocals) and Will Bryant (keyboards, vocals) – is 28. Fagen is 69.
"It's great hanging around with 20 somethings," he said. "They know all of the good places to eat in town, and I've been eating a lot of exotic foods for me, at least, things I don't usually do, you know, the wraps with a lot of goods, oriental sauces in it and things like that. It's like the menus say things like 'your protein will be such and such, and your carbohydrates will be such and such.' I'm more like a grilled cheese guy." (Laughs)
But seriously folks...
"When I saw first them, they seemed to be a cut above some of the other local musicians. They had a really good feel. All the guys were accomplished, and Connor, as the soloist, is really special, I think. He's got a lot of juice, you know, and he did some really interesting things aside from the excitement of his style of playing, you know?"
Fagen said the shows have been energizing for him.
"You know, especially when you get older, you don't get that much of an opportunity to have these kinds of peak experiences, but playing every night is fantastic. I think it keeps you young, especially playing with these guys."
The next step, Fagen said, is to take The Nightflyers into the studio and make a new record, though it didn't sound like the studio time is exactly booked yet.
"I'd love to go into the studio with these guys. I've got some new material," he said. "We actually haven't had a chance to work up too many things, but I'm on the road. I'm hoping to show the guys some of the new stuff I've been writing, and it will be fun developing that with a band.
"Generally speaking, in recent years, the way I worked is just alone, and doing arrangements by myself and so on or with Walter. So it will be fun, actually having a band to try this stuff out on. I don't think I've done that since the early '70s probably."
In the short term, Fagen said, he's focusing on the tour and the audiences, like the folks coming to the Riverside show in Milwaukee.
"We're just looking forward to playing this music for people and seeing how they respond
and seeing how the music develops along the way."
setbxsfyrbuucvxsuarccc
Facebook Comments
Disclaimer: Please note that Facebook comments are posted through Facebook and cannot be approved, edited or declined by OnMilwaukee.com. The opinions expressed in Facebook comments do not necessarily reflect those of OnMilwaukee.com or its staff.