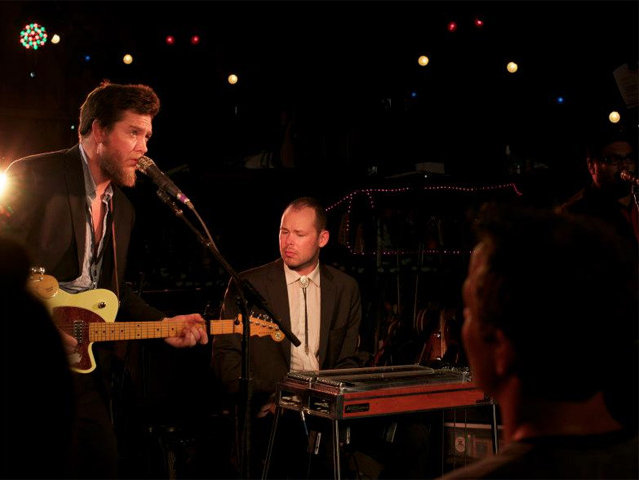 Field Report checks in from the road
Even two years ago, Milwaukee was buzzing about Field Report. Back then, the rootsy band was still called Conrad Plymouth and was mostly a vehicle for frontman Christopher Porterfield, a former bandmate of Bon Iver's Justin Vernon.
A stylish clear-vinyl 10" EP was the debut release in 2010 on Ryan Matteson's Ten Atoms label and Conrad Plymouth turned some heads the same year at South By Southwest, too.
As things began to start to really pick up, Porterfield wanted to clarify that the group had become just that: a solid unit that was bigger than any one member. Hence, the name change to Field Report in the waning months of 2011.
The group – which also includes Travis Whitty, Damian Strigens, Nick Berg, Ben Lester and Jeff Mitchell – in the meantime has garnered some national interest and has inked a deal with Partisan Records, which will release Field Report's full-length debut on Sept. 11. In the meantime, Adam Duritz has become a big fan of the Milwaukee band and invited it out on the road.
As Field Report wends its way around the East Coast with Counting Crows and back toward Milwaukee for a hometown gig opening for Duritz and company on July 25 at the BMO Harris Pavilion on the Summerfest grounds, we caught up with Porterfield to see how things are going for Brew City's hottest band in 2012.
OMC: How are things going?
Christopher Porterfield: Really well. We're playing at Hyannis (Massachusetts) tonight at the (Cape Cod) Melody Tent, which is this crazy big-top looking thing. The stage actually rotates. It's pretty wild. It's gonna be a trip.
OMC: Are you worried about getting dizzy? (Laughs)
CP: I think it moves slow enough where you don't really feel it. It should be a lot of fun.
OMC: It sounds like you're having fun.
CP: Yeah, you know, we did our first (Counting) Crows show in Brooklyn two days ago, and then last night we had a club show of our own in Boston, and now we're here. We've got two more Crows shows and then we're back in Brooklyn for a club show on Saturday and then Philadelphia for Crows, and then Pittsburgh for Crows, then Wednesday we travel, and then we're in Milwaukee.
OMC: So are you expecting a triumphant homecoming?
CP: I sure hope so. I hope some folks come out. That BMO place is pretty big. I checked it out with my wife over Summerfest and it looks really cool. It's going to be amazing to play there – super cool. You can see the lake behind. It should be good, and I saw on Twitter they're doing a two-for-one on Saturday, so hopefully that'll fill up some chairs, too.
OMC: I wanted to go back a little bit and ask you what made you change the name of the band. Were you getting too many people calling you personally Conrad, "Hey Conrad, what's up?"
CP: There were, and are, still some people who call me that, even though I've tried to make everybody clear that that's not actually my name. It's just kind of a nickname that stuck. The whole Conrad thing was just sort of an umbrella for me to grow up as a songwriter, I think, and I kind of wanted to change it for a few years now. Once we got this band solidified, and some songs started really clicking, and were playing better, I really wanted to call it something that was a band name that didn't create any confusion as far as what people were really getting into. So we made that change in the fall when things started really coalescing, and yeah ... it's not really an attempt to discredit anything that happened with Conrad, but at the same time, there's some material that I'm not as proud of anymore, you know?
OMC: Did it also mark when it became sort of you and some other guys, and became more of a band?
CP: Yeah, exactly. And I wanted a band name that would reflect the collaborative nature of things. Conrad was initially just me starting to write a few songs, and ... there was a shift in execution and intent, and (this was) to make sure everybody knew the collaboration.
Page 1 of 2 (view all on one page)
Next >>
Facebook Comments
Disclaimer: Please note that Facebook comments are posted through Facebook and cannot be approved, edited or declined by OnMilwaukee.com. The opinions expressed in Facebook comments do not necessarily reflect those of OnMilwaukee.com or its staff.