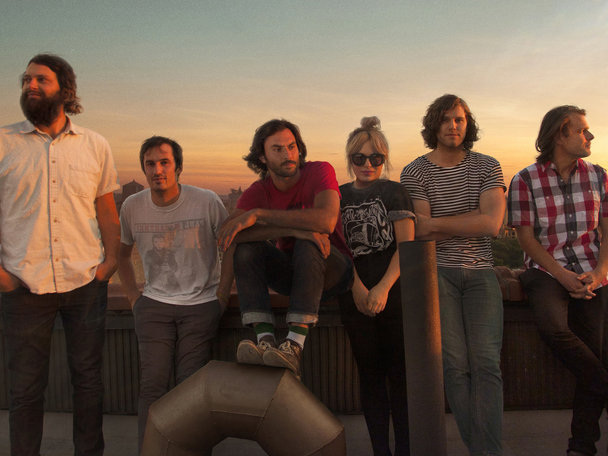 The Head and the Heart face fame, dreams on its sophomore album
When we first talked to Seattle-based indie folk rockers The Head and the Heart, the band was still basking in the success of its well-received self-titled debut album and an upcoming Milwaukee appearance, not as openers, but as headliners.
Much has changed since that inaugural interview with OnMilwaukee.com back in 2011 – and even since our second chat in 2012. When the band released its sophomore album, "Let's Be Still," last fall, there were high expectations this time, and headlining shows – such as an upcoming concert at the Riverside Theater on Saturday, April 5 and a freshly announced return to Summerfest – is now the norm.
OnMilwaukee got a chance to chat with drummer Tyler Williams about the process, inspirations and expectations for "Let's Be Still," coping with newfound fame and why he wasn't likely pleased with being called "indie folk rockers" back in the opening paragraph.
OnMilwaukee.com: What was the experience like recording your second album, "Let's Be Still"?
Tyler Williams: Overall, it was pretty positive. It was definitely different from the first record. The first record was super quick. There were no real resources to make a great sounding record, but we tried our best. This time around, having a bit of a budget and having people who were really excited to work with us, it was cool. It was a different experience for sure.
OMC: After your first album, you guys broke through. Were there ever worries about a sophomore slump?
TW: Well, we didn't really put any pressure on ourselves. We didn't really feel pressure. We knew we were going to make a record that was honest to where we were as people. We're not really the band that tries to force anything to happen, so whatever comes out is a natural, honest expression of who we are as people.
I think it was difficult because it was one of the first times that we were really melding together, all six collective ideas from each member. The first record was more of a statement from Jon (Russell) and Josiah (Johnson). This time around, Charity (Rose Thielen) had a lot of song ideas, and Chris (Zasche) was involved with writing the songs, so it was more cooks in the kitchen.
OMC: How does that process work? How do you balance those different song ideas into one cohesive album?
TW: I think we really figured out on this record how to make that work. Jon, Josiah or Charity would bring in an idea to the studio, and we'd all play around with it for a while and edit it. See what we can all individually add, but nobody was too precious about their ideas. It was a very collaborative process with everybody getting a say. So really, it's just listening to people and each other. We all like to think we have decent taste, so we respect each other.
OMC: You were saying that you wanted to write an album that talks about where you guys are. Where were you guys at while working on "Let's Be Still?" It seems like there was, not exhaustion per se, but it sounds like you guys were working things out in the lyrics.
TW: Yeah, it wasn't really exhaustion; it was just more, like, that first record was kind of about wanting to have this dream and fighting for this goal of making music together and hanging out with your friends for life (laughs) for your career. And then I think the second album was a more realistic view of what happens when you attain that dream. You broke the glass ceiling, so what's next? It's sort of about facing the realities of even when something goes exactly how you dreamed it would go, there are still consequences of that.
OMC: How was it been being a big deal? I mean, you guys are one of the big folk indie bands out there now.
TW: You know, it's a double-edged sword. I don't think we personally would describe ourselves as that. I was listening to Beck's new record, "Morning Phase," and that, to me, is where I feel we want to go as a band. To be called an indie folk band is not really our ideal category, I don't think. We're all into timeless pop music, and if that's what they call it nowadays, sure.
For us, it's been really different from anything else we've ever done. We all have played music for so long, and to finally have people paying attention on a mass level, it's what you always want. Really, there's nothing to complain about, you know? We get to do what we love for a living. We may be frustrated at times, and it may influence songs, but we're all really happy to be where we are.
OMC: What about Beck's new album really speaks to you?
TW: It kind of has this '70s psychedelic George Harrison folk thing going on (laughs), and that, to me, hits me right where it counts. We're all really influenced by The Beatles; that was the big, huge band for everyone growing up in this band. I don't think we listened to much Pete Seeger (laughs) or whatever folk may be. Every band has their way of expressing themselves, so I think categories are … Bob Boilen from NPR wrote a really good article about this a few months ago, saying when do we stop categorizing bands and just listen to the music, you know? I love that.
OMC: What is your favorite Beatles album, and what is it that really speaks to you about?
TW: My favorite Beatles album is probably "Abbey Road" and the last half of that record where every song kind of runs into one another, starting with "Golden Slumbers." I think it's such an honest expression of humanity.
You have John Lennon being coy and writing some really interesting, out there tunes, George Harrison is doing a very religious, spiritual thing and Paul McCartney is writing a very lovey-dovey thing. But when you combine them all together, you kind of got a real good look at the human spectrum of emotion and of songwriting.
OMC: You talked about making timeless songs. How do you balance that, being inspired by older music like The Beatles while also crafting a new sound? How do you make a 21st century timeless song?
TW: It's a conundrum, really. Do people want to hear timeless music nowadays, or do they just want to hear a club anthem about having a good time tonight? (laughs) We're a very weird era.
I think that's why I've been listening to that new Beck record a lot. He kind of nailed it. He's combining modern textures and modern recording techniques with these older songs. I think that's the way forward.
It's about experimenting in the studio on a new level and creating textures that you may have not heard before, but putting them in a song that could've been written in the '60s. That, to me, is what I really enjoy.
Facebook Comments
Disclaimer: Please note that Facebook comments are posted through Facebook and cannot be approved, edited or declined by OnMilwaukee.com. The opinions expressed in Facebook comments do not necessarily reflect those of OnMilwaukee.com or its staff.