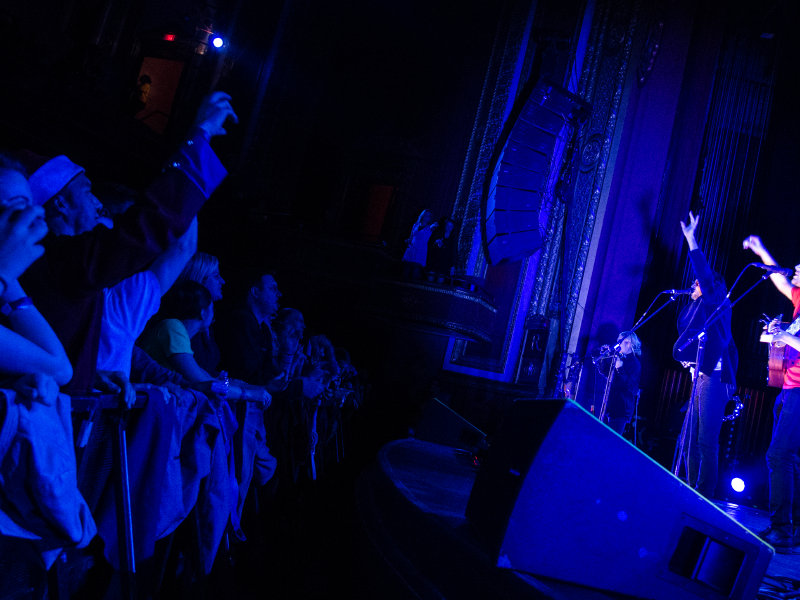 The Head and the Heart keeps getting better
Just like old times. The Head and the Heart took the stage at The Riverside Saturday night, getting us shaking with the crowd pleasers "Cats & Dogs" and "Coeur D'Alene."
The Seattle band wasted no time at all transitioning to their new material, particularly "Homecoming Heroes" and the toe-tapping hit single "Shake" from the recently released second disc, "Let's Be Still."
This early portion of the set exemplified just how confident the band has grown on stage since its Milwaukee debut in spring 2011 as openers for Iron & Wine. Less likely to hide behind its craft. Playing with, rather than for, the crowd. Main players switching off with ease. Finding the joy in work. An ensemble ready to jam out on the line.
The one special thing that never changes about The Head and the Heart is how everything seems to flow. There's an ease in everything it gives. Born naturals in a sense. Surprising us with fresh music or a new take on its sound, yet never straying far from where it sought comfort in the first place.
A flawless set list still has its breakout stars: "Coeur D'Alene," my personal favorite "Josh McBride" (cue cry break), "Sounds Like Hallelujah," "Gone," "10,000 Weight In Gold."
And then there's "Rivers and Roads." This song, man. It builds and builds and builds and builds – stunning us with a gorgeous solo we devoted fans have grown to crave – then leaves us to pick up the pieces.
Until the encore.
When our friends come to lend a helping hand. To remind us summertime – and The Head and the Heart's return to Summerfest – is within reach. To tell us to get lost in the music until then. To go back to where we started.
Our city may not know how to stop talking during a performance, the right time to leave for another beer, or – in this specific case – refrain from leaping on stage, but it sure as hell knows how to sing along to a great song and to show up over and over for the things we love. For an indie band with heavy acoustic roots, like The Head and the Heart, the room and performance was purely electric.
A highlight, singer and guitarist Josiah Johnson crowdsurfing during "Lost In My Mind." Milwaukee – there's a first time for everything.
(Proof at @josiahjohnson via Instagram)
As the lady of the evening – singer and violinisst Charity Rose Thielen – signed off, "See ya at Summerfest!"

At first sight and sound, opener Basia Bulat has vocals and a presence reminiscent of Natalie Merchant or Jade Castrinos of Edward Sharpe and the Magnetic Zeros. Though, it was hard to pin down her sound, she has a very modern feel and strong indie flare for exploration. If she were to tighten her vision and find her niche, I would easily see her again.
Most of the crowd, to my surprise, respectfully stood during her brief set and cheered her on. Though in true Milwaukee fashion, we restlessly chattered the entire time. We were ready to get another drink and for our beloved headliners to take the stage.
Facebook Comments
Disclaimer: Please note that Facebook comments are posted through Facebook and cannot be approved, edited or declined by OnMilwaukee.com. The opinions expressed in Facebook comments do not necessarily reflect those of OnMilwaukee.com or its staff.