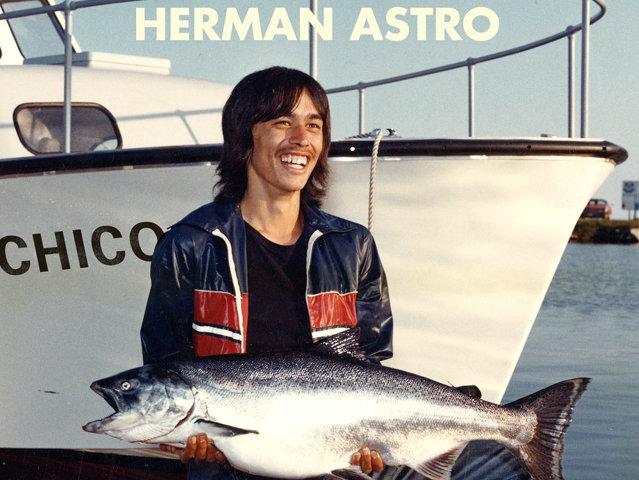 Five questions for Herman Astro
With an EP under its belt, the still-young Milwaukee band Herman Astro has already made a name for itself here at home. Now, a full-length disc, "Chico," is out and Herman Astro is ready to ramp up.
Formed in 2009, Herman Astro has brought it's blues-infused rock and roll to stages across town, creating a good following already. As the arrival of "Chico" loomed, songs from the record were already garnering airplay on WUWM and other local radio stations.
The band officially releases "Chico," on Saturday, Dec. 17 at 9 p.m. at The Mad Planet, with Chicago's The Right Now and DJ Marcus Doucette. Tickets are $5 in advance and $8 at the door and include a copy of the CD.
We asked frontman Zachary Pluer – yes, he's Robin's nephew – five questions about Herman Astro and "Chico" ...
OnMilwaukee.com: First of all, you've got to tell us about the photo on the cover of "Chico."
Zachary Pluer: Cody , Eric, Andy and I were hanging out at my mother's house in high school when we noticed an old picture of Cody's father on the fridge. It was decided then that this amazing picture of Cody's father would one day be the cover of one of our albums. Cody and I are stepbrothers.
Ten years later we couldn't locate that exact photo but found an even better one. Shot in 1977, in Door County, the photo represented for Cody's father, what we hope that "Chico" represents for us. We hope that we have the same glimmer in our eyes as his father did, as we show off our big fish, "Chico."
OMC: Now, onto the music inside. Is it true you recorded the bulk of the record live? Were there any overdubs?
ZP: We very intentionally tracked live, as our live sound, the ups and downs both in tempo and emotion, have become our identity. We recorded at Howl Street Recordings, with engineer Shane Hochstetler, with the goal of recording as live sounding of an album as possible.
Howl Street's tracking room is a log room – the walls covered in real logs – which created a really rich sound, and with Shane's jedi-master skills, we were able to get the full sound we were looking for. We didn't use a click-track either, as we wanted the music to move in tempo with the emotions of our playing.
The only overdubs were guest musicians – horns, piano, classical guitar – and vocals that simply don't work logistically if tracked live. But again, tracking live would have only worked with Shane's incredible engineering skills and the natural richness of the room.
OMC: Was it important for the band to capture the energy of its live performances on the record?
ZP: Extremely important. From our formation in 2009, we've relied heavily on our live performance, which we are very proud of. If nothing else, Herman Astro is emotive. There's a sort of desperation/drive that comes along with being in our mid 20s that you can feel in the music.
This being our debut full-length album, it was important for us to capture that in the recording process. In a way, "Chico" is us fleshing out our identity, staking our claim, both as musicians and people, and the only way we saw feasible to do so was focusing on our live energy.
OMC: At a time when a lot of bands are mining the folkier side of rock and roll from the 1960s and '70s, you guys are more an out and out rock and roll band. Where do you draw your inspiration?
ZP: It's safe to say we draw our inspiration from the rhythm and blues side of rock and roll. Our rhythm section is inspired mostly by funk, jazz and afro-beat backgrounds, and my vocals are drawing on the soul tradition.
Eric LeMieux brings more of a traditional riff-rock groove to the music, which makes it a bit edgier and in my opinion, unique than most throw-back bands. Yet, I'm also a fan of the singer-songwriter tradition, where the focus is on lyrical content and structure.
More than anything, though, we attempt to write solid songs; sometimes one of us will have to lay back from what we're fully capable of for the sake of the song as a unit. There are many stellar bass/guitar riffs, drum beats and vocal melodies forever abandoned in our rehearsal space, because they took away from the collective song we were attempting to create.
OMC: What's your goal for "Chico"? Where do you hope it leads Herman Astro?
ZP: We were extremely fortunate in our freshman year to have some pretty incredible opportunities; winning "catchiest song of the year" on 88nine Radio Milwaukee, playing at Turner Hall and the Emerging Artist Series at Summerfest, opening for acts such as Fitz & The Tantrums, The Constellations, Kings Go Forth, Orgone.
In our sophomore year, we hope to seeChico dragging us around the country, packing us in tents, depriving us of sleep, touring and spreading this thing we've come to love across the country. Our immediate fantasy is to travel with a national act as their support, and begin to spread the positive response we've had to Herman Astro here in Milwaukee, to the corners of the U.S.
Facebook Comments
Disclaimer: Please note that Facebook comments are posted through Facebook and cannot be approved, edited or declined by OnMilwaukee.com. The opinions expressed in Facebook comments do not necessarily reflect those of OnMilwaukee.com or its staff.