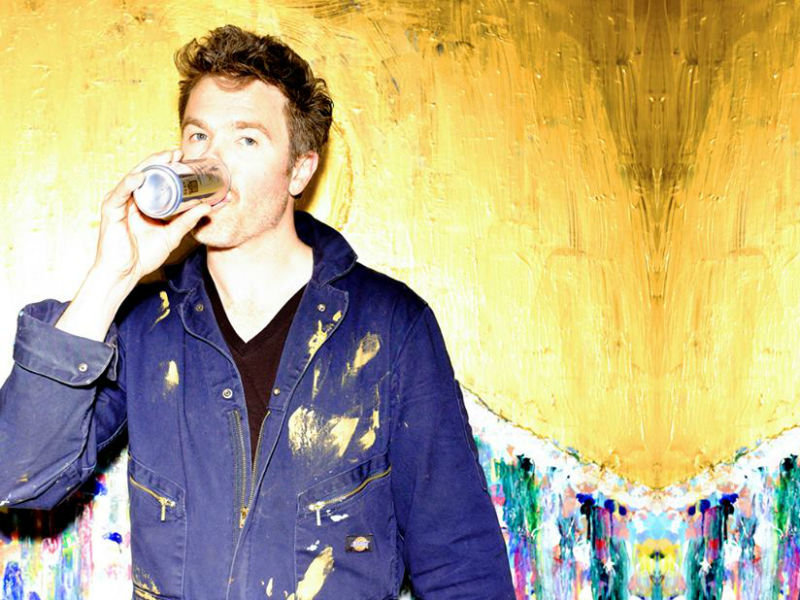 Ready to get down, Josh Ritter brings an anti-preacher "Sermon" revival to Pabst
When we last left Josh Ritter, with his meditative 2013 album "The Beast in Its Tracks," he was recovering from a devastating divorce – seemingly unsure whether to still be angry or depressed or ostensibly well-adjusted in that wish-you-well healthy way we all espouse but don't actually feel after breakups – and the music was raw and reflective. Really reflective. What we got was confessional and intensely introspective melancholic folk (and that suited some of us emo listeners just fine).
Well, things have certainly changed. In his latest work, "Sermon on the Rocks," Ritter just wants to take us up to the mountaintop – or at least to Make Out Point – and get down. Really get down. As in, the jaunty, breezy, contagiously upbeat, knee-slapping good-times sound of "Getting Ready to Get Down," the Jezebel-juxtaposing jewel on this record that isn't just a rebound project but a full-scale revival.
Indeed, Ritter's 2015 album is a revival – if not religious, at least personal and professional – and he's bringing his tent to The Pabst Theater on May 24. In "Sermon," Ritter sounds creatively born again, exultant and looking wholeheartedly outward. Landing on a lyrical tone that alternates between smirking and grinning, most of the songs find a sermonizing rhythm that's delivered, without sanctimony or judgment or televangelist phoniness, by an anti-preacher.
Or, as the singer says, it's all just "messianic oracular honky-tonk." Yep.
"Sermon on the Rocks" is nonstop scriptural allusions and allegories, but from a distance. You can imagine Ritter in a back-row pew witnessing a stirring Pentecostal service and being filled with the energy and enthusiasm of it all but also raising an eyebrow, and then a songwriting pen, at the unquestioning canonical fervor. In "Getting Ready to Get Down," Ritter doesn't himself need to rail against ultra-conservative Christian Right beliefs on sexuality; instead, tongue firmly planted in cheek, he tells the story of a supposedly promiscuous teenaged girl being sent away to Bible school because her "soul needed savin'."
In that track, the fourth on the album but the last one he wrote for it, Ritter is at his most potent and pithy.
To really be a saint
You gotta really be a virgin,
Dry as a page of the
King James Version.
No "ooh la la's", no "oh hell yesses,"
No "I can't waits I gotta see you againses."
Turn the other cheek and take no chances,
Jesus hates your high school dances.
Ritter is one of the most skilled, thoughtful and evocative lyricists working today, and he's always been a gifted storyteller. That chronicling style, which has pervaded every album he's produced since emerging from Oberlin College in 1999 with a self-created degree in "American History through Narrative Folk Music" – his original major was neuroscience – still lends itself well to "Sermon."
He's not here to look down condescendingly upon piety or the pious, nor does he disdain those that do; he's telling tales with explicit religious overtones observationally, playfully, just short of sardonically. It's the Bible, yes, but with a little bourbon.
"I don't call myself a believer, but at the same time these (biblical) stories seem to come out of me, and they're also very useful as a songwriter where you're aiming for concision," Ritter says by phone in advance of his concert. "Some of these stories can signal larger themes. Like, I'm not trying to preach but I'm also not censoring myself. As the words come out that want to come out, I'm happy."
Departing from previous records, many of the verses in "Sermon" are fast-paced and clipped, as though he's always trying to get to the next line, to say all he wants to say, his voice struggling to keep up with his inspired brain and scribbling-ever-faster pen. At some points in "Where the Night Goes," it almost sounds like he's speaking in tongues.
"This record, there were a lot of songs that kind of came effortlessly," he says, contrasting them with others that took more than a year – especially on "The Animal Years," his prose-ish 2006 Americana album filled with Mark Twain references. "Whatever way it is, you're always trying to get the perfect word next to the perfect word. And you're always trying to be concise. There is writing that's tortured, you know, as you're working it out, but I don't think that's always a sign of a great piece of art. There's art that springs totally unasked for and joyous without any explanation."
Ritter adds that he doesn't mean his deeply labored-over writing is any worse, but to "try and wring blood from a stone isn't always successful." He says "there are times when it's good to lie fallow." And though two and a half years passed between "The Beast in Its Tracks" and "Sermon on the Rocks," it doesn't really sound like Ritter was lying fallow.
Musically, "Sermon," recorded in New Orleans with his Royal City Band, is a distinct key change from prior Ritter albums, particularly its most recent predecessor. It still falls under the folk umbrella, but there are rock, country, gospel, new age and electronic elements resounding throughout. It's almost jive. Often compared to Bob Dylan, Ritter sounds more like Bob Segar – or even Bruce Springsteen in the nostalgic-triumphant toe-tapper "Homecoming," which describes a Make Out Point that Ritter admits now came from his "vivid imagination" because he "wasn't that successful in high school."
The air's getting colder now,
The nights are getting crisp,
I first tasted the universe on a night like this.
And I'll abide a box of wine,
And the hunger in her eyes,
In a place where the tree of good and evil still resides,
Homecoming.
Not exactly the lamentation of a bad breakup.
"Every record is definitely a reaction to the last, and that doesn't say that you can view the last one negatively," he says. "But there comes a time at the end of making a record where you say, 'Well that's it, I've got nothing else to say; I'm done.' And it's always a little scary to have this time where you feel like you haven't gained a new vocabulary for what you're trying to say, and so when it comes around, you're trying not to write in the same old way that you wrote the last one. Most of the time there's just this dissatisfaction with what you're working on, and it takes a little while for a new style to kind of show itself. 'Sermon on the Rocks' came out of a quiet record, and this one feels much more explosive."
That explosiveness in "Sermon" is thoroughly combustible, thrusting inexorably forward with a chugging, drum-banging beat like an old locomotive. Years ago, Ritter got on the train at the wistful, acoustic folk station, stayed on for a while, then missed the next few stops – presumably while drinking, jamming and having a good old time – and got off at the end of the line, a terminus of his own creation, with a different, unapologetically fun genre in "Sermon."
"I wanted to let it all hang out," Ritter says. "I wanted to stomp my feet and kind of wanted to be a wild man; that's the way it felt. I guess in terms of a reawakening, I got my swagger back."
Indeed, he seems eminently comfortable now in his own skin – and clothes. When Ritter appeared on "Conan" last month in the same paint-splattered coveralls he's sporting on the "Sermon" album cover, my super-fan mom texted me, "What is he wearing?!" Ritter's newfound fashion sense isn't stopping us from attending the Pabst show, where we're hoping he throws caution to the wind like another of our favorite contemplative songwriters, Jackson Browne, who unabashedly rocked the Riverside last November.
Back in 2006, Ritter said he didn't feel sure about anything, in his own life or the politics of the world, and it was a "tremendously uncertain time." A decade later, does he still feel that way?
"Since that time I've learned to be a little bit more patient. Like, patient about when the songs come and what the songs are turning out to be," Ritter says. "I would call it more of an openness to the things in the world that I might have been closed to. Whether it's new music or ideas or relationships, I think my uncertainty has turned to kind of an acceptance that I really don't know anything and that every little thing that you pick up or learn is for that reason special."
Regarding his process, Ritter later says, "There's no music first and then the lyrics, or the other way around. There's just a sort of magic moment where everything melds together."
In "Sermon on the Rocks," Ritter has that magic moment over and over; he almost certainly will have it throughout his show at the Pabst on May 24. But even if he doesn't, he'll throw on his paint-splattered coveralls, drink a coffee, a bourbon and then an ice water, smile and no doubt be content with where he is anyways.
And when you get damned in the popular opinion,
It's just another damn of the damns you're not giving.
I'm getting ready to get down,
Getting ready to get down.
Information on tickets is available here.
Facebook Comments
Disclaimer: Please note that Facebook comments are posted through Facebook and cannot be approved, edited or declined by OnMilwaukee.com. The opinions expressed in Facebook comments do not necessarily reflect those of OnMilwaukee.com or its staff.