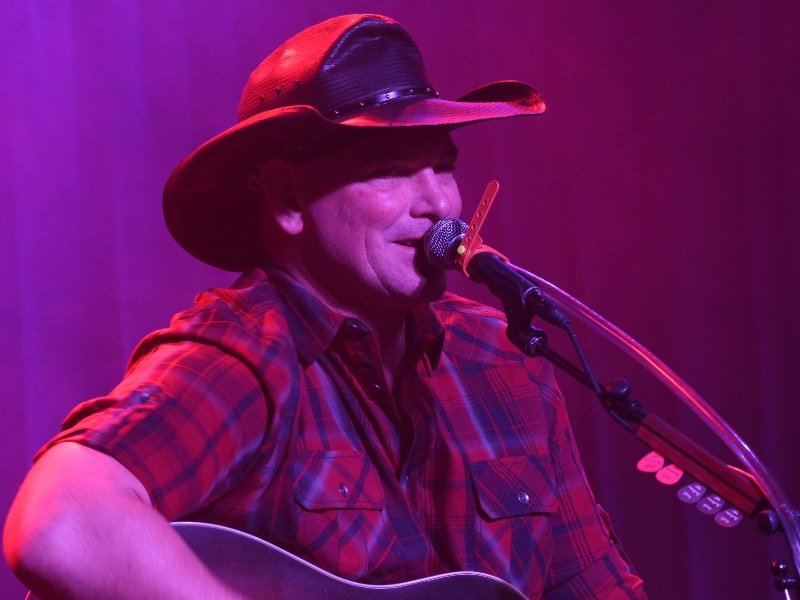 Keith Anderson successfully battles a cold and a crazy crowd at Fire Pit set
"Anybody drinking beer?" asked Keith Anderson six songs into his set. Then he mumbled under his breath, "'Bout the dumbest question I could've asked in the state of Wisconsin."
And lemme tell ya, people were indeed drinking, making for one of the most unbelievable, distracting, side shows of entertainment I've seen – and that's saying a lot.
To be honest, I wasn't really sure what to expect from Keith Anderson's Thursday night show at Fire Pit's Side Bar inside Potowatomi Hotel & Casino. First, a good deal of Anderson's music seems to call for either larger venues or at least an outdoor summer stage. Really, his music almost seems to demand it. Second, it's been two years since Anderson's last album. Before that, it'd been seven years since he sort of dropped the mic and left the spotlight in mid-flight. So I wondered if there'd be any rust on the guitar strings.
Yeah ... no. There was none.
Nora Collins, a Wisconsin native who moved to Nashville after landing a publishing deal, opened.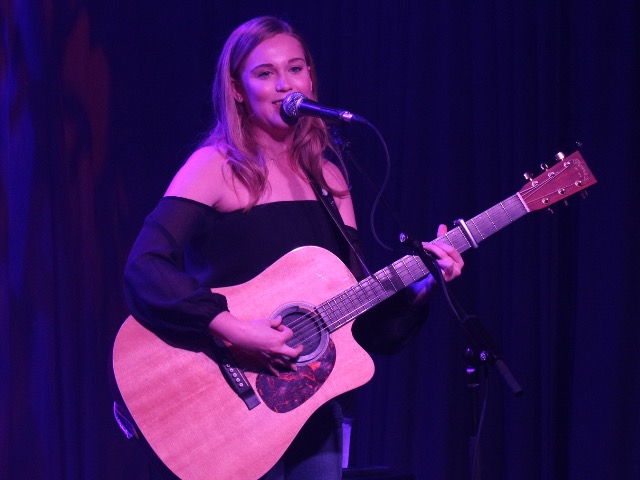 This brilliant, brilliant woman. It's been so long since I've walked in to watch an opener expecting one thing and being served up the sweet, delicious, utter opposite of that. Collins, thank you for your incredible artistry. Mark my words, this girl is going places. And I'll go so far as to say that "Plain Jane" – which had me in tears and almost sobbing – will be one of her first major successes.
She's clearly got a decent number of artist showcases under her belt. She was seasoned in the way only someone who's totally comfortable with her sound can be.
Her voice is unique. And to be blunt, part of the reason I was so surprised during her set is that listening to her through my awful laptop speakers left me feeling not so pumped about her. But maybe I need a new laptop, because what I thought I heard so clearly in my prep is definitely not what I heard at The Fire Pit. This woman's pipes are a beautiful blend of power, grit and silk. If I had to pin her in, she sounds a little like Maddie of Maddie & Tae, a little like RaeLynn and a little like Maren Morris.
Her sixteen song set of mostly original songs flew by. Find her, listen to her, you won't regret it.
So yeah, as much as I was looking forward to Keith Anderson, I could've listened to Collins all night.
Anderson was the perfect complement to his opener. Where Collins efficiently ripped through her set, Anderson lead his audience on something akin to Frog and Toad's wild ride.
To be fair, during the first six songs, it really wasn't his fault. He had some F-Class hecklers. At first, it was funny. The one woman was a dozen of sheets to the wind. Dancing ... and singing (not Keith's songs), trying to get him to follow her singing, pretty much trying to monopolize him while he was on stage. Odd. Just odd.
At first, Anderson handled it well, rolling and laughing with it. But then, it wasn't so funny. She interfered with Anderson trying to tell stories, and he was forced to wait or risk being talked over. At one point, he explained his waiting, "She's gonna say something in a minute that might be good and I'm gonna steal it and make a big ol' hit out if it. She's either gonna remember it and be pissed or never remember."
Funny, right? If it happened once. But through the first six songs? Not funny.
In deference to Anderson, there's no way his talent could've been diminished by this woman and her cohort. But the experience was. Finally after seven songs, they were kicked out. But Anderson was also battling a cold. He still sounded awesome, but his voice was all gnarly while he was telling stories, so his set was significantly shorter than it probably would've been otherwise. So by the time these inebriates were tossed, he only had five more songs in his tank.
But he made the most of every second he was singing. From the hilarious "Tight White Wife Beater" to "Every Time I Hear Your Name," his acoustic set brought chills.
"I Still Miss You," though, was hands down my favorite moment of the night. The song, which made me cry … again (I think it was the smoke from the casino) brought the admission that even though it was about heartbreak, it had come to represent the loss he felt when his mom died (even as the song was making its way up the charts). The acoustical version was just so raw, it hurt.
It's clear that Anderson loves what he does and that he's persevered through personal loss and heartbreak. He told us that he'd recently been granted custody of his kids after a two and a half year custody battle and that he was so thankful that he still had any following after he took time off following his mother's death.
It's hard to believe that he wasn't always making music full-time. Before deciding to try his hand at a music career, Anderson graduated from Oklahoma State University with a degree in engineering. A talented song writer, his debut album "Three Chord Country and American Rock & Roll" features Anderson as a co-writer on every track.
The debut single "Pickin' Wildflowers" broke into the top 10 on the U.S. Country chart. His next two singles, "XXL" and "Every Time I Hear Your Name," established him as a bona fide artist. His 2008 single "I Still Miss You," from his sophomore album "C'mon!", shot up to the number two spot on the U.S. Country chart.
Then, as noted, Anderson stepped out of the spotlight to take some much needed personal time. As "I Still Miss You," a song raw with the emotion of missing someone who is no longer there, was climbing up the charts, Anderson's mom passed away from brain cancer.
Coming back in 2015 with an extended play album (and killer singer) titled "I'll Bring the Music" puts Anderson squarely back in the game. The EP is filled with solid songs and party anthems. It's just fun.
And so was his show on Thursday – even with the drunk and disorderly. Keith Anderson is slated to play again Friday night at The Fire Pit. Do yourself a favor and catch his show. You'll be singing "Tight White Wife Beater" all the way home and then some.
Setlists
Keith Anderson
"Podunk"
"XXL"
"Three Chord Country and American Rock & Roll"
"Tight White Wife Beater"
"Beer Run" (Garth Brooks/George Jones cover, co-written by Keith Anderson)
"Lost in This Moment with You" (Big & Rich cover, written by Keith Anderson)
"Every Time I Hear Your Name"
"She Could've Been Mine"
"I'll Bring the Music"
"I Still Miss You"
"Pickin' Wildflowers"
Nora Collins
"Rain On Your Parade"
"Every Little"
"My Church" (Maren Morris cover)
"Never Gonna Grow Up Kids"
"Off the Map"
"I Hate Myself for Loving You" (Joan Jett & the Blackhearts cover)
"Guess I Would've Known by Now"
"Backseat Falling"
"Love Me Like You Mean It" (Kelsea Ballerini cover)
"Short Story Long"
"My Radio"
"Plain Jane"
"Naïve Heart"
"Strawberry Wine" (Deana Carter cover)
"Christmas Kiss"
"Recover"
Facebook Comments
Disclaimer: Please note that Facebook comments are posted through Facebook and cannot be approved, edited or declined by OnMilwaukee.com. The opinions expressed in Facebook comments do not necessarily reflect those of OnMilwaukee.com or its staff.