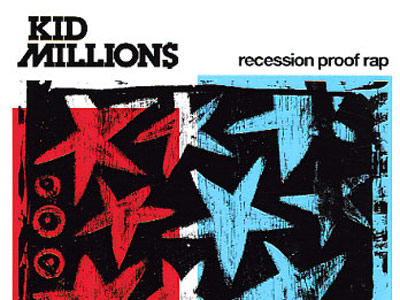 Variety makes Kid Millions' rap recession-proof
Back in August we talked to local rapper Kid Millions about his then-new vinyl 45, "Victim to the Beat," a slice of old school rap created with Codebreaker's Sage Schwarm. At that point, Millions -- aka Lotus Land Records co-owner John Kuester -- promised a new full-length disc in October.
OK, so it's November, but the eight-song "Recession Proof Rap" -- available on vinyl, digitally and CD -- is here and Kid Millions celebrates its release with a show on Saturday, Nov. 28 at The Mad Planet. The 21 and up gig starts at 9 p.m. and also includes performances by Def Harmonic, Kid Cut Up, Madison's The Crest and DJ Deadbeat.
"Recession Proof Rap" was recorded over the past two years with Kuester co-producing with Schwarm, JTODD, Eltron, S. Watson and LMNtylst.
"This time around I wanted to focus on making a hip-hop release that wasn't just head nodder," says Kuester. "I spend about 90 percent of my time going through rap singles that never caught on with the masses, so I wanted to fix that problem. Also I was lucky enough to have Kid Cut Up Around my store for the dancefloor / pop test!"
Besides Millions' rapid fire delivery -- which recalls mid-era rappers from the '90s -- what makes these tunes so engrossing and fun is the way they encompass a bit of everything, which makes a lot of sense considering the variety of music Kuester experiences working at Lotus Land.
"Trouble," produced by Watson, has a '60s mod pop guitar skank and about halfway through the opener, "I Won't Help You Up," which samples what sounds like a Beach Boys vocal, the backing track flips from a thumping hip-hop drum track to a reverb-laden roots reggae base. "Face Reality" has some great '70s funk flavors.
"Well, owning a record store that specializes in hip-hop, disco, funk and more, gives me a wide range of styles to dive into," Kuester told me back in August. "Mid '90s rap is my personal soft spot in hip-hop but I still love the sounds of Tom Tom Club, Mr. Magic, Grandmaster Flash and all the good stuff!
The variety -- perhaps counter-intuitively -- helps give a unified vibe to tracks recorded over many months with a number of producers. Kuester says he's always aware of that when recording his tracks.
"Whenever I make music, I think about it flowing with other songs I do," he notes. "I'm always thinking about where to put a tune on the album. I usually try to take off fast, serve you a drink and land the plane smooth and safe!"
Millions says people can also expect a nice ride at The Mad Planet gig, which is something of a reunion.
"I'm real excited about the show at The Mad Planet," he enthuses. "For those who don't know back in 2003 Jtodd, Lunaversal and myself were all part of a crew called Big Hit Unit, so it's nice to share the stage again some of my favorite people!
"This will also be the first Def Harmonic show in about two years, I'm guessing."
Here is Frankie Latina's video for "I Made a Mixtape," the new single from "Recession Proof Rap:"
Facebook Comments
Disclaimer: Please note that Facebook comments are posted through Facebook and cannot be approved, edited or declined by OnMilwaukee.com. The opinions expressed in Facebook comments do not necessarily reflect those of OnMilwaukee.com or its staff.