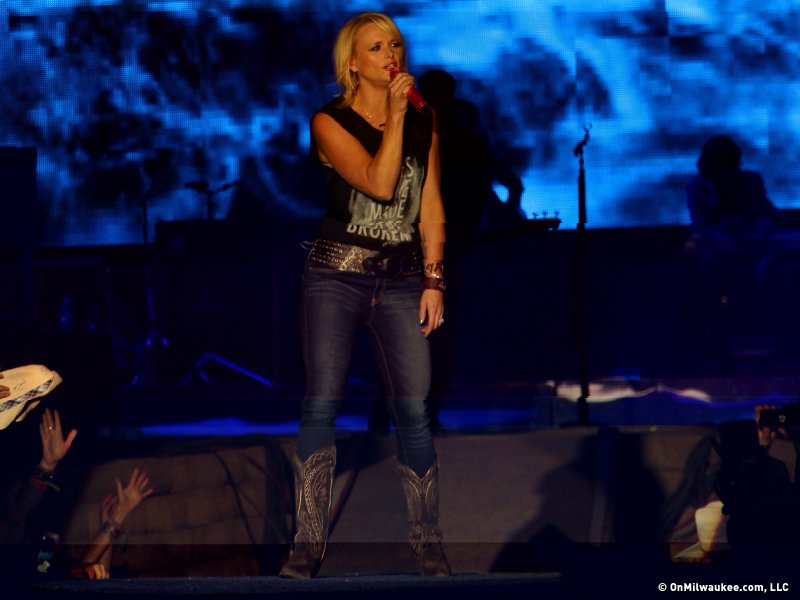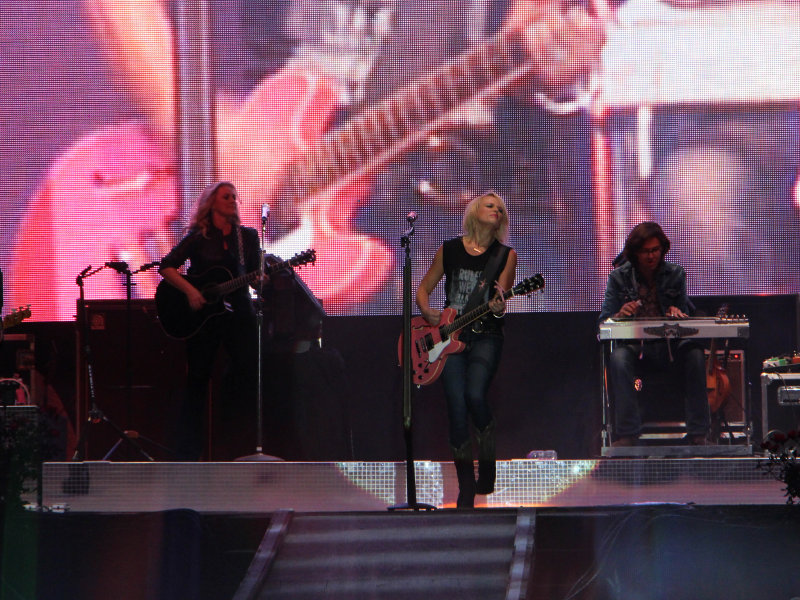 Lambert's Platinum Tour shines bright at Country Thunder
"Are you ready, y'all?" Miranda Lambert asked the crowd, 10,000 people strong. "I don't want your asses in those seats; I want your asses out of those seats!" Her question came in the middle of her 18-song set.
It definitely didn't need to be asked.
The Country Thunder crowd was on its feet before Lambert even took the stage.
They didn't sit down.
Ever.
Admittedly and with full disclosure, I've been a fan of Lambert's since her first album, "Kerosene," dropped in 2005. Her first single, "Me And Charlie Talking," is a windows down, summer sun shining, music blasting song. After that, this country girl was hooked.
I hoped for a great deal coming into Friday night's concert. Miranda Lambert's exuberance, hilarity and huge personality, which shines through her studio recordings and her Twitter antics, set the stage for super high expectations in her live performance.
She didn't disappoint.
She opened with the video from "Somethin' Bad," which she's vowed she'd never sing live without Carrie Underwood. The crowd was riled and ready to go when Miranda hit the stage for "Fastest Girl in Town." They stayed with her through every song.
Here and there, she added personal touches specific to the Country Thunder experience … and frankly, that's just Miranda. "All Kinds of Kinds" featured a video montage of Miranda's fans holding signs saying what kind of person they were, i.e., Mommy Kind, Caring Kind (there was a great photo of some members of the military with a sign reading: Got Your Back Kind). At the end was a picture of Miranda holding a sign that read: Twin Lakes Kind.
The beginning video of "Famous in a Small Town" had been shot on the Country Thunder grounds earlier in the day. It featured interviews of Thunder patrons saying what they were famous for. My favorite was Rick from Trevor who was "famous for being Rick the Carpenter."
"Over You" brought the house down. The song is about her husband's brother who was killed at 24 in a car accident. It's emotional, and you could tell Miranda struggled to get through it. The crowd backed her and sang it through with her. Very … well … I had shivers.
Lambert released her fifth studio album, "Platinum," on June 3. Aptly named, as it hit Number One on Billboard 200 immediately following its release. This summer's tour carrying the same name encompasses 30 cities across the country. It's geared to showcase Lambert as the artist-singer-songwriter she is with her extensive, eclectic, and totally electric style.
Tonight's show satisfied, and far exceeded, that goal. Lambert performed songs from all five of her albums demonstrating, truly, why she's one of America's most adored, and for that matter, most popular country artists. Her interaction with the audience was genuine, filled with plenty of down-home hospitality and just the appropriate amount of snark (in the good way, as she quipped at one point, "There's a sh-t load of people here, y'all!").
There's no doubt she's got swagger. With multiple certified platinums to her name and a voice that is completely recognizable, consistent and constant but still somehow completely changes to fit every song, Lambert is allowed some swagger … a lot of it, actually.
Not bad for a girl who quit Nashville in 2000 because her recording experience left her frustrated. They were trying to mold her into a "pop" country star. She wanted none of it.
Just goes to show that staying true to one's roots can result in platinum, lots and lots of platinum.
Set list:
Fastest Girl in Town
Kerosene
Platinum
Heart Like Mine
Baggage Claim
Over You
All Kinds of Kinds
Me And Charlie Talking
Travelin' Band (John Fogerty Cover)
Mama's Broken Heart
Priscilla
Famous in a Small Town
Smokin' and Drinkin'
The House that Built Me
Automatic
Little Red Wagon
White Liar
Gun Powder & Lead
Gimme All Your Lovin' (ZZ Top cover)
Facebook Comments
Disclaimer: Please note that Facebook comments are posted through Facebook and cannot be approved, edited or declined by OnMilwaukee.com. The opinions expressed in Facebook comments do not necessarily reflect those of OnMilwaukee.com or its staff.