New EP releases Gatewood's grief and ceases music hiatus
Lisa Gatewood, a Milwaukee musician who recently released an EP called "When It's The End, You Feel It In Your Bones," possesses a wit and warmth in person and a comforting melancholy in her music that is fresh yet familiar.
I met Gatewood for an interview at the Irish Pub and she had arrived a bit early and was already drinking a cider. She instantly made a joke about her massive glass filled with apple-y booze and quipped that, based on her giant-sized drinking vessel, she understood if I had to write in the article that she was completely sloshed by the time I showed up.
This, of course, was not true. In fact, there was not one minute of tanked talk. Instead we engaged in an insightful, honest, humorous and inspiring two-hour conversation.
Gatewood was born and raised in Milwaukee and surrounding areas. She spent time with both of her parents, who are divorced, and graduated from the Milwaukee High School of the Arts.
"I attended Whitefish Bay for middle school, and it was a good school and I was a smart kid, but the social just didn't work for me," says Gatewood. "High School of the Arts was better for me because it wasn't about sports or popularity. In fact, the 'popular' kids were art kids."
Gatewood grew up in a musical family and started singing at a young age. Her father is a blues musician who fronted the band Phillip Gatewood and the Stray Angels and her late uncle, Scott Gatewood, was a solo musician.
"I was always surrounded by music," she says. "If I got a good report card I got to go to one of my dad's gigs and then eat at Omega at like 2 a.m."
Gatewood says she remembers asking her dad how old she had to be before becoming his back-up singer.
"I'm not sure why, but I always saw myself as a back-up singer," says Gatewood. "It turns out I'm really bad at harmonies."
Today, Gatewood has three albums under her belt, along with the recent EP. Her voice – which is rich, full and hopeful despite the sorrowful lyrics – is reminiscent of strong female vocalists and yet when trying to pinpoint whom she sounds like, not one particular musician comes to mind. Gatewood is a modern hybrid of women singer-songwriters from the past two decades.
She credits Rickie Lee Jones, Leonard Cohen, Nina Simone, Bob Dylan and her father and uncle as early inspirations. As an adult she has been impressed and motivated by many local musicians.
"I'm most inspired by people doing something different than I am," says Gatewood.
Gatewood started performing in public while attending the University of Wisconsin-Milwaukee where she was a theater major. Her first gig was at an open mic at the Bremen Cafe, and soon after, she was offered a feature slot. She went on to play at many local venues and was a regular at the now-defunct Mosaic Piano Bar.
"I started out doing mostly cover songs, including some of my Uncle Scott's, but when I started playing at Mosaic, these were two-hour sets, which were challenging for me to fill and so I started writing more of my own songs," she says.
Gatewood says she was the most prolific in her twenties and, during that time, she could write a song in 20 minutes.
"The songs just poured out of me," she says. "Now, I really labor over songs. On my EP there's a song called 'Lost and Found' that took me two years to write."
While attending UWM, Gatewood met two people who changed her life for the better: a UWM professor named Dr. Martin Jack Rosenblum – also known as the poet "The Holy Ranger" – and Ben Cervenka, a fellow student with songwriting skills that Gatewood found brilliant and magnetic.
Sadly, both of the men passed away in 2014 – Rosenblum passed in his sleep (exactly two years to the day this article posted) and Cervenka after a long battle with Cystic Fibrosis.
"I met Ben in Martin's songwriting class," says Gatewood. "He always went to this unexpected place with his music that kept you excited and interested and almost giddy because of his clever, smart rhymes and ideas."
After meeting in class, Gatewood invited Cervenka to open for her at a Bremen Street gig, and the two friends started writing together. They planned to release what they referred to as their "rumored duets album," but only had time to do a couple of duets together.
"Ben moved back to Minneapolis and the plan was we would record the album when he came back to visit," says Gatewood. "But he never ended up coming back."
Gatewood says Rosenblum was her mentor and gave her the confidence she needed to believe in her music.
"The magic of Marty lives on in that he made every single person feel as talented and important as he made me feel," she says. "When you're a starting artist it's a fragile time and, in your view, there are a million people out there doing it 10 times better. It's a time when you really need someone to be extremely encouraging and, for me, that was Marty. He was always making me feel like what I was doing was real and that it mattered."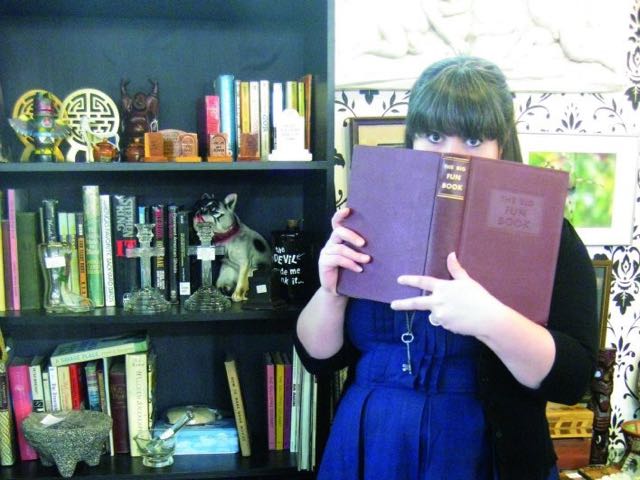 After her two friends and inspirations died, Gatewood felt surprisingly stifled. "I just stopped writing. It wasn't a conscious thing, it just stopped coming to me as naturally," she says.
During this timeframe, Gatewood also started feeling stage fright for the first time and became bored with her material.
"I was experiencing lots of change, aside from the loss of Ben and Marty," she says. "I changed jobs and I became a wife and step mom at that time, too. Something had to give and it was music."
After a hiatus, Gatewood was rejuvenated when Cervenka's mom sent her a recording of a song she collaborated with him on called "Questions" (reminiscent of "Anyone Else But You" by the Moldy Peaches).
"I was very moved that Ben's mom took the time to get this to me. It took me a while, but once I figured out a way to use the song that was honest and true to Ben's original vision, everything else came out," say Gatewood of her EP. "It's only four songs – a lot shorter than my other recordings – and yet it's such a victory because it was a long time coming and it cleared out the cobwebs."
Gatewood, with the help of friend Tim Donderevo, recorded the EP in Hideaway Studios – the guest bedroom in her Bay View home which she and her husband, Robert Szocik, refer to as 'The Hideaway."
This casual, home-based recording process was new to Gatewood, who had spent a lot of time and money in professional studios for her first three albums.
"When I was in the studio I'd have to do 20-30 takes on a song, but for the EP we did every song in one or two takes," she says.
Gatewood says she prefers this type of recording because it's as close as it gets to seeing her live on stage.
"I knew I couldn't recreate live what we came up with in the studio on my other albums," she says. "I was excited to make an album that sounds like what it would sound like if I was sitting in my living room. When I look back at my career and albums this will always mean the most because it was the hardest to make. I'm hoping that it's the first of many albums open to exploring how things are different now."
The new EP not only emotionally comforted Gatewood after the loss of her dear friends and musical inspirations, but it also helped her embrace herself as a 34-year-old musician who has endured much more than the 20-something musician.
"After stepping away from the scene for a few years, I've learned to embrace my new voice that's tinged with a little more age and exhaustion, but it's where I am right now and that's OK," says Gatewood.
rbxszfwbtdstfavvrybxuvczwfwr
Facebook Comments
Disclaimer: Please note that Facebook comments are posted through Facebook and cannot be approved, edited or declined by OnMilwaukee.com. The opinions expressed in Facebook comments do not necessarily reflect those of OnMilwaukee.com or its staff.