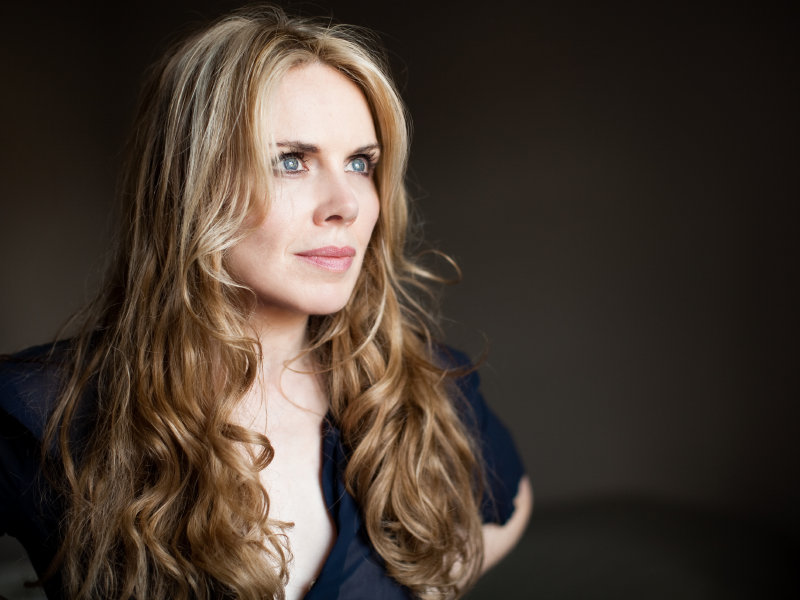 Fahl set to perform at Shank Hall
In the mid-'90s, Mary Fahl sang with the pop rock (and slightly goth) band October Project.
The group was signed by Epic, put out two records, "October Project" and "Falling Farther In," enjoyed some commercial success, but broke up in 1996 after their label let them go.
Fahl started a solo career and released the EP "Lenses Of Contact" in 2001, followed by a full-length album in 2003 called "The Other Side Of Time" and a 2011 "re-imagining" of Pink Floyd's "Dark Side Of The Moon" called "From The Dark Side of The Moon."
In 2013, she released "Love & Gravity," a full-length record and the impetus for her current tour that will lead her to Shank Hall on Friday, May 2. Tickets are $25.
"Playing live is why I'm on this planet. I really enjoy it," says Fahl. "You're never going to understand what I do unless you see the show live. I talk a lot. I tell a lot of stories. I try to take people on an emotional journey."
Also in 2013, Fahl wrote the theme song, "Exiles: The Wolves of Midwinter," for the audiobook version of Anne Rice's novel "The Wolves of Midwinter."
Fahl currently lives in Easton, Penn., with her husband, whom she married six years ago at the age of 52.
Recently, OnMilwaukee.com chatted with Fahl over the phone about later-in-life marriages, her collaboration with Anne Rice, her thoughts on a popular Joni Mitchell song and more.
OnMilwaukee.com: You got married six years ago. Tell me about your husband.
Mary Fahl: My husband is a deep sea oceanographer.
OMC: Is he or was he a musician?
MF: He played French horn in high school. It's funny you should ask that because I have met a lot of his colleagues who are married to writers, photographers and artists. And it makes sense because art is not that different from science.
Scientists – good ones – have to be extremely creative and really good at communicating, giving speeches and translating concepts to make them accessible. It's not that different at all. They cannot rest on their laurels and they have to find a niche that's different from everyone else's.
OMC: How's marriage so far?
MF: It's great. It was really worth waiting and I am so glad I never settled. For some people, marrying when they're young works, but I wasn't the same person at 40 as I was at 20. I had a lot of growing to do.
We spend a lot of time together. I go with him when he speaks and he comes with me every weekend that I perform.
OMC: It reminds me of Johnny Cash and June Carter Cash, who were married very happily for the second half of their lives.
MF: Yes, their relationship is inspiring to me. Hence the song on my latest album, "Like Johnny Loved June."
OMC: Yes! Also on the album you have a song that you wrote for an Anne Rice audio book. How did that come about?
MF: It was serendipitous. About two years ago, I got an email from Anne. One of her fans told her that, back in the day, October Project had a couple of songs that we hoped to get on the "Interview With A Vampire" soundtrack.
The band was on Epic at the time, but we didn't have the star power that, say, Guns 'N' Roses had and we didn't get our songs in the movie. However, she later listened to them and liked them and spent a day posting our music on her Facebook page. She also said some really lovely things. So I decided to write to her and ask if she wanted a copy of my latest solo album.
She wrote back right away and said yes. She was in New York at the time, and my publicist was, too, so she went to drop it off at Anne's hotel. While she was there, Anne gave her a copy of her new book – a signed galley copy – and told my publicist to tell me I was in the book.
It's not a huge part, but the lead character is haunted throughout the book by one of my songs, "Take Me As I Am."
Anne also said to my publicist, "Why doesn't Mary write a song for the audio book?" And my publicist volunteered me to do it. It was due in a week. I had one week to read the book, write the song, arrange the song, mix the song – I managed to do it and it was really fun.
OMC: Do you write a lot?
MF: I do. But a lot of my writing is kept on blocks like old cars.
OMC: You have played in Milwaukee before. What are your thoughts about the city?
MF: I think the last time I played there was two years ago, also at Shank Hall. You guys have great restaurants – a went to a really good Thai place in Milwaukee – and Shank Hall has always been very welcoming and brought me back solo many times since October Project. There's a little hotel I like to stay at – you can see the lake from the room – I'm always returning to it.
However, this is a Wednesday night show and my audience, now, is primarily a weekend crowd. I can fill a place on a Friday or Saturday night, but October Project was 20 years ago and the people have grown up and don't go out during the week as much anymore.
OMC: Are you touring a lot?
MF: I am. I am promoting the record almost every weekend, which works – not only because the crowd has gotten older, but because then my husband can go with me. He's my roadie.
OMC: Do you ever miss being in a band?
MF: I hire a band when I play large venues. And it's great to play with them, but I'll never be in a band like I was with October Project.
Once you've gone solo, there's no going back. The amount of compromise that is demanded of you and the egos you have to deal with – it's for young people. I just don't have the patience anymore. I'm not a control freak, but I know what I want.
However, I love collaborating with people. I co-write with a lot of people.
OMC: What are your thoughts on your years in October Project?
MF: I am very grateful for my experience with October Project. We worked so hard and we were so dedicated and when we got signed, it was so exciting. Now it's different. There are so many indie bands but, back then, getting a record deal was huge. It was thrilling to make our first record. We went to Nashville. And later, touring with Sarah McLachlan and selling out shows. It was all just really, really exciting.
We were very lucky to have found each other and I got to sing beautiful, beautiful songs but at a certain point I knew I was not growing anymore. I had hit my limit and there was nothing more for me to learn and so it was time to move on.
OMC: You have a cover of Joni Mitchell's "Both Sides Now" on your new album. What inspired that?
MF: I sang it at a festival that was supposed to be held outdoors, but it poured rain that night and so we had to move indoors. The few people who came despite the rain didn't know me at all and everything I sang brought a blank look on their faces.
So I wanted to sing something they knew – and everyone knows that song – and they perked up immediately. That song speaks to people on deep levels. It's a song of innocence and experience and you hear it one way when you're young and another when you're older.
I wasn't going to put the song on the record, because it's been done so many times before, but my producer said I really should because I really, really love that song.
OMC: What are you doing these days besides music and touring?
MF: I'm writing. I'm also being a wife. I clean my own house and make dinner for my husband and we have a garden. We bought a little plot of land and put in 12 raised beds and it's finally warm enough here to garden. This is the beginning of hands-and-knees weather and I can't wait. I'm going to take some time off this summer and enjoy my house and my garden with my husband.
Facebook Comments
Disclaimer: Please note that Facebook comments are posted through Facebook and cannot be approved, edited or declined by OnMilwaukee.com. The opinions expressed in Facebook comments do not necessarily reflect those of OnMilwaukee.com or its staff.