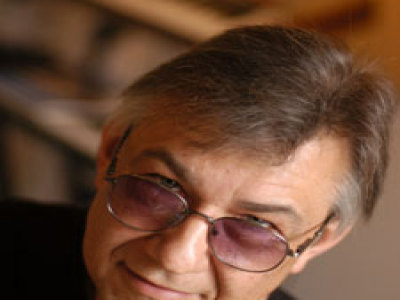 Local engineers agree: mastering gives CDs pro sound
Everyone who looks at the credits on a CD will have seen a line for "mastering." But like the "best boy" and "gaffer" credits at the end of a film, few people know what it really means. Oddly enough, many musicians don't even quite get it.
Mastering is the final step in the process of making a CD, before the music actually gets encoded onto a disc. In the old days of vinyl records, the mastering engineer converted the sound on magnetic tape into a physical stamper used to press records. Nowadays, it is the stage where all of the songs are brought together and their levels and tones are equalized. Segues and some effects can be added, too.
There are two people in Milwaukee whose careers are dedicated to mastering: Gary Tanin at MultiMusica and Trevor Sadler of Mastermind Productions. Others do mastering work, but few would argue that these guys are the serious mastering engineers in Milwaukee. They are the ones with experience.
Sadler began mastering when he worked at a now-defunct, big-time studio in Lake Geneva. He has gone on to become a regular mastering engineer for Milwaukee's Narada Records and some of its associated labels and now runs his own mastering suite in Bay View.
Tanin, a musician and producer first, became interested in mastering in the days of vinyl and began to work in earnest as a mastering engineer in the early 1990s. He runs his suite from his home on Milwaukee's South Side.
So, why don't they see more local work? Partially, it's because for most indie bands, the money has run out by the time the mastering step is reached.
"Budget constraints often are a problem. It's a shame to forgo the one step in the process that can make such a dynamic difference," says Tanin. "Ninety-nine point nine percent of all commercial releases are mastered. The reality is, your record will be compared sonically against these commercial mastered releases. If it doesn't hold up to that kind of scrutiny it will be difficult to be taken seriously."
Add to that the confusion about what the process actually entails and voila, you've got countless records that lack a professional edge.
"I think mastering at a professional facility -- and by that I mean one set up for mastering and mastering ONLY -- is an esoteric and misunderstood art form, and I also think most local musicians and engineers don't have the budgets to have their projects mastered properly/professionally," says Daniel Holter of Burst Records. "If they've never experienced it, well, it would certainly be difficult to understand the value."
Sadler agrees.
"Yes, most people don't really think about mastering unless it's brought up by a recording engineer or producer, or they realize their recordings don't have that same "finished sound" as other commercially released projects. Many of my first time clients come to me having no idea what mastering is, just that they need it, and I was referred to them. Even many of my more experienced clients who are familiar with mastering basics really don't know what I'm doing -- they just sit on the couch and trust me!"
On the other hand, many artists arrive in the mastering suite -- which is often little more than an acoustically-sound room with a computer, a small rack of gear and perhaps a tape machine -- with unrealistic, "let's fix it in the mix" attitudes.
"Ideally, the artist brings mixes to mastering that they're completely happy with," says Sadler. "In this case the mastering engineer can concentrate on doing very small adjustments to improve the mixes and get the overall volume louder. In many cases however, the mixes need to be "fixed" in one way or another. This now starts us on the slippery slope of 'fixing it' in the mastering. This is not the position you want to be in: having your mastering engineer 'save' the sound of your record at the last minute."
What are some of the fixes that can be achieved?
"Today many musicians are foregoing the recording studio and creating recordings at home," says Tanin. "In those scenarios mastering very often helps the mixes of those kinds of recordings. Mastering can't fix a bad performance (but) mastering can make a good performance sound better. Things like timing errors and pitch correction on the finished mix are not a 'mastering fix.' If a recording needs more low end or high end, those are things mastering addresses well. Providing a consistency from track to track in a recording, making it louder, adding dimensionality are all well addressed with the mastering process."
Tanin also points to something often overlooked in the mastering process. A trained and objective ear.
"Mastering provides the objectivity by a professional who's experience offers him/her with a myriad of options. The artist/band or mixing engineer cannot be truly objective about their creation. This allows a mastering engineer to approach a project with truly fresh ears."
Sadler believes that more and more clients are arriving at the mastering stage with a tape that needs some help.
"The problem of people relying too heavily on the mastering process to 'save' their mixes has grown in the last few years," he says. These days more and more people are doing recordings in a home environment rather than a pro studio, and this can greatly affect the quality of the mixes. It's obviously much harder to get mixes sounding the way you want when you're working in a bedroom on a computer as opposed to a pro studio on a large console.
"In addition, the people who are doing these recordings often do not have the vast recording experience that studio professionals have, and as a result the recording quality suffers. It's because of this that I generally turn down work on a regular basis, not because I feel the music itself it bad, but because the recording quality is so bad that I don't feel I can legitimately help the sound of the project in the mastering phase and would rather not be associated with a project that I don't feel I can make sound acceptable."
So, are more musicians then beginning to see the benefits of having their records professionally mastered? The jury appears to be out.
"I actually think there is a split happening," Holter says. "There is a huge home recording and local band market who may have never even thought about mastering, outside of throwing a 'louder/limiter' plug-in on their stereo master (tape). Then there are the guys who get it and who are trying everything possible to make their masters and their art something special, and know that mastering is part of that process."
Tanin believes that the home recording set-ups that are becoming so ubiquitous are leading musicians to think that they don't need anyone else to make a great-sounding record.
"Many novice musicians and recordists start out believing they can do it all in the box," he says. "Since the new plug-in they got bundled with their software is called a 'mastering' tool, they make the false assumption that it will do what someone who's had years of experience with hundreds upon hundreds of recordings can do.
"This music industry goes through phases. I have seen a turn for the better with the 'understanding' of what mastering is, though I'm not sure that there are enough local bands and/or musicians serious enough about their next record to consider the importance of mastering. The established, full-time artists I work with would never consider releasing a product without first getting it mastered."
Sadler is inclined to agree. Ask him if musicians are getting mastering more now than ever and he responds: "Well, not really.
"I am fortunate in that I have a wide and diverse client base across the world that values my services. Probably less than 20 percent of my work originates locally. There are people who take pride in their music and will do the best job they can in the recording, and this includes hiring a professional mastering engineer. I take as much time as I can to educate musicians, engineers and producers about what proper mastering can and cannot do, and how to avoid people passing themselves off as being able to do mastering when they have no proper credentials. Still, there are some people who will never get it, and the sound of their work will suffer."
yrxyttucceadbabddzxxab
Facebook Comments
Disclaimer: Please note that Facebook comments are posted through Facebook and cannot be approved, edited or declined by OnMilwaukee.com. The opinions expressed in Facebook comments do not necessarily reflect those of OnMilwaukee.com or its staff.