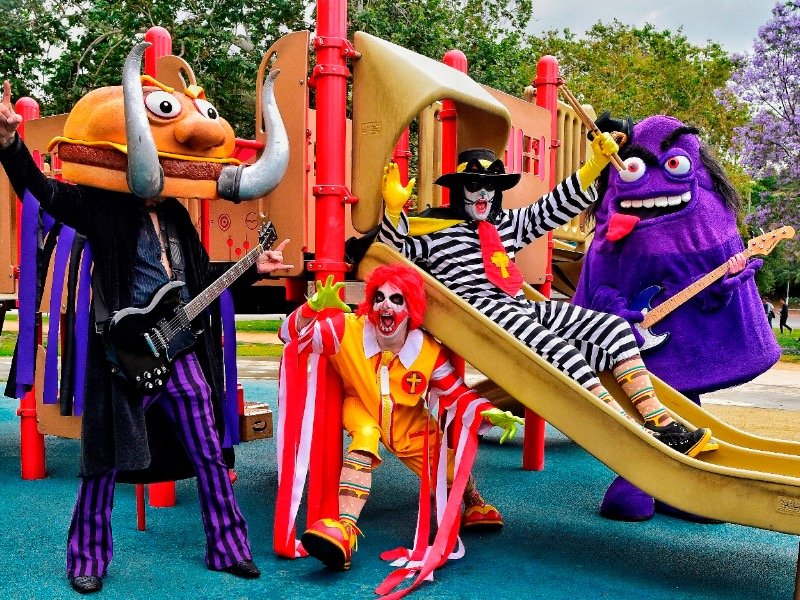 Satisfy your fast food and metal cravings with Mac Sabbath, Mockstrosity Tour
"What is this that stands before me?" is the ominous opening lyric to "Black Sabbath," the first track on the first album by the seminal heavy metal band of the same name.
It's quite likely that Milwaukee metal heads will be thinking the very same thing should they venture out to attend Thursday's Mockstrosity Tour at Turner Hall Ballroom.
But venture they should, as this tour brings together one of the most interesting packages of "metal" bands Milwaukee has seen since the infamous days of the Milwaukee Metalfest, including Mac Sabbath, Metalachi and Okilly Dokilly.
Are they heavy metal? Are they comedy? Are they bizarro performance art? Are they sane? The answers to each of those questions may not be as clear-cut as it might seem.
Heading up the triple bill is Mac Sabbath, the self-proclaimed founders of "drive-through metal," a Black Sabbath tribute band that dresses up as slightly (well, severely) demented versions of characters from the world's most famous family-oriented fast food restaurant, which can't be named here for legal reasons.
On vocals you get "Ronald Osbourne," on guitar is "Slayer MacCheeze," bass duties are handled by "Grimalice" and on drums, "the Catburglar." All are instantly familiar, but twisted in a way that might give toddlers nightmares.
They play bruising, note-perfect renditions of iconic Black Sabbath songs – which has got to be difficult with a giant cheeseburger on your head – but with warped lyrics often touting the perils of fast food. "Iron Man" becomes "Frying Pan." "Paranoid" is now "Pair A Buns." "Symptom of the Universe" is "Zipping Up The Uniform." Get it?
According to Mac Sabbath manager Mike Odd, you can't really get it until you see Mac Sabbath live, up close and in person.
"It's impossible to understand what's it's truly about without experiencing it," Odd said. "It's a wild, arena-sized stage show and is really hard to explain. Not exactly rock, not exactly comedy. But people are rarely disappointed."
The band was founded in Los Angeles in 2014 and quickly became a viral video sensation. They toured extensively in California and subsequently landed a performing slot at Download 2015, one of the UK's largest summer rock festivals, alongside metal stalwarts Kiss, Judas Priest and Motley Crue.
And while this is Mac Sabbath's first visit to Milwaukee, they've headlined a few national tours to uniformly positive reviews and a steadily growing legion of "hungry" fans.
Meanwhile, Metalachi is a five-piece ensemble of classically-trained mariachi musicians, fused together by the power of heavy metal. Their musical/comedy stage show somehow seamlessly blends the worlds of Spinal Tap and Cheech & Chong together into an over-the-top, full-on, mariachi stage spectacle.
Covering songs by Metallica, Ozzy Osbourne, Twisted Sister, Guns 'n' Roses and, heck, even Bon Jovi, Metalachi has a truly unique take on hard rock. You might remember them from their appearance on the 2015 season of NBC's "America's Got Talent."
Rounding out the trio is Okilly Dokilly. Hailing from Phoenix, Ariz., Okilly Dokilly performs what they describe as "Nedal," a bizarre subgenre of heavy metal music themed around Ned Flanders, a character from the animated TV series "The Simpsons" – complete with all the band members dressing as Ned. Really. A strange concept to be sure – but one that seems to be gaining somewhat of a cult following.
Odd strongly encourages adventurous music fans, metal or otherwise to come to the show.
"There are amazing things that happen during the show, but I don't want to spoil it for people. This is a great lineup – truly, a once-in-lifetime experience. It's something that you may literally, never see again."
The Mockstrosity Tour will hit the Turner Hall Ballroom on Thursday, March 9 at 7:30 p.m.
Facebook Comments
Disclaimer: Please note that Facebook comments are posted through Facebook and cannot be approved, edited or declined by OnMilwaukee.com. The opinions expressed in Facebook comments do not necessarily reflect those of OnMilwaukee.com or its staff.