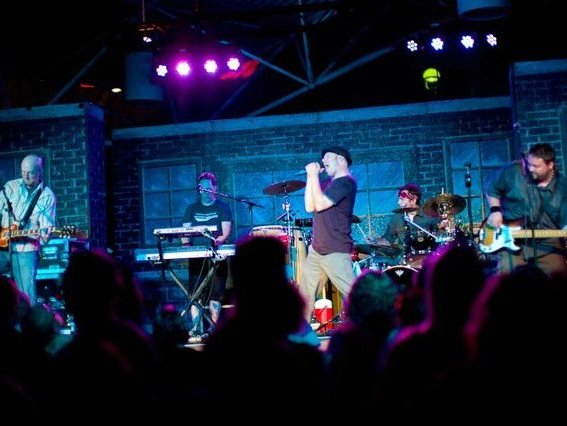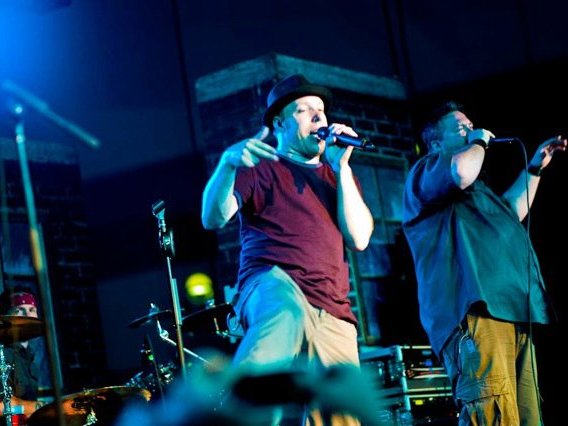 Farewell, Old Mil
It began as a lark in 1996 as fraternity brothers, members of Beta Theta Pi at UW-Oshkosh. Saturday, after 15 years, hundreds of shows, countless covers, some old original favorite standards, and even a few personnel changes, Old Mil will play its final show.
"I think after seeing Citizen King play Barney's in Oshkosh it was our goal to play there," according to lead singer Eric ("E-Rox") Darnell. "It meant that we kind of made it in Oshkosh. To think that we basically became their house band and went on to play Summerfest, State Fair and for a President was more then we ever expected."
Lead guitarist Jim ("Slim") Jacobs says that their first club shows at the B&B Tap in Oshkosh built the foundation of the band. "We were college friends at the time," Jacobs recalls. "So we decided to write a few original songs, learn a handful of covers, and suddenly we were booked week-after-week, getting free drinks and playing live music for our friends."
The last 15 years the band itself has changed, adding bassist Eric ("Bear Cave") Madunic in 2003 and filling out their final configuration with keyboard player Rick ("Fu") Bauer (formerly of the Love Monkeys) five years later.
"I think back to how I became a member of the band and it reminds me that Old Mil was always something different than just another band," Madunic recalls.
"Before I ever played a note or sang with them, the guys wanted to meet with me at O'Brien's on Vliet just to have some beers, talk music and band strategy, and just basically hang out. It was more important to them to see if my personality meshed with theirs and if I was someone that they could see themselves being friends with rather than how well I could play at that point."
Unlike a lot of bands that break up because the members can no longer stand the sight of each other, the guys in Old Mil just felt like the time was right to move on. After all, when the band was formed, none of the founding members were married or had kids. Today, Darnell has two small children with his wife, Geri, and drummer Steve ("Chimmy") Chmielewski and his wife, Terra, have a 10-year old daughter, Lexi.
"I give a lot of credit to our drummer and his family for setting up the best rock music room in the city," Jacobs says of Chmielewski. "We were able to rehearse at his house roughly once a week since 2001. Truly an incredible sacrifice on his family's part, and a comfortable place to unwind after a day at the office; plus a basement bar with something good on tap."
But even though the founding members have started families of their own, Darnell has said the driving force behind the band was more than just making music.
"Old Mil has been more then just a band to all of us," he says. "We started out as family and that's what we've always been. We've been there for each other through good times and bad and I'm not sure each of us could have made it through some of these times without each other."
Madunic agrees. "Old Mil has provided me with a plethora of timeless memories and experiences," he says. "The band has provided me with a group of guys I can call my dear, close friends. I will always be grateful for the opportunity that was offered to me to be a part of something that rarely comes along."
But even with the Summerfest and State Fair shows, as well as their long-standing New Year's Eve bash at Milwaukee Ale House, Darnell says getting back to Old Mil's college roots was always special to him.
"Even after graduating we always made it a point to get back to Oshkosh for homecoming and beer gardens every year to celebrate where we started," he says. "It was great to see how many of our old friends would make the trek as well as how many. New fans were made at those shows."
So, what's next after Saturday's final performance? Other than having their weekend nights free, perhaps a more intimate show – just for themselves, back in the Chmielewski basement.
"I'm hoping to stop over, plug in this spring or summer, and just play for fun," Jacobs says. "Maybe the Menomonee Falls cops will show up again. We've had at least 10 police officer visits in the past three years. The funny thing is that they would show up and say, 'Wait, you guys are Old Mil? Cool!'"
Note: Author Doug Russell was also a member of the Beta Theta Pi fraternity at UW-Oshkosh and has known and been close friends of band members Chmielewski, Darnell, and Jacobs for nearly 20 years. He counts himself among the few that can say he was at their first show together as a band in 1996 and has attended several dozen of their shows over the years.
Talkbacks
sandstorm | Feb. 1, 2012 at 8:33 a.m. (report)
farewell fair cover band! the Toys, Love Monkeys, Mount Olive, etc. will never replace you!
Facebook Comments
Disclaimer: Please note that Facebook comments are posted through Facebook and cannot be approved, edited or declined by OnMilwaukee.com. The opinions expressed in Facebook comments do not necessarily reflect those of OnMilwaukee.com or its staff.