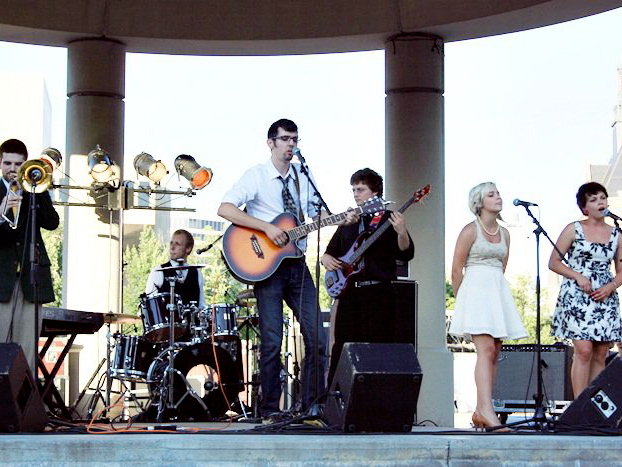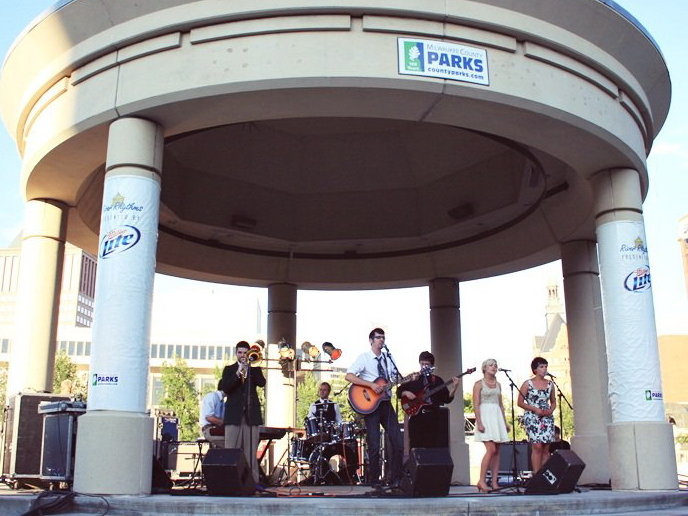 People of the Glass House earn Summerfest gig
Veteran Summerfest patrons know that much of the music emanating from the stages during the early hours of the festival day consists of cover songs played by hard-working, well-meaning cover bands.
People of the Glass House almost certainly will change that for about an hour next year.
The seven-piece Green Bay-based group, fronted by quirky singer Ben Teegarden, won its slot at next year's Big Gig with an arresting set of original music that won first prize at the annual "Battle of the Bands" Thursday night at Pere Marquette Park. The event was held in conjuction with Downtown Employee Appreciation Week.
Teegarden and bandmates Zachary Bader (drums), Alex Drossart (keyboards), Andrew "Doc" Bader (trombone), Kellen Rodriguez (bass), and vocalists Carli and McKenna Ihde, won the judges over with interesting melodies and lush arrangements on songs like "Not Quite Grown," "When I Wake Up," -- which spotlighted excellent vocals by the ladies -- and "Forever and Always."
The songs sprang from the acoustic guitar of Teegarden, an interesting frontman who channeled the geeky cool of Rivers Cuomo and the intensity of early Elvis Costello, and added layers of sound with trombone fills, tinkling keyboard fills and backing vocals.
"Just so comfortable, like a Sunday morning," judge Kevin Brandt of 96.5 WKLH said. "It's incredibly original and it's just really nice to listen to. It just calms you and makes you feel good."
With no member older than 22, People of the Glass House built displayed some lyrical complexity of Bright Eyes and displayed some of the dynamics of Arcade Fire.
Said Brandt of Teegarden: "It's not that you are an old soul, just a very educated soul."
People of the Glass House was one of six bands to compete for the coveted Summerfest slot, and the trio of judges (which included Brandt, Banshee Music executive Jeff Horrigan and the author) considered it one of the stronger fields in the history of the competition.
J. Stoops opened the night with a blistering cover of the Doobie Brothers' Long Train Runnin', and followed with some originals, including a song called "Sexy, Real Slow," that displayed deft dynamics, J. Stoops seemed like a solid, festival-ready group.
Lead singer Jordan Stupar had a Jason Mraz-like quality to his voice, but it wasn't redundant or annoying, as Mraz can sometimes be. Johnny Kinslow drew a very clean tone from his Telecaster and his lead playing fit the songs without overpowering the music of his bandmates.
J. Stoops' bio says the lineup features "a graphic arts graduate, an engineer, an Escalade-driving roughneck, and a pastor's kid who likes to have a little too much fun," and the group seems capable of having a good time.
Take Solace, an Americana outfit featuring grade-school chums Dirk Watkins and David Klapatch along with Chris Lubinski, David Pawl and Tom May, got off to a somewhat tentative start in its set, but closed with a bang on an original song called "Everything is Bigger in Texas," which echoed the Sam and Dave classic "Hold On, I'm Comin'" in its funky sweep.
Lizard Kings, an acoustic duo with roots at Carroll University, softened things a bit with comfortable coffee-house music that included a bouncy song called "Hey Little Mary" that had a Bo Diddley feel. That set, which closed with a solid Doors cover, set the stage for the heaviest performance of the night, a blow-back-your-hair set from Raygun.
With experience in previous battle of the bands competitions, Raygun commanded the stage behind dynamic singer Chris Bellanti, who showed an accomplished rock voice and excellent front man moves.
The group opened with a cover of "Everybody Wants You," a song that reminded this listener that Billy Squier did more than just prance around in a pink tank top in a video that became a cultural joke. He wrote some radio-friendly rock songs as well. Raygun, led by the muscular drumming of Dave Hahn, sounded radio-ready as well -- the perfect band to help push beer sales on a warm festival night.
Jayk Burczyk, fronts a band called Jayk, closed out the evening with an impressive solo set. "I have a band, but they couldn't make it tonight," he said.
Burczyk, whose bio made reference to his "Robert Smith hair," had a raspy quality to his voice and showed a lyrical and musical maturity beyond his years on emotive songs like "Cold in June." He showed interesting phrasing on a cover of "All Along the Watchtower" and sounds like a guy whose music would fit in on satellite radio.
Talkbacks
MilwaukeeFan24 | May 5, 2011 at 12:00 p.m. (report)
Yeah, they win too many contests... give somebody else a chance!
Bunderscore | May 4, 2011 at 3:46 p.m. (report)
looks like they are trying to win a second show this year... is that fair?
Facebook Comments
Disclaimer: Please note that Facebook comments are posted through Facebook and cannot be approved, edited or declined by OnMilwaukee.com. The opinions expressed in Facebook comments do not necessarily reflect those of OnMilwaukee.com or its staff.