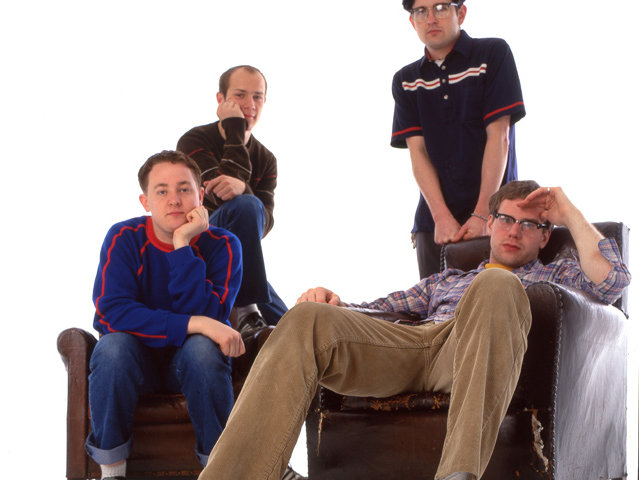 Is The Promise Ring back for good?
There was a time when there was no more exciting Milwaukee musical export than The Promise Ring.
With jangling guitars and Davey von Bohlen's plaintive voice, the band had legions of fans here at home and abroad. But just as things began to heat up, thanks to the Stephen Street-produced "Wood/Water" record in 2002, The Promise Ring came apart.
Three years later, the band reunited for one show, leaving hungry fans clamoring for more. Now, with a rarities record from Dangerbird on the horizon, The Promise Ring is getting together to play Feb. 24 at Turner Hall and the following night at the Metro in Chicago. The group will also play the Bamboozle Festival in New Jersey in May.
We talked to drummer Dan Didier, who still plays with von Bohlen in Maritime, about the impetus for this latest reunion and whether or not it's a sign the band is considering a permanent future together.
OnMilwaukee.com: I'll start with the obvious question... Why did you guys decide to get back together again now? Is it more than advance publicity for the upcoming comp?
Dan Didier: Well, ever since the 2005 one-off show we did we were approached pretty regularly to do a few shows here, or another one-off there. As much as we were willing to it just never worked out. We have all moved on since the break-up and trying to coordinate and have four different schedules sync up was really tough. So, this year we are all finally in a place where we can make this happen. The upcoming rarities record is something we thought of after we decided to play some shows.
OMC: Was that 2005 show more a lark?
DD: That show was less of a lark and more as a favor to Tim Edwards, our booking agent from Flower Booking. We played as part of the Flower 15 festival as a 'thank you' to Tim for putting up with us while we were a band.
OMC: Do you guys just get the itch to get together once in a while or do these add up to something bigger?
DD: No, I don't think this will lead to anything permanent. Too much going on in our lives to consider doing this full-time, full-time.
OMC: Did the band ever "officially" break up or did it just kind of stop? Did you all sit down and say, "it's time to end this?"
DD: Oh, we definitely broke up. On our last tour we did, which was the "Plea for Peace" tour, it was clear that we needed to end it if we wanted to remain cordial with one another.
OMC: "Wood/Water" really suggested the band had grown into a really good place musically and in terms of larger success. Has there been any sense among the band, looking back, that the split was, maybe not a mistake, but maybe came at an unfortunate time?
DD: I never once thought that the break was a mistake. It had to happen. So, if something has to happen it doesn't really matter when it happens as long as it does and in some respects that is unfortunate. So, I don't look back and wonder "what could have been." Instead I am glad it did because all of our relationships are way more sound now than they would be if we tried to soldier on.
OMC: Can you tell me about the upcoming record?
DD: The record will have unreleased songs, demo versions and some rare tracks. We don't have a solid release date, but sometime in summer, I believe. During the "Wood/Water" demo sessions that you mentioned earlier (recorded with Kristian Riley at Bionic when it was located above the Miramar Theater) there are some songs that we ended up not recording for "Wood/Water" that will be included, as well as a track that we did record in England while working on "Wood/Water," that we never released.
Facebook Comments
Disclaimer: Please note that Facebook comments are posted through Facebook and cannot be approved, edited or declined by OnMilwaukee.com. The opinions expressed in Facebook comments do not necessarily reflect those of OnMilwaukee.com or its staff.