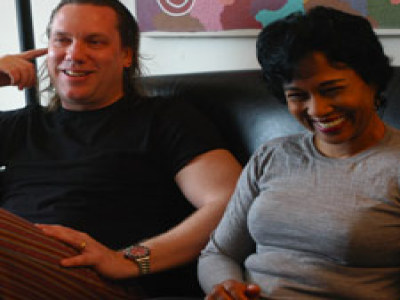 Milwaukee Talks: Brian Ritchie
The Violent Femmes' Brian Ritchie is one of a handful of Milwaukeeans whose music is internationally known, but he still can fly just under the radar in his hometown. Sure, he's recognized often, but he says that's less because of his notoriety as the bassist of Milwaukee's most famous band, than due to his living here for 30 years. Even though it's been a few years since the Femmes have put out an album, the band still tours -- and sells out -- constantly.
This Friday, the band is playing a concert at the Pabst Theater to benefit tsunami victims. Ritchie's wife, Dr. Varuni Kulasekera, has a personal connection to the tragedy, and the band is donating all proceeds to charity. Ritchie is performing in a second, solo show for the relief effort Feb. 11 at Artasia Gallery.
We caught up with Ritchie and his wife in this latest Milwaukee Talks to chat about his career, the Femmes and his willingness to help raise money for a good cause. We sat down at his apartment in the Shorecrest Hotel, which, Ritchie points out is, much like his occasional bandmate and neighbor Sigmund Snopek's pad, "but smells much better."
OMC: How important is it for the Violent Femmes to be involved in this benefit?
BR: We're very stingy with benefit concerts, which is nothing to be proud of, but in this particular case, everyone is doing something, and we have a personal connection. I think it's quite natural to do something. We can't imagine what it must have been like in that tsunami.
OMC: You're donating all the proceeds to charity, right?
BR: It's great, everyone is donating everything. The Pabst is donating, the stagehands are donating and our crew is working for free. We'll raise tens of thousands of dollars. That money will really have an impact over there.
OMC: Sammy Llanas of the BoDeans is opening for you. You guys don't play together often, do you?
BR: We've played together maybe three times in the last 25 years. It will be great. He didn't hesitate to lend his support.
OMC: Are you excited for this concert?
VK: I'm really excited. I'm excited that Milwaukee really got together to help.
OMC: What's your personal stake in the tsunami relief concert, Varuni?
VK: I'm Sri Lanken. My sister and her husband are there. Our friends and family members saw their lives just swept away.
OMC: Do you have any trips planned to southeast Asia?
VK: We're hoping that after the band finishes its Australian tour, we can go to Sri Lanka.
OMC: The Femmes do have a huge base in Australia, don't they?
BR: Well, we were one of the first international alternative -- I have to turn back the clock to remember what the terminology was back then -- New Wave, I guess -- bands to go over there. So they really have a warm spot in their hearts for us, and we've been pretty devoted to going to Australia and New Zealand. In fact, New Zealand was where we got our first gold record. We love them, and they love us. But I wouldn't say it's much different than what we get in the States or in Europe.
OMC: It seems like you're always on the road. Do you still get energy from touring? Do you still like it?
BR: That's the main reason I stay in the band, because I like traveling and I like playing music. It's still fun just thinking about it.
OMC: I know I've seen the Femmes live more than a dozen times, and with very few exceptions, you guys still sound great and you still sound like you're into it. Is that true?
BR: Oh yeah, I mean we're all into it. Gordon is really consistent, and Victor was chomping at the bit to get back into the band.
OMC: You and Vic stayed close even during the time he was out of the band, right?
BR: Victor and I started hanging out again at a lot of funerals together.
OMC: Hey, those events can bring people together.
BR: Victor and I were really close friends before the Femmes started, so friends like that you can't lose.
OMC: When you play together, does it sometimes feel like you're back in 1982?
BR: I think we're better! Actually, that's one of the things that led to Victor coming back. We were listening to all the vintage live recording when we were putting together the re-issue of the first album with the bonus CD and live tracks. We got together at Victor's studio and had to listen to all this stuff, and one thing that came out of this was, yeah, we're better than all of this now. And that just comes from practice.
OMC: Is it a little weird to you that you have teenage fans that might not have even been born when your first album came out?
BR: Some of them are our kids!
OMC: It's like the generation that loved your work then grew up with you, but you're still popular in that teenage angst crowd.
BR: I can't think of any other band that has that kind of phenomena. There are other bands from our generation that are more commercial and more successful, but they can't say that particular thing about themselves. If you go to an REM show, it's not going to be like that. We all started out with the same audience. If you really think about what rock 'n' roll is, there's better adult music out there. It's mainly for kids, and I'm happy to be playing for them.
OMC: Are you writing new material?
BR: Um, I don't know. I'm writing material, but we're debating what we want to do next in terms of recording.
OMC: It's kind of been a while since you had a new record.
BR: Yeah, the last experience we had was really unhappy, and I think that put a wet blanket over Gordon Gano. It was unhappy because of external factors. I talked about it recently with Gordon and he said he didn't want to just get together and make another album like all the others. So, at least we agreed that we have to do something different this time. But lets face it, there's no commercial incentive to make records anymore, since record sales are down. It's really hard for a band like us to assume that we'd get any airplay. So we have to do it for strictly our own reasons, which would be the pleasure of making it.
OMC: Could you make an album at this point that sounded really different?
BR: Yeah, we have a lot of talent in the band and a lot of creativity. There's certainly the potential to do something, but the public hasn't always responded to our efforts.
OMC: I've got to say, I've still never heard a band that sounds like the Violent Femmes, though I do hear other bass players trying to sound like you.
BR: I hear some bands that sound like the Femmes but more than that, a lot of bands tell us that they inspired us. Duff McKagan from Guns N' Roses told me that he really wanted to get a band together with the bass that sounds like me. Obviously, he doesn't sound like me, and their band doesn't sound like the Femmes.
OMC: Are you doing any side projects right now?
BR: Recently, I put out an album called "Shakuhachi Club NYC," which is a jazz album where I play the Japanese bamboo flute, which is something I've been studying for the last nine years. It's a good album, but it's totally different than the Femmes.
OMC: How do the Femmes pick the "Horns Of Dilemma?"
BR: The Horns Of Dilemma are based on a Gamelan Orchestra. Everyone in the village is welcome to be in the orchestra, and their parts are tailor-made, based upon their ability. The master will be doing the intense stuff, and a little kid will be doing something a little kid can do. For us, usually it's the people who are begging to be included.
OMC: Why do you guys live in Milwaukee?
VK: We lived in New York for 10 years, and we said, 'Why are here? I don't work here anymore.' And I loved Milwaukee, so I said, 'Let's go to Milwaukee.'
BR: She said that many, many times before I stopped laughing. I didn't even want to consider it. But Milwaukee is such a great place. I have this relationship with this building, and I can play music without anyone saying anything.
VK: We have friends here, and it's a beautiful place.
BR: Milwaukee is home. I saw Sammy Llanas and told him I moved back to Milwaukee, and he said, 'I'm not surprised. Home has such a magnetic attraction.'
OMC: Do you ever sit back and think that you might be one of Milwaukee's biggest celebrities?
BR: When Jeffrey Dahmer came out, we thought, 'Oh no, someone more famous came out!' No, it's true that in Milwaukee we might be celebrities, but only in Milwaukee do people say, 'Hey, you're in the Femmes. That's cool. So what do you do for a living?'
They also say, 'You guys are really big, you play in Chicago sometimes, right?' At the same time we may be at the top of the food chain, but we are also seriously underestimated.
OMC: Can you fly under the radar in Milwaukee?
BR: I can't go anywhere without running into people, but that doesn't necessarily have to do with the Femmes. It's because I lived in Milwaukee for 30 years. It's got its perks. People in Milwaukee aren't pretentious. It's just the Milwaukee way.
OMC: Do you like playing in Milwaukee more than you like playing in other cities? Do your Milwaukee fans know you better?
BR: They certainly know where the bodies are buried. Yeah, I think we feel like we have to. We know we have to play better in Milwaukee or people are gonna smell a rat. It's not a more intense relationship, but it is a different relationship.
Ritchie and the Violent Femmes play at the Pabst Theater Friday, Feb. 4. For tickets and more information, visit pabsttheater.com. Ritchie also plays a solo benefit at Artasia on Friday, Feb. 11. For more information, call (414) 220-4292. Ritchie's Web site is brianritchie.com.
Facebook Comments
Disclaimer: Please note that Facebook comments are posted through Facebook and cannot be approved, edited or declined by OnMilwaukee.com. The opinions expressed in Facebook comments do not necessarily reflect those of OnMilwaukee.com or its staff.