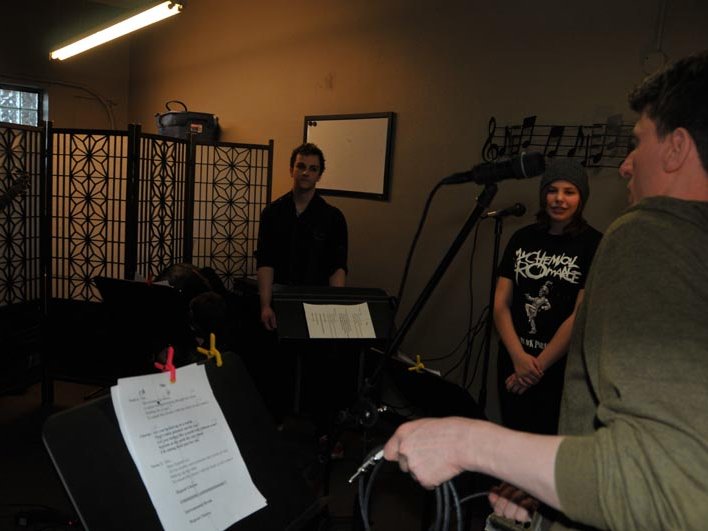 Pencils down, amps up: Rock band class is in session
Angelina Gagliano, 13, has a fairly typical school schedule with the typical school subjects. Some math, some social studies, some literature, etc. For the past two months, however, Gagliano has been taking a class on a topic far outside the typical middle school curriculum.
She's learning how to rock.
"I've always wanted to play guitar in a band," Gagliano said. "I've never gotten to do that, so it's just a cool experience I want to try out. I like everything about it: the music, being with other people and making cool sound."
Gagliano is currently enrolled in her second session with My First Sound Check, a two-month introductory course offered at Sound Check Studios, 7234 W. Greenfield Ave., on living, working and performing in a rock band.
For $80, musicians aged 12 to 18 from a variety of instrumental backgrounds (from guitar, vocals and drums to less conventional rock instruments, like horns and strings) can learn about the nitty-gritty of life in a rock band, from stage performance and production to booking and marketing the band's gigs.
"We have a bunch of students here who don't have school bands," said Michael James, the creator and lead instructor of My First Sound Check. "So they come and they're learning how to play these instruments, and they've got no outlet. We wanted to bring together all of these kids who were playing these instruments and start pushing them in the right direction to performing."
"There's also a lot of kids who are in schools with school bands, but they don't want to participate in that," James continued. "School bands do a lot already, but they don't really do pop or rock music. A lot of these kids want to do music that they love to play and listen to."
James first started My First Sound Check about two months ago with a demo class, with the goal of "giving you every positive experience that goes into being in a band." The final result – the band Aquarian Pony, featuring Gagliano on lead vocals – performed on Fox 6's "Studio A." As a first attempt, it was a success, so James decided to make it into a full class, with its first day starting April 7 and concluding on June 1 with a performance at the West Allis Ala Carte Variety Stage.
Before then, however, there is teaching and learning to be done in James' own version of Jack Black's "School of Rock" – not to be confused with the actual School of Rock, founded originally in Philadelphia in 1998 and now spread across the country, including Shorewood, teaching similar musical performance skills.
"I think the movie set the tone for something like this, that these are teachable skills," James said. "It's not just a trial by fire, getting thrown in and having to figure it out on your own. It doesn't have to be that way."
The kids choose what particular genres or artists they'd like to perform, and James and the bands go from there, rehearsing not only the songs but how to perform the songs, set up the stage and hone the instruments for the best technical show possible. That means the fledgling bands must learn how to make a good live audio mix, how to get the crowd into a song, how to do basic lighting schemes and more.
"When somebody is out to see your band, you need to entertain them and not just play your songs," James said. "We are teaching them not how to play their instruments, but how to perform the songs and how to rehearse and how to function as a group."
Of course, some adversity can come along with rehearsing and having to work together as a group. James noted that, in addition to the stresses that can come with rehearsing with bandmates, the groups will have to eventually pick songs and learn how to compromise. It's almost as though My First Sound Check is more of class about communication featuring a rockin' self-made soundtrack.
James, a local music veteran of more than 20 years, and his cast of guest speakers and instructors can attempt to teach a lot, but in the end, the bands often pick up what they need on their own.
"There's a natural chemistry that these kids will get from being together," James said. "When you like the people you perform with, you perform better."
The end goal for the class may be a performance, but James hopes the lessons learned in My First Sound Check and programs similar to it stretch far further than one show.
"These kids get those first steps so that they walk away having been taught how to put their own band together," James said. "Any kid who walks out of here having done this class, six months or a year from now, hopefully can put his own band together and uses the tools he learned to work as a musician. As long as he's doing what he loves to do and performing in front of people, we want to make that happen."
"It was just really fun," Gagliano said. "We all came together with prepared music, but we got to make it sound really good. I learned how to work with other people and make music, not just singing by myself or with a track or with the radio. We made it for real."
Dewey Finn/Mr. Schneebly would be proud.
Facebook Comments
Disclaimer: Please note that Facebook comments are posted through Facebook and cannot be approved, edited or declined by OnMilwaukee.com. The opinions expressed in Facebook comments do not necessarily reflect those of OnMilwaukee.com or its staff.