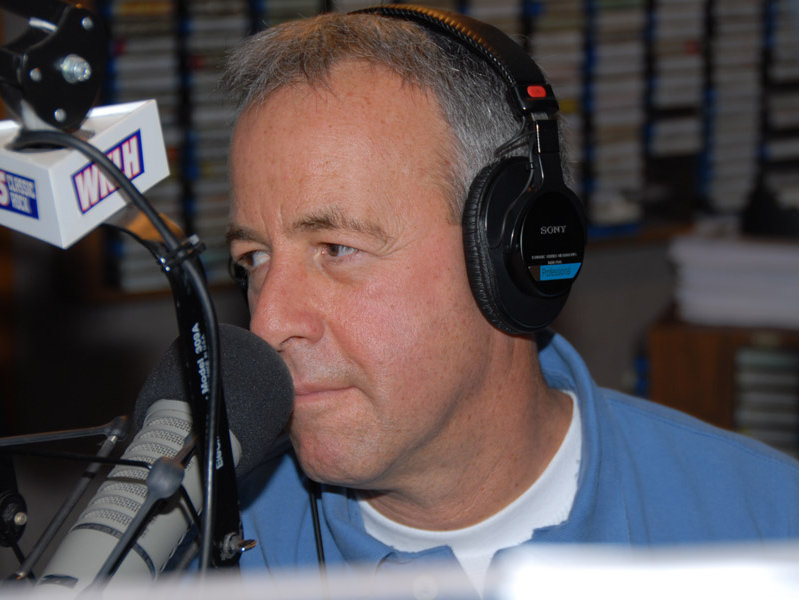 Milwaukee Talks: WKLH radio host Steve Palec
Podcast:
Steve Palec talks about the technical side of the radio biz, and why he loves it
Subscribe
to OnMilwaukee.com Podcasts




(page 2)




OMC: For years, I assumed your show was syndicated.

SP: That doesn't surprise me. I hear that all the time.

OMC: Honestly, it seems too polished for local radio.

SP: I take that as a compliment. I really appreciate that. The only frustration, and it's kind of weird, is that people think the show is taped. It's not. "Rock and Roll Roots" is live -- you hear the weather. I talk about things going on real-time. People think the weekday show is live, but that's the one that's actually taped. I think the reason people think I'm syndicated is because I over-prepare. For a three-hour show, I have a five-hour show. I have hundreds of clips ready to go.

I have taken technology and figured out how to make life harder. The other thing -- and what a great model, the guy is in prison -- but Phil Spector; I try to bring the "wall of sound" to radio. I'm almost ashamed to just go on the radio and talk.

OMC: And you still do all of the technical stuff, too. Do you still enjoy that side?

SP: The greatest three hours of my life were the three hours I sat down with Les Paul. I walked out of there drenched in sweat like I had just copulated. I was in the presence of genius. Sitting there and hearing about his experiences just fired me up, and I wanted to share it with everybody. The greatest honor I had was doing his eulogy at his funeral.

OMC: Are you a musician?

SP: The only thing I can play is a turntable.

OMC: Let me ask you a question about classic rock that's been nagging me for a while. What happened to guys like Billy Joel or Eric Clapton or even Elton John, who used to rock in the '70s? Why do they all suck now?

SP: I think they ran out of stuff to say. The antithesis is Bruce Springsteen. This is a guy who was releasing stuff while I was in high school, and for him to still be relevant and to have something to say ... that's why classic rock still resonates. Because it's real. You take a Britney Spears, and her success was based on selling records and product. There was no emotion, no statement.

That's why rap is sincere. When Eric Clapton sang, "Layla" about wanting George Harrison's wife; not only can I relate to that, but I can feel his sincerity. That's why you can hear it 30 or 40 years later. A lot of the same guys are now going through the motions or just being melodic or feeling like they have to perform.

OMC: Do you think those artists know that their best days are behind them?

SP: I have the utmost respect and love for Paul McCartney. He had a song a few years ago that's lyrics were "one, two, three four." What?! All you can do is hope he looked in the mirror and asked himself if that was as pertinent as "the love you give is equal to the love you take."

OMC: Who do you listen to now? What current artists do you like?

SP: If you saw my iPod, you'd think I am insane. I love putting it on shuffle and having it go from Frank Sinatra to Lyle Lovett to Usher to Deep Purple. I like anything that's melodic. It doesn't have to be deep or sincere.

OMC: Is your show helping keep radio relevant?

SP: I hope so. I think the relevancy will still always be local. People also ask why I'm not syndicated. There are times when I think, "Shouldn't this be shared with as many people as possible?"

OMC: What's the best band you've ever seen live?

SP: Seeing Paul McCartney at the United Center in Chicago after he hadn't toured in a long time, I think right after George (Harrison) had died. That show just touched me. And I was at the bomb scare Springsteen show (at the Uptown Theater in 1975).

OMC: Apparently, so was everyone in Milwaukee!

SP: It was like the Ice Bowl, but I really was there. I have the bootleg tapes of it. The performance was phenomenal.

The first time I saw John Prine, that one hit me. I was at Summerfest, and just wandering and stopping, and here was this guy just playing. I stopped in my tracks and thought, "What is this?" I've bought every single album he's put out since.

OMC: What band would you have liked to see in concert?

SP: I hadn't seen the Stones until they were here last. Sans walkers would've been nice. I never saw Led Zeppelin. The Doors came to Milwaukee in the '60s, and I was oblivious. I couldn't go anywhere in the '60s unless my parents said it was OK.

OMC: Why do you live in Milwaukee? Why do you stay here?

SP: A couple reasons. One is that I've never been fired. When I was in radio full-time, that might have forced me to go elsewhere. Secondly, I actually like the idea of being in a city where you can have anything you want, albeit with limitations, but you know what is out there. I feel like this a perfect-sized community. It's in my blood as much as radio, and I can't explain that, either. But it's home, and it's really encouraging to see the progress that is occurring here. There's just something that almost tempts me to sing the old Channel 12 song. This is home.

<< Back

Page 2 of 2 (view all on one page)


Facebook Comments
Disclaimer: Please note that Facebook comments are posted through Facebook and cannot be approved, edited or declined by OnMilwaukee.com. The opinions expressed in Facebook comments do not necessarily reflect those of OnMilwaukee.com or its staff.