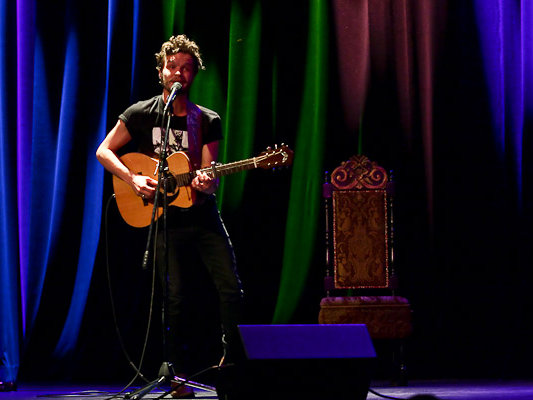 Tallest Man on Earth fills The Pabst with emotion
With a sparse stage set-up featuring only an amplifier, guitar rack and a chair fit for a king, it would appear contrary to the Tallest Man on Earth -- aka Sweden's Kristian Matsson -- and its lofty and royal implications.
Matsson strolled on stage last night at The Pabst Theater as a simple man with a guitar. But as he started singing and playing his guitar, the meager settings were quickly filled with passionate folk melodies and lyrics telling of hope, troubles and everything in between. As the single man strutted with his guitar across the stage with a fiery emotion, he proceeded to rule over and put the crowd into an ecstatic frenzy between songs and casually joking /conversing with the crowd.
Although it was Matsson's third time in Milwaukee (he played a free show last year at Turner Hall and opened for John Vanderslice in that venue, too), he had plenty of new songs to share off of his latest album "The Wild Hunt."
The first time I heard the Tallest Man on Earth was online through his video for "Where Do My Bluebird Fly" and was immediately hooked by the singer's young Dylan-like voice (with a very slightly higher pitched voice and a hint of Tom Waits, as my friend added after the show), deeply human lyrics, and beautiful and awe-inspiring joyful / emotional finger picking of his guitar strings. He certainly brought that and more to the show, as he made the most of his opportunity to play The Pabst, which he complimented twice during the set.
Most of the set drew heavily on "The Wild Hunt," providing gut-wrenchingly emotional and sometimes joyful songs like "King of Spain," "Burden of Tomorrow" and "Trouble Will Be Gone."
The set also provided a few songs from his 2008 album, "Shallow Grave," with songs like "Where My Bluebird Flies" and "The Pistol Dreams" (the latter finished with a strong emphasized strumming in the last notes) as well as a few nuggets including superb covers of Sade's "By Your Side" and Paul Simon's "Graceland."
The crowd really got involved in the set, some of whom yelled their appreciation (and some random), to which Matsson casually joked to and expressed his appreciation for them as well. He certainly felt at home at The Pabst.
After one fan's comment of why he had the chair, during his song "You're Going Back" he unflinchingly went over and knocked the chair over and shoved it to the back of the stage.
That same emotion came through his lyrics, such as in his song "Love is All:" "Well I walk upon the river like it's easier than land/Evil's in my pocket and your will is in my hand/Oh, your will is in my hand." Afterward, in introducing the next song -- the cover of "Graceland" -- he said "This song's the same but it's by Paul Simon."
The Tallest Man on Earth finished the night with a three-song encore full of grandeur and a powerful finish for his rein as king that night. One of the most heartfelt moments of his performance was when he brought out his girlfriend Amanda out for a duet that had them singing "Give into Me," and whose voices created an honest and emotional atmosphere.
While the Tallest Man on Earth was on the top of the bill, no one will soon forget Nathaniel Rateliff's performance at The Pabst.
Rateliff, a man whose humbled beginnings have rubbed off in honest and commanding songwriting, started the night off like Matsson -- alone with a guitar -- and soon was joined by his band The Wheel. Fresh off the release of his album "In Memory of Loss" and an April performance at Turner Hall, Rateliff rode his momentum going in, providing a potent and commanding mix of Americana and folk.
Aided by instruments such as harmonica, keyboard and upright bass, Rateliff played songs from his latest such as "Whimper and Wail" (my favorite from the new album) and "You Should Have Seen the Other Guy" (which featured a wild wail of emotion). He had a fair share of more upbeat and hopeful songs alongside songs looking into the trials and tribulations of life.
While both singers have come from unlikely places, they've exploded onto the music scene. But while their backgrounds may be humble, their voices and guitars shine like the brightest stars.
Talkbacks
indy169 | May 27, 2010 at 12:53 a.m. (report)
http://www.youtube.com/user/dephot#p/u/3/6N8fpG4gezA
Facebook Comments
Disclaimer: Please note that Facebook comments are posted through Facebook and cannot be approved, edited or declined by OnMilwaukee.com. The opinions expressed in Facebook comments do not necessarily reflect those of OnMilwaukee.com or its staff.