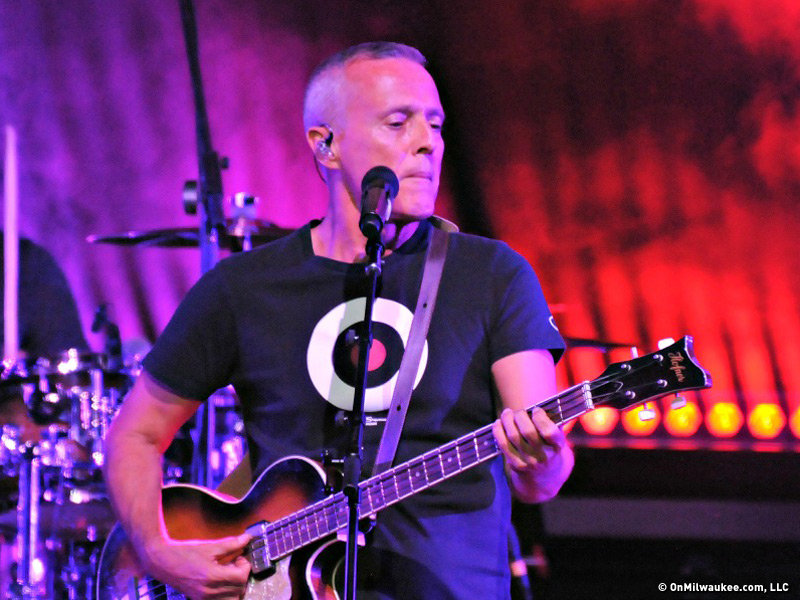 Who stole the show: Hall & Oates or Tears For Fears?
Such an unlikely pairing. The blue-eyed soul of Hall & Oates, or the Brit pop of Tears For Fears? Who was better Saturday night at the Bradley Center?
Depends if you're asking the husbands, the wives or the sold-out crowd.
First, a disclosure: the first CD I ever bought was a Hall & Oates greatest hits, for some reason. (The second CD I bought, a minute later, was John Lennon, so don't judge). I like Hall & Oates. I once dressed up at Oates for Halloween.
But I like Tears For Fears better.
So that's why I arranged this double date for the sake of science. My buddy, Jon Adler from FM 102.1 and I were here to see Tears For Fears. Our wives, Velia and Kristin, came for Hall & Oates.
It was a classic case of he said/she said. At least until the music started.
Tears For Fears played the undercard for a 75-minute set, and they were as good as I hoped they would be.
Roland Orzabal and Curt Smith, both 55, looked pretty good. More importantly, they played what we wanted to hear and how we wanted them to play it.
That included, of course, "Mad World," "Shout," "Sowing the Seeds of Love" and "Head Over Heels." (Man, I loved that video with the sexy librarian.)
"Sowing The Seeds of Love" was longer than I remembered, and tonight's version was just a bit more rocking than the Beatles-esque version off the record. Some of their lesser known songs I would almost call soft rock, although they also sounded like Wings and ELO. Knowing what would come next, I shouldn't have complained.
Worlds collide when @tearsforfears reference @RealAliceCooper (#waynesworld scene about Mil-wau-kay) @BMOHBC

— Velia Tarnoff (@VeliaCommPro) May 14, 2017
On the topic of covers, their version of Radiohead's "Creep" was pretty cool, too, although Orzabal is no Thom York on those high notes. And while while some only recognized the Gary Jules' version of "Mad World," TFF's original is way better.
"Shout" took me right back to my favorite decade of music. With one caveat, that is. Sometimes the memory of music is better than hearing it again.
Case in point: Hall & Oates. After a 30 minute intermission, they played for more than an hour and a half, beyond their projected set time. That's an impressive outing for Daryl Hall, 70, and the no-longer-mustachioed John Oates, 69. Oates actually looked better than Hall – who knew? His white bedazzled denim "shacked," however, was questionable.
I still do enjoy this band, kind of, but I realized tonight that I don't really like some of their bigger songs. "Adult Education" and "Maneater" just made me roll my eyes.
For a band that's usually so tight, they started out with a lot of feedback. This audience didn't care. They seemed to embrace their inner Top Gun during a sleepy cover of "You Lost That Loving Feeling." Ugh.
The crowd singing along to "Out of Touch" was delightfully ironic. "The sax player looks like a wizard!" said Kristin. I was thinking more like Brent Spiner in "Independence Day: Resurgence."
"Sara Smile" on the grand piano was pretty sweet, though. I can't complain about everything – I knew full well what I was getting myself into tonight.
Thing is, I feel like I can see Hall & Oates every few years for free at Summerfest. I'm not sure they're really an arena band at this point. By comparison, I can't recall the last time they came to Tears For Fears came to Milwaukee (glad Smith made a "Wayne's World" joke, though), and the Bradley Center seemed like a good venue for these guys. Not surprisingly, this was a sedate, older, very white crowd (the woman two seats down from me fell asleep), but the arena was full. "Sure are a lot of moms here," noted Hall.
That was an understatement.
Indeed, by the time he sung the words "Fading Fast," so was I. Maybe it was the Summerfest vibe, but last time I saw Hall & Oates, it felt way more festive. I mean, "I Can't Go For That" went on for eternity, and the wizard saxophonist jammed for what I estimate to be approximately seven hours.
So who stole the show?
Ask this crowd, it was definitely H&O. Ask our group, and we leaned toward TFF. Said Kristin, "Hearing my first purchased cassette tape come to life was amazing!"
Adler, in typical form, was just happy to be here: "Great blonde/brunette duos of the 1980s: The Dukes of Hazzard, Yount & Molitor and of course, Hall & Oates."
Said my wife, presumably jokingly, "Sure, Tears for Fears may be 'cooler,' but who cares? Hall & Oates brought the blue-eyed soul. Daryl Hall sounds just like he did when I was 12-years-old. Dreamy."
Uh huh.
"Tears For Fears exceeded my already high expectations," said Adler, being serious before he started to nod off near the end. "Hall & Oates came off as a bit of a Las Vegas show, but the hardcore fans were not disappointed."
So yes, Hall & Oates are incredibly talented, and even as they breezed effortlessly through their set, TFF just felt more ... special.
Allen Stone opened the show with a quick 10-minute set.
Set list for Tears For Fears:
Everybody Wants to Rule the World
Secret World
Sowing the Seeds of Love
Advice for the Young at Heart
Everybody Loves a Happy Ending
Change
Mad World
Memories Fade
Creep (Radiohead cover)
Pale Shelter
Break It Down Again
Head Over Heels
Encore:
Shout
Set list for Hall & Oates:
Adult Education
Maneater
Out of Touch
Say It Isn't So
You've Lost That Lovin' Feelin' (The Righteous Brothers cover)
One on One
Possession Obsession
She's Gone
Sara Smile
Wait for Me
Is It a Star
Method of Modern Love
I Can't Go For That
You Make My Dreams
Encore:
Rich Girl
Kiss on My List
Private Eyes
wcusfcbddccvsevrdfrysvyr
Facebook Comments
Disclaimer: Please note that Facebook comments are posted through Facebook and cannot be approved, edited or declined by OnMilwaukee.com. The opinions expressed in Facebook comments do not necessarily reflect those of OnMilwaukee.com or its staff.
wcusfcbddccvsevrdfrysvyr