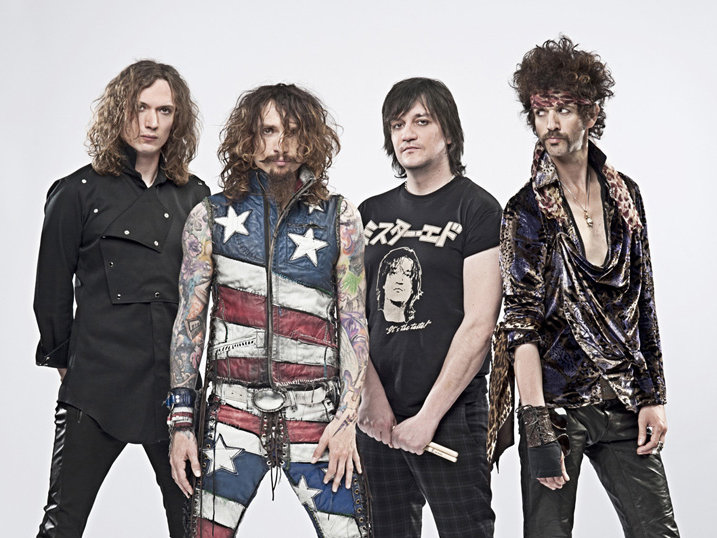 Reunited Brit rockers The Darkness believe in a thing called fun
The lights couldn't stay down on The Darkness for long.
After hitting it big across the globe with their 2003 falsetto-blasting hit, "I Believe in a Thing Called Love," the Brit heavy metal glam rock band began to fade into obscurity. They released one more album, 2005's "One Way Ticket to Hell ... and Back," before the band members went their separate ways, creating their own bands while The Darkness became a name relegated to one-hit wonder countdowns and early '00s nostalgia trips.
However, after about half a decade apart, the band members decided it was time to come together and break out the jumpsuits again in the name of fun.
"There's nothing like it," said Frankie Poullain, who plays bass for The Darkness. "Sometimes you don't even know what you miss."
The band announced their comeback on March 15, 2011, and their current headliner tour –which brings them to The Rave Saturday night – is just one part of their explosion back in the spotlight. An explosion that included a brand new album, "Hot Cakes," released last August, an opening role for the European, African and South American legs of Lady Gaga's "Born This Way Ball" tour and lead singer Justin Hawkins's high-profile appearance in a Samsung commercial during halftime of last year's Super Bowl.
For the band, however, the reunion was about more than just a hop back into the public eye.
"We felt it would be nice to repair the relationships and do something for the common good," Poullain said, "hopefully for our old fans, as well as our new fans."
According to Poullain, an important part of the band's reunion was making music for the sake of making music and having positive fun again, something that got lost as the band grew in popularity in the early 2000s. Back then, the distractions began to pile up for The Darkness, including a stint in rehab for Justin Hawkins and a rather public falling out.
"We're a lot more positive now," Poullain said. "You find yourself coming up against barriers all the time and people telling you what they think is best for you. Ultimately, you have to feel free – to have the freedom to make choices – and not be comprised. You have to have a clear vision of what you're doing. And now we do."
A large part of The Darkness's current vision is delivering the fun, infectious energy that made "I Believe in a Thing Called Love" a massive global hit back in 2003 and again in 2012, hitting #1 on the U.S. iTunes rock chart after the Super Bowl spot. However, the group feels no pressure to replicate their single's success or shed their one-hit wonder status in America.
"When you get a worldwide smash or whatever you want to call it, it's a magical thing," Poullain said. "We don't feel entitled to have another one or try to top the other one. We're just doing what we do ... presenting our vision of what rock and roll music is in 2013."
If The Darkness's music stylings are to be believed, that vision of rock and roll in 2013 takes large pages from the past. The band is heavily influenced by '70s and '80s heavy metal and glam rock, with Hawkins's glass-shattering falsetto and flamboyant on-stage personality earning them the nickname "the straight Queen."
Surprisingly, while Poullain noted American audiences are typically "less cynical" than highbrow British audiences, The Darkness has found most of its success in their native country, serving as "an antidote to the sophisticated, self-conscious pop of the time." While their brand of campy, theatrical rock music thrives in the U.K., according to Poullain, an undercurrent of homophobia in American culture makes it hard to be completely accepted by some U.S. audiences.
"(American culture) is more macho," Poullain said. "With our dressing up, people sometimes see us as a gay metal band. But that's probably more to do with insecure people. We're comfortable with what we do, and we're not going to change for anyone."
Even with these cultural differences, however, the band feels at home when they tour in the U.S., sharing their love of music and aiming for a kind of "communal euphoria" with their fans. And that love for what some may call a "novelty" brand of music – complete with vibrant jumpsuits and music videos featuring starships – isn't ironic or parodying in any way.
"We're not trying to do any particular kind of music," Poullain said. "We just do the music we like. It comes from the heart, and if it didn't, people wouldn't turn up."
It's easy to be cynical toward yet another rock group reunion tour (there seems to be a new one popping up every year), but The Darkness aims to vanquish all negative notions of a band running on the fumes of novelty and nostalgia.
"Whenever someone negative comes to the show, they're cured," Poullain said.
Facebook Comments
Disclaimer: Please note that Facebook comments are posted through Facebook and cannot be approved, edited or declined by OnMilwaukee.com. The opinions expressed in Facebook comments do not necessarily reflect those of OnMilwaukee.com or its staff.