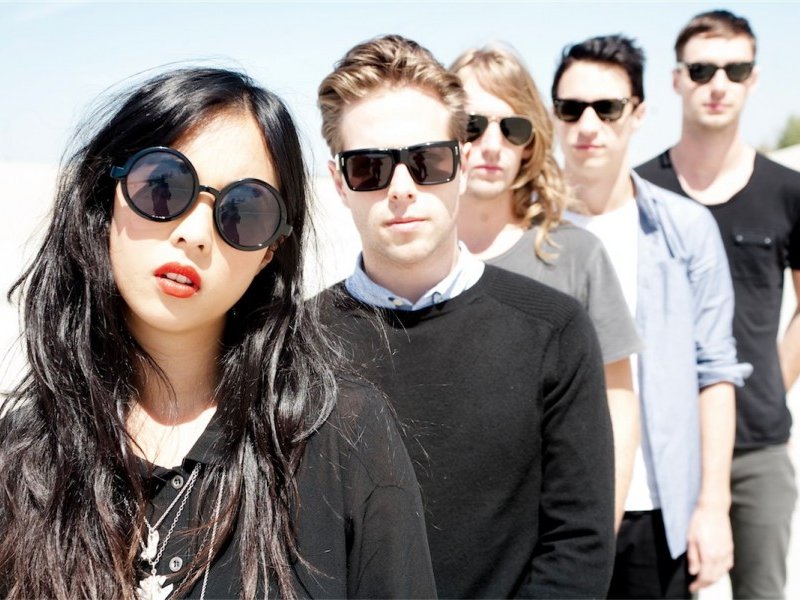 Talking fame with New Zealand rockers The Naked and Famous
The Naked and Famous haven't done much in the name of nudity – probably wise from a career standpoint – but so far they've got the famous part covered. Taking their name from a lyric by English musician Tricky, the New Zealand electronic rockers hit it big with their 2010 debut "Passive Me, Aggressive You," namely their hit song "Young Blood."
The band is currently on the road, making a pit stop tomorrow night at The Pabst Theater for a show. Before then, however, OnMilwaukee.com got a chance to chat with vocalist/guitarist Thom Powers about fame, their follow-up "In Rolling Waves" and how much their adjustment to life in America was similar to "Flight of the Conchords."
OnMilwaukee.com: In a previous interview, you guys said that you wanted to make this most recent album, "In Rolling Waves," one you could play live without backing tracks and stuff like that. How did you go about that in the recording process, while also not dampening down the music?
Thom Powers: I think perhaps it was something that came about from the massive tour we did for "Passive Me, Aggressive You." It was just a natural thing. At the end of the week, we really wanted to make a very cohesive band record.
I think as well we got lumped into a lot of the synth pop stuff that seemed to be coming out of the time. It was great to be a part of that; it feels cool to be a part of a generational thing or something that was happening. But at the same time, we're a rock band with guitars, and we felt we have a little bit more of an edge to us. So defining that on this album was very important to us as well.
It's quite weird because now, looking at having released "In Rolling Waves," the whole strenuous making it so there was no backing track, that was more just kind of challenging ourselves more than anything. It's not like we can really prove to people that there's no backing track, unless of course we just stopped the song. (laughs) So I guess that's more for us to feel like we're being challenged and like we're in control of what we're doing.
OMC: How do you feel about the state of rock music and the music industry in general for bands like you that don't really fit neatly into a conventional genre?
TP: I'm not sure. It's really weird; I think I used to have perspective and opinion on that, but not anymore. Either I'm just getting older and the world is getting bigger, or I'm lazy and not paying enough attention (laughs) to the media and news outlets. One of those two, or maybe a combination of both.
But yeah, it's weird now. I don't know if there's any standard way you can work the industry. I think a lot people talk about how it is or how it works or how you can manipulate it, but I don't think that's applicable for every single band. I think the biggest success stories tend to be the ones where it's an organic thing. That's about as much planning that goes into that.
OMC: The name of the band comes from a lyric that talks about ambivalence toward fame on some level. Do you feel that now, especially since your spotlight has grown over these two albums?
TP: I guess the ambivalence is still there, and that's all that it is really. Now, it's almost more awkwardness. (laughs) There are aspects of it now that we entertain – there's a certain bit of game-playing that we do –but we're very aware of it. Now, it's almost like an unconscious, vague moral/ethics thing that's stuck with us. It's not like we encounter that all the time or that we're sitting there, deliberating our integrity like everyday. It's kind of fundamental to us now or subconscious.
OMC: Has that awkwardness increased since moving to Los Angeles, where everyone's a celebrity or wanting to be one?
TP: (laughs) Yeah, I guess so. Funnily enough, part of it is just being from somewhere like New Zealand, because you feel like such a dumb ass if you're trying to obtain that kind of lifestyle. Moving to a place like L.A., you feel a little bit more like an alien. But I've adapted I think. I think all of us have.
OMC: How was that move from New Zealand to L.A.? Because, in my head, I imagine something like a "Flight of the Conchords" situation, at least on the low end. Hopefully it was nothing like that.
TP: I think, on a very personal level, it was very similar, though we weren't like dirt poor living in a horrible area or anything like that. We had our own version of moving there that had very little to do with what people usually do when they move to the city. We moved into this old dilapidated house – you can see it in our old press shots we did last year – and that was our life there, kind of hidden away.
Yeah, it wasn't the chasing the dream thing. Although David (Beadle, bassist) did a bunch of that when we arrived, going to all the sh*tty bars around Hollywood, hanging out and partying and getting a feel for it. I went to the Viper Room once to meet some friends from New Zealand who were doing a gig there. And that was the only reason I went. (laughs)
OMC: Not really your scene?
TP: Not really. (laughs)
OMC: You guys also recorded the new album in L.A., a change since the last one at home in New Zealand?
TP: Yeah, it was written in our respective hometowns, and it was recorded in this fantastic called The Lab in Auckland. To me, it's the perfect studio. It's set up really well. It's large, but it's also kind of dilapidated. Very dusty; you feel like you're in an old library. Smells like a secondhand store, like a thrift store.
When we moved to Sunset Sound in L.A., it was kind of similar as well. It's got this kind of dank, old smell to it, and the walls are orange. It looks like it did in the late '70s, but that was fun.
OMC: How did the writing process work on the second album, especially considering the success of the first? I'm guessing there was a bit of pressure hoping to avoid the sophomore slump.
TP: Definitely. That's always going to be there. I forget who it was who had the saying, but you have your whole life to write your first record, and you have 12 months to write your second one. It was that scenario. And it's strange because it's almost like a redundant question, asking if we felt the pressure, because on the first record, we were unknowns with no expectations. You're working on this thing you've been trying to work on your entire life, and maybe it's successful. You just can't plan for the kind of success that we had on our first record. And then you have to follow it up, and there's an infrastructure around you, so it's inevitable that you're going to feel pressure.
Plus, you're like a thing, a commodity. People are giving you money and stuff, and they trust you. And it's like nobody trusted us before. (laughs)
Facebook Comments
Disclaimer: Please note that Facebook comments are posted through Facebook and cannot be approved, edited or declined by OnMilwaukee.com. The opinions expressed in Facebook comments do not necessarily reflect those of OnMilwaukee.com or its staff.