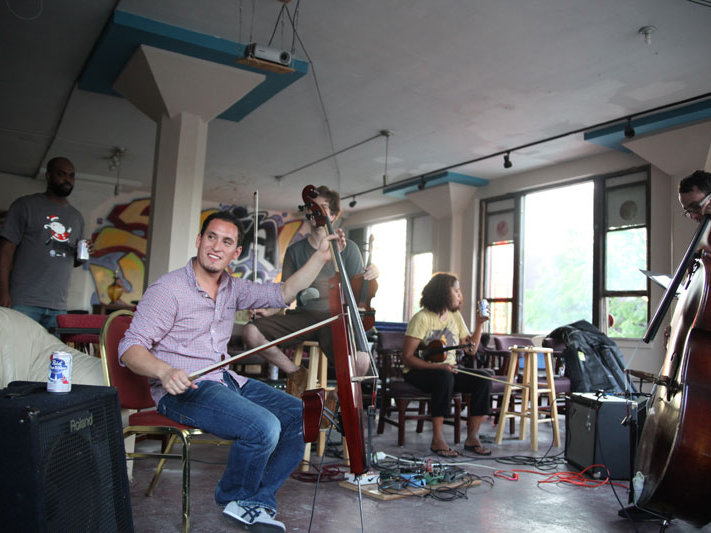 Tarik "The Architect" Moody constructs new Unlooped series
Of all the music scenes in Milwaukee, the most impressive could possibly be the electronic music scene.
With Milwaukee-based label Radio Graffiti and artists like Lorn, adoptahighway, Andy Petr (though he has now moved to New York), Made of Oak, Demix, Stagediver and a host of other fantastic electronic composers, it's hard to not give them the credit they're due.
Seeing the talent in not only the electronic music scene, but in the indie rock and hip-hop scenes as well, Radio Milwaukee's Tarik Moody – with friends John Goezlner and DeChazier Stokes Johnson – set out to create an event that combined the different genres which would cultivate intriguing and innovative live performances.
Last year saw a healthy amount of Unlooped events, but with all of the participants' busy schedules, a hiatus was needed and thus taken. In recent months though, Moody had been receiving questions about the next Unlooped event, which led him to rededicate himself to his creation.
After a shift in the focus of the event, Unlooped "Versus" was born and the point of the event now was to take the same experimental genre-mashing attitude and apply it to the re-creation of a legendary artist's music.
The first "Verses" event will take place at 10 p.m. on Sept. 17 at Stonefly Brewery, and the first artist tackled is the late and extremely influential Jay Dee, aka J Dilla. To learn more about Dilla, click here.
Tarik "The Architect" Moody took some time to fill OnMilwaukee.com readers in on why Unlooped is such a special event to him and Milwaukee.
OnMilwaukee.com: Why did you start Unlooped?
Tarik Moody: It started as a conversation last year between John Goezlner aka BTS.WKNG from WMSE and me at the Red Room about the local electronic music scene and trying to bring people together. We wanted to give more exposure to the Milwaukee electronic scene and we thought, "What if we paired electronic-based artists with other artists from different bands, affiliations and genres?"
The first Unlooped was in June of 2010 and it featured Nick Sanborn (Decibully, Made Of Oak, Listening Party Records), Jeanna Salzer (Jeanna Salzer Trio) and Rory Sazama. We did five Unlooped shows in 2010. We took a hiatus for a variety of reasons. Then I was getting people asking me when I was going to bring the series back.
I wasn't sure if I wanted to at first, but I decided to reformat the structure and spread out the shows, and create a themed Unlooped series called "Versus." "Versus" is where I take a well-known artist's material and then find local artists to get together and put their spin on the material.
OMC: What does it mean to you to have artists from different genres come together to fuse their styles?
TM: It means several things. First, it becomes a networking event. Artists who would never ever meet get to hang out and just perform and talk about music. Hopefully, I would love to see some of these artists from previous and future Unlooped series get together and work on a project or an album. It is exciting to see what these artists from different backgrounds come up with.
Second, it was to give a chance for the fans of the individual's bands to get exposed to other artists that they might never ever see live. More importantly, Unlooped's main goal was to have fun creating something special and sharing it with people.
OMC: Why did you pick Dilla as the inspiration for the next Unlooped?
TM: As I said before, Unlooped has an electronic music slant, whether it be a producer part of the collaboration or a DJ performing during the show. J Dilla not only influenced hip-hop artists, but he influenced a lot of electronic artists and producers such as Hudson Mowhawke, Flying Lotus and others. J Dilla loved collaboration and what a better way to kick off the Unlooped "Versus" series with a tribute to J Dilla.
OMC: Who did you put together for the Dilla version of Unlooped?
TM: Dave Olson (Plight Of A Parasite, Figureheads) - MPC/Sampler; Alida LaCosse - violin, vocals; Barry Clark (Adoptahighway, 1/2 of Omega Clash) - double bass; Peter Thomas (I'm Not A Pilot, Milwaukee Symphony Orchestra) – cello; Allen Russell (Andrew) – violin; Old Man Malcolm (Citizen King, Codebreaker) – turntables; special guest: Spoken Word Artist Nigel Wade
OMC: What can people look forward to on Sept. 17?
TM: Hopefully something amazing that the audience have never seen or heard before – a mixture of classical, electronic and hip-hop music.
To get an idea of what you can expect from the upcoming event, Tarik and friends have put together a couple teaser videos for you to enjoy.
Talkbacks
Lorn | Sept. 12, 2011 at 1:37 p.m. (report)
Sleeping off your drunken tirade from this morning, Nicole?
NicoleSimpson | Sept. 12, 2011 at 5:23 a.m. (report)
By the time Mrs. Dewey was lecturing her 8th grade Music Class about the elements of hip hop and waxing poetic about Dilla... Rap Music Was Already Dead.
Facebook Comments
Disclaimer: Please note that Facebook comments are posted through Facebook and cannot be approved, edited or declined by OnMilwaukee.com. The opinions expressed in Facebook comments do not necessarily reflect those of OnMilwaukee.com or its staff.