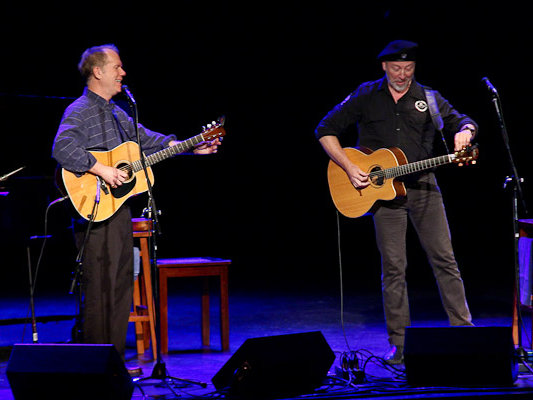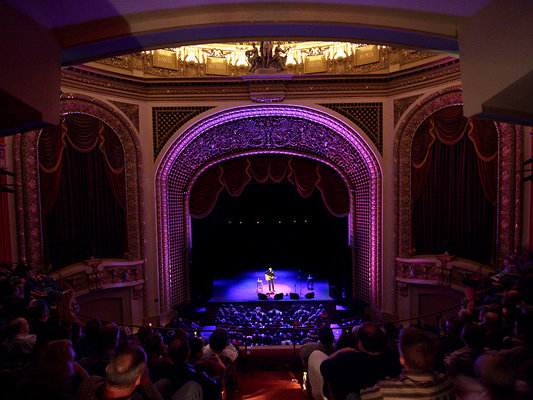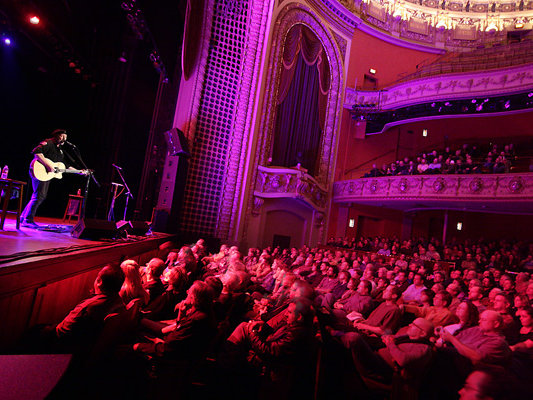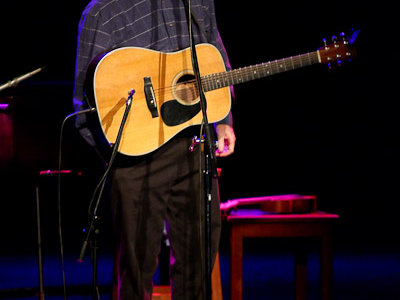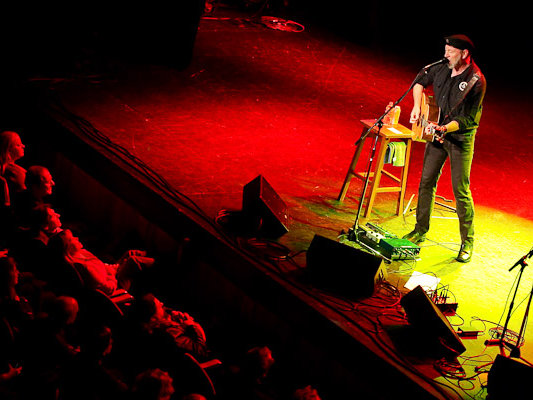 Wainwright III, Thompson join forces for the good
Loudon Wainwright III recorded his first album in 1970 and Richard Thompson's first recording with Fairport Convention dates back to 1968. It would be an understatement to say these guys have dedicated their lives to their craft. Both artists have children performing in the music business and ex-wives whose musical careers are well-regarded.

Friday, over the course of two sets, they laid out a sprawling evening of songwriting, musicianship and humorous asides. At the end of each man's solo set he was joined by the other. "I needed to remind Rich we were in the Midwest. Here is one by a Midwesterner," Wainwright said by way of introducing Bob Dylan's "You Ain't Goin' Nowhere," the duo's second and final encore of the evening.

Wainwright's stock in trade is first-person stories pulled directly from his own life. Accompanying himself on acoustic guitar, he was fearless and did not hesitate to lay bare details; his songs are all the richer for it.
On "School Days," he revisited the very first song on his first album. His tumultuous relationship with his father was detailed in "Surviving Twin," and likewise the natural sequel, "A Father and a Son." He pulled no punches with "White Winos," virtually a musical documentary on his mother's (and his own) drinking habits. It might not be much of a stretch to trace all this attention to detail to Wainwright's father, a writer for Life Magazine.

It would be easy to view Wainwright's career as trading the therapist's couch for a stage except, as an entertainer, humor and playful irony are just as much a part of his personality. Wainwright's constant movement and rubber-faced antics allowed the audience in on the joke of "So Damn Happy" and got the crowd singing along to "Cash For Clunkers" - "I've got songs for the new depression," he bragged. Stepping over to a grand piano, he seamlessly combined humor and family in "Another Song in C."

As if to prove he's not all about navel-gazing, Wainwright covered Mose Allison as well as "Milwaukee Blues," a song that missed the cut for his new tribute album to banjo player Charlie Poole. Heck, he even played ukulele on a few tunes.

Following intermission, Thompson took the stage, opening with "When the Spell is Broken" and proceed to rip off a jaw-dropping solo on acoustic guitar. Combining finesse with a hybrid picking technique, Thompson's playing defies logic and ranks him at the top of the list of players. Each Thompson performance offers a few moments where his playing seems to stop time. Perhaps it was his way of satisfying the music snobs in the audience.

In contrast to Wainwright, Thompson's songs deal in character studies and he is not afraid to address politics and society. "The Sun Never Shines on the Poor," "Dad's Gonna Kill Me" (Dad as in Baghdad), hit the bulls-eye.
"I wish Karma was a bit quicker," Thompson jabbed before launching into "Time's Gonna Break You" which could very likely have been written for a recent ex-President of the United States. All fittingly spiked with guitar solos that range from bagpipe riffs to concise blues comments.

As a songwriter, Thompson served up a jaunty rearrangement on "I Want to See the Bright Lights Tonight," "Wall of Death" and a new tune about a Celtic band who plays a cruise ship offered bittersweet humor. He topped it all off with his masterpiece "1952 Vincent Black Lightning, equal parts ode to juvenile delinquent romance and tragedy ballad.
dfcttqxt
Talkbacks
kinnickinnic | Nov. 2, 2009 at 2:15 a.m. (report)
I rate Richard Thompson in the top 3 of all rock guitarists. By virtue of his great artistry, dexterity, creativity, beauty, and ass kicking. He only falls behind Hendrix and Page. Way ahead of Clapton. Everyone has to see him live. He does Milwaukee about once a year. The most amazing thing about him, is his talent has not faded.
Facebook Comments
Disclaimer: Please note that Facebook comments are posted through Facebook and cannot be approved, edited or declined by OnMilwaukee.com. The opinions expressed in Facebook comments do not necessarily reflect those of OnMilwaukee.com or its staff.