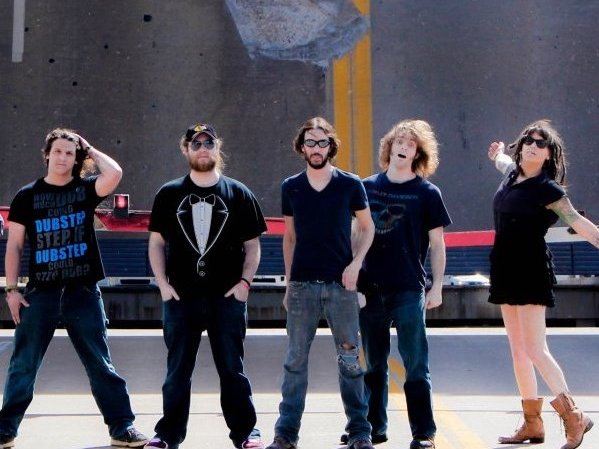 Whiskey of the Damned fights monsters with musical ferocity, fun
If your Celtic rock band features a frontman born in Dublin and a big flapping Irish flag on its debut album cover, it only makes sense to release it on St. Patrick's Day. And that's exactly what Whiskey of the Damned plan to do. The band will unleash its full-length debut "Monsters Are Real" tomorrow, celebrating the occasion with a CD release show at Turner Hall Ballroom Monday night.
Between the Irish-happy holiday and the excitement of a new album, it should be a party for the Milwaukee-based band. But back when the album was first coming together, being in Milwaukee felt anything but celebratory.
"There were a lot of really, really bad things that happened in the band in the last year before," said Eoin McCarthy, the band's lead singer and guitarist. "I buried four friends in the first couple of months. Andy (David Weber, the band's drummer) did the same. For a lot of different things: suicide, heroin and accidents. We were just sick of going to funerals. Recording the album couldn't have come at a better time. We all needed to get out of Wisconsin and go somewhere. We needed to get out of town for a bit … spend three weeks away from funerals and everything that was killing us."
As a result, the band made their way down to Atlanta to record their full-length debut. While it was coming together, a theme began to emerge.
"We started looking at the songs, and we realized every song is a passionate song about getting over a really hard thing in life," McCarthy said. "Whether it be me trying to get my green card together or a political thing or a loss of a girlfriend or a friend dying, every song on the album means something. And it's about getting over it, that monkey on your back or that heartfelt, crushing thing you have every single day of your life."
The Atlanta recording session ended up working like therapy for the emotionally spent band members, channeling their woes into something positive and strengthening. The end result was "Monsters Are Real," an album that doesn't find the band bogged down by sorrows, but instead fighting through its demons with a mixture of heartfelt ferocity and a good bit of fun too.
"The whole album means, yeah, monsters are real, but you find them … and you kill them," McCarthy said.
It's that brash attitude that's earned Whiskey of the Damned – whose name comes from a George Bernard Shaw quote about music being the brandy of the damned, just with the drink of choice changed – a reputation as "the perfect band to party to" according to the Journal Sentinel, namely live. There, whether it be their set list (or lack thereof) or their wild on-stage antics, the punk Celtic rockers let spontaneity rule the day.
"We wrote a set list a year ago," McCarthy said. "We used it for literally three songs until somebody spilled beer on it, and it was destroyed. So everything we do on stage is in-the-moment, that's what we're doing."
McCarthy's interest in punk rock started back when he first came to Wisconsin as a 12-year-old, discovering "dirty gutterpunk bands" like Dead Kennedys and True Sounds of Liberty (TSOL). His overall interest in music, however, goes even further: his dad, Irish musician Finbar McCarthy, who first gave him the music and performance bug back at a show off the coast of Spain when Eoin was 6.
"He grabbed me from the crowd, brought me up on stage and made me sing the lyrics to a song called 'The Rattlin' Bog,'" McCarthy said. "And that was it. I think a year later, I was playing bass with him."
To this day, McCarthy still cites his father as the most influential person he's played with, an impressive list to top considering McCarthy has played with the likes of Dave Grohl and even got a childhood lesson in guitar from a rock legend. Not that he knew it at the time.
"Every really good Irish musician goes to this bar in Dublin called The Blue Light Pub, but it's off the tourists' track," McCarthy recalled. "I'm 15 years old. I have blue hair. I'm just a dirty f*cking punk rock kid, and my friend has, like, a leopard-print mohawk. So we're playing away, and all of a sudden, this guy turns around and says, 'You know what? You gotta play it like this …" and he starts giving me tips. 'When you sing, do this,' and 'When you do this, do this.' I had no idea whatsoever that it was Van Morrison."
Still, his dad tops the list.
"You take all the Dave Grohls and all these rock stars," McCarthy said, "but it doesn't mean much unless you can sit down with a guitar and sing with your old man."
McCarthy toured with his father for a while when his family lived in Spain, but after getting his green card and spending more time in his new home of Milwaukee, he eventually started making some local musical connections. Three years ago, he met up with some fellow musically inclined locals and formed Whiskey of the Damned. Most of that original group, however, has moved on.
"They all had to leave the band for different reasons," McCarthy said. "One got married, one had a kid and one went back to school. It's not a weird thing where we kicked people out. Some people just can't tour. Living in a van and smelling five other people for the rest of your life is not exactly appealing to a lot of people."
McCarthy and Whiskey of the Damned, however, stayed on their feet. He met the band's violinist Gina Romantini in 2011 in a music shop in Cedarburg, and soon after, he met drummer Andy David Weber through a friend thanks to a drunken pub conversation. Weber then brought in the rest of current crew, bassist Matt Schuetz and accordionist Brian Link.
It's been a long journey for McCarthy and Whiskey of the Damned, involving crossing over oceans and battling personal tragedies. But now they've got their first full-length album, and the city that once recently surrounded the band members with sadness now plays host to one of the band's biggest achievements – and likely one of their biggest parties.
Facebook Comments
Disclaimer: Please note that Facebook comments are posted through Facebook and cannot be approved, edited or declined by OnMilwaukee.com. The opinions expressed in Facebook comments do not necessarily reflect those of OnMilwaukee.com or its staff.