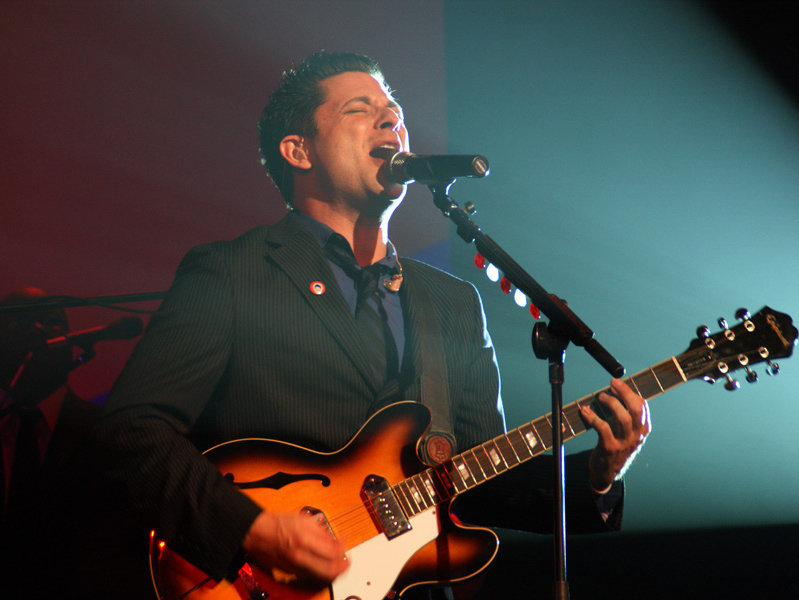 Yesterday & Today salutes the Beatles without wigs but with your requests
While the Beatles might have initially seemed like a band of brothers, Beatles tribute Yesterday and Today is, in fact, a family affair.
Inspired by their dad's passion for the Fab Four, Billy, Ryan and Matthew McGuigan formed Yesterday and Today, which performs three nights, Feb. 7-9, at the Marcus Center for the Performing Arts' Vogel Hall.
You may have seen Beatlemania or Rain or other traveling Beatles tribute shows, but Yesterday and Today is different. These guys, who spent three years rehearsing every Beatles song so they could render them note for note, don't wear wigs or speak in fake Liverpudlian accents.
Yesterday and Today focuses on the music.
"When you take away the accents, you take away the need to try to be like somebody else, you become just a fan like somebody in the audience," Billy McGuigan has said.
Yesterday and Today also focuses on the audience, writing its set list for the night five minutes before showtime from request slips filled out in the lobby by that evening's audience.
We caught up with Billy McGuigan, who tells us about the show, about how his father influenced his love of the Beatles and about how Milwaukee has figured into his passing on his Fab Four flame to his 10-year-old daughter.
OnMilwaukee.com: Milwaukee has seen a number of touring Beatles tribute bands come through, but I understand that Yesterday and Today takes a different approach. Can you explain?
Billy McGuigan: Yesterday and Today is unique because it's more than a Beatles tribute show, it's a Beatle fan tribute show. We honor our audience's memories and experiences with these songs by allowing them to request ANY song from the Beatle catalogue with the stipulation that they must give a reason why they made the song choice. Also, as a band, we're not trying to be the Beatles in any way. No wigs, no accents. We're just ourselves: Beatles fans and musicians who, instead of focusing on trying to look like them, we can concentrate more on the music and sound of the Beatles.
OMC: Give us a quick rundown of how an evening with the band unfolds.
BM: For the band, our show begins at sound check. The sound check lasts about an hour and is our biggest rehearsal time and we start what we call our "Beatles Song Circle." Every member of the group requests a song that might stump a member of the band or one that we haven't done for a while. Obviously, this is where the most obscure songs are played.
About 30 minutes before the show, the audience requests start to trickle in to my dressing room. My job is to sort all of the requests, put them in a order that will work show-wise and pick the songs with the best requests. This continues over the next 20-25 minutes. Five minutes before the show, I print out the final set list. The set lists are taken to the band and tech staff to peruse and then it's show time!
Then song collection process is repeated at intermission.
OMC: What inspired you to create Yesterday and Today?
BM: There were many inspirations for doing this show. First and foremost, it starts with my dad. My brothers and I lost our dad to leukemia when he was only 42. He raised us to believe the Beatles were our long lost uncles ... who never sent money. Yesterday and Today is his love of the Beatles music still coming through us.
The request idea came to me after realizing that the Beatles' music is the soundtrack to our lives. And even if you're a casual fan, you have a story attached to why you like that song. And if you asked someone what their favorite Beatles song is, they couldn't just say the name of the song, they had to tell you why. I really just crossed my fingers and hoped that the audience would be willing to share. Lucky for us, they are more than willing.
OMC: Do you get smart-alecky Beatles fans that want you to play "You Know My Name" or "Revolution 9"?
BM: Ha! The only issue that arises is that, though we can play every song in the catalogue, we can't continually rehearse all 220-plus songs. So there are songs that aren't as "polished" as others ... so there's always the failure option! Luckily in seven years, there have only been two fails!
And we love the fans who want to hear the "deep cuts." But would an entire crowd really want to hear "Revolution 9" all the way through?
OMC: Two fails? Do you remember them?
BM: I remember them both quite well. The first fail was "She's A Woman" about six years ago. We hadn't rehearsed it or played it as band for that matter, but there was a great request for it. I asked the band, "Are we all cool with this?" Everyone sort of gave that frowny faced shoulder shrug. I took that as an OK. Sure, we all knew it, but we all knew our own versions of it. It totally fell apart. We all laughed it off and took our lumps.
The second fail was in Des Moines, Iowa, about four years ago. Same situation, the request was for "Your Mother Should Know." It's a rare one for sure, but we all felt confident that we could pull it off. Then the funky little instrumental break-down happened. We had to stop the song. The audience, who was told we'd never tried to pull it off, gave us a standing ovation for trying.
OMC: If I request "Cry For A Shadow," will you play it?
BM: Though we could, we try to keep it to the album releases. Plus, wouldn't you rather hear "Leave My Kitten Alone"? The greatest unreleased Beatles song!
OMC: Do you have any favorites to play?
BM: Personally, I love to play the obscure ones. And I think, as a band, we thrive when playing those. Everyone wants to hear the hits, the real task is making the obscure ones palatable to non-Beatlemaniacs! Obscure favorites would be "Your Mother Should Know," "All I've Got To Do" and "The Word."
OMC: Any least favorites?
BM: There's actually only one Beatles song that I don't like: "Not A Second Time."
OMC: One always hears these stories about how their kids never heard of the Beatles, but this has almost never been my experience. Do you think each new generation is still copping to just how brilliant and inventive and enduring the Beatles' music was and is?
BM: We see this night in and night out. I've seen 5-year-olds who are as knowledgeable and crazy about this music as a 65-year-old. What other groups could have such a profound effect on people as the Beatles?
OMC: What does it mean to you as a musician to have the opportunity to play this music all the time?
BM: Honestly, there is no greater thrill for me artistically and musically than to play this amazing catalog of masterpieces. It never ceases to surprise me and to inspire me to continually be better.
OMC: Do you write and perform original music, too, outside of Yesterday and Today?
BM: I leave that to my brothers! They have an original band called Moses Prey.
OMC: Ever been to Milwaukee before? Any thoughts on the city?
BM: One of the coolest moments in my life just happened last summer in Milwaukee. Story time: in 1993, when I graduated from high school, my graduation gift was tickets to see Paul McCartney in Kansas City. My dad and I went to the concert. I remember him looking at me halfway through the concert and with a hoarse voice from yelling and hands bruised from clapping so much said to me, "I'm so glad that I got to spend the greatest moment of my life with you." It was an incredible moment and one that I will cherish forever.
Last summer, on a whim, I surprised my 10-year-old daughter Cartney – named after Sir Paul – with a trip to Miller Park to see Paul McCartney. It was an incredible muggy humid night, but it was amazing. I leaned over to her halfway through the concert and, with a hoarse voice and hands bruised from clapping so much, said to her, "I'm so glad that I got to spend the greatest moment of my life with you." It was another incredible moment and my proudest moment as a father.
Facebook Comments
Disclaimer: Please note that Facebook comments are posted through Facebook and cannot be approved, edited or declined by OnMilwaukee.com. The opinions expressed in Facebook comments do not necessarily reflect those of OnMilwaukee.com or its staff.