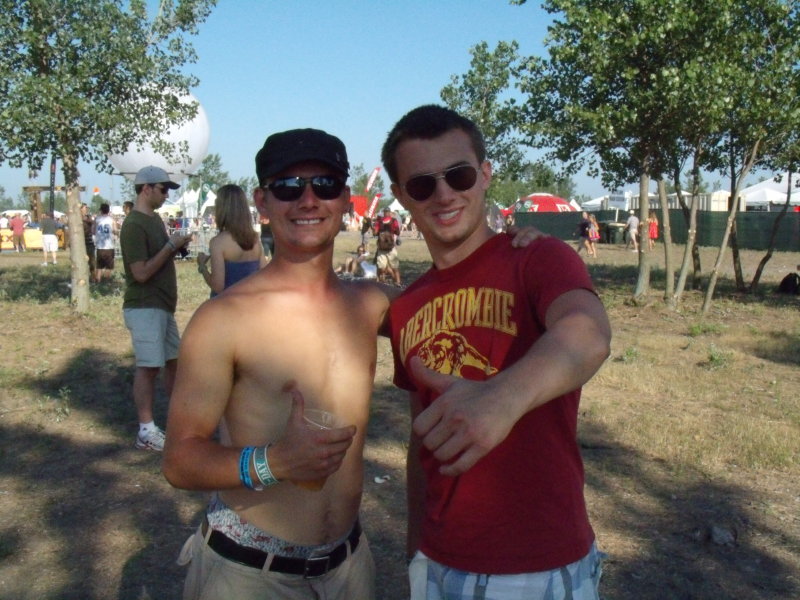 CHICAGO -- Dave Matthews Band has been coming to Alpine Valley in East Troy, Wis. for 12 out of the last 13 years, missing only 2001. Except for 1998, each visit from DMB has been a full weekend. Obviously, the band has a history in Wisconsin.
When DMB decided last year they wouldn't tour the summer of 2011, it would be the first summer they took off in their 20-year history. They still loved to and wanted to perform, but the band didn't want the stress of another full summer tour.
And thus, the Caravan festival was born.
An opportunity to showcase musicians on their record label and perform on a limited schedule, Dave Matthews and friends set up four venues across the country and put together a fantastic group of musicians to play the three-day festival. Supporting acts included Ben Folds, Kid Cudi, The Flaming Lips, Ray Lamontagne and Summerfest vets O.A.R.
The Midwestern Caravan stop is located at Chicago's Lakeside venue and is the first concert/festival/event at the location. In fact, it's the first anything to use the land since a U.S. Steel plant closed nearly 20 years ago. The Caravan festival is already the largest event on Chicago's south side since the 1933 World's Fair, and its only two days in. It's expected that approximately 100,000 people will attend Caravan over the course of the weekend, but while official attendance hasn't been released, that number may very well be on the low side. Viewing for the DMB headline show on Saturday was shoulder-to-shoulder for over half of Lakeside's 150 acres used as festival grounds.
Among those in attendance are many from the Milwaukee area that are using Caravan in replacement of Alpine Valley to get their DMB fix. The crowds are littered with Milwaukee Brewers hats, Bucky Badger t-shirts and even a Super Bowl XLV Champions flag in the parking lot.
Aaron Wojnowik of Mukwonago and Cody Nass of Waukesha have been traveling to DMB shows since their first show at Alpine Valley in 2006. Wojnowik has been to 34 DMB shows and Nass has been to 24, and while they may have been upset initially that DMB wasn't coming to Alpine Valley in 2011, they soon relished the opportunity to see so many different acts they loved in one place.
"It's way better than Summerfest," Wojnowik said. "The bands are more related to each other. If you like DMB, you'll like most of these bands."
Nass echoed the sentiment from his friend in the Summerfest comparison.
"Summerfest is awesome, but all the good bands seem to play on the same day at the same time," Nass explained. "Here you get to see them all."
Rob Schroeder, a student at UWM and another follower of DMB, has been going to Alpine Valley to see the band for the past three years and has traveled the country to see the group.
"We've been to D.C. and we're going to The Gorge later this summer," said Schroeder. The Gorge, located in Washington state, is the locale for the final Caravan festival over Labor Day weekend.
While no one knows yet whether DMB will return to Alpine Valley in 2012, it seems that for the time being, Wisconsinites are more than happy to make the trip to Chicago's south side.
"Caravan is awesome," Schroeder continued. "It's the three best days of the summer."
Facebook comments
Disclaimer: Please note that Facebook comments are posted through Facebook and cannot be approved, edited or declined by OnMilwaukee.com. The opinions expressed in Facebook comments do not necessarily reflect those of OnMilwaukee.com or its staff.
Recent Articles & Blogs by Alex Wendland