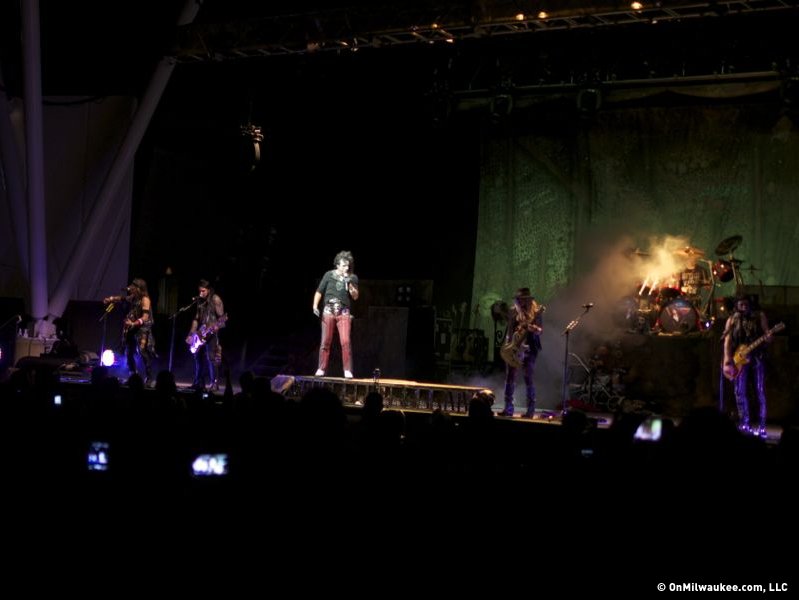 I wouldn't have called myself a huge Alice Cooper fan, though I've always enjoyed both the music and man behind the makeup. Tonight, I became a fan.
I was first acquainted with his work in 1993's "Dazed and Confused," and that soundtrack warmed me up to this '70s hard rock icon. I really do like classic rock, and Cooper has always seemed like a cool guy to me – his radio show, restaurant in Phoenix and decidedly unrocking love for golf, made me always want to see the legend in person.
Now, of course, I'm buddies with his bassist, Chuck Garric, who is the husband of OnMilwaukee.com blogger and my childhood friend, Lindsay Garric, so Sunday night's Summerfest show made for perfect timing to see Cooper live.
Against the background of the beautiful BMO Harris Pavilion, Cooper and crew turned it up for a wind-blown crowd ready to hear his hits. It's funny to think that in the '70s, Cooper – aka Vincent Damon Furnier – was considered scary. Funny, because he didn't seem scary to me. Just good. And way ahead of his time.
Tonight, Cooper looked great for a guy who's ready to collect Social Security. The show was as theatrical as it was loud, too. I laughed when he wielded a sword, throwing money around during "Billion Dollar Baby," and when he busted out a giant coffee mug during "Caffeine."
But that was just the beginning.
Cooper brought out a live snake for "Devil's Food." He went into some sort of electric chair during "Frankenstein" and emerged as a giant monster. Then there was a straight jacket and a scary nurse and a guillotine. And a severed head.
I wish I remembered the '70s a little more. It must've been a lot of fun.
Of course, Cooper's stage presence was backed by solid music, too. He surrounded himself with top-notch musicians who rocked out to an extended break down. His guitarist, 28-year-old Australian phenom, Orianthi, really shredded.
Cooper wrapped with "School's Out" that morphed into "Another Brick In The Wall." Nice.
A couple pyrotechnics led to a faux bloody crutched "Eighteen" for a one-song encore. And he did thank "Mily-wauk-ay," in reference to "Wayne's World." Party on, Garth.
So, sure, this music sounded dated, because it is. But consider that "Welcome To My Nightmare" came out in 1975. It actually sounded a little '80s, but think about it: Cooper was a good 10 years before his time. And he's still going strong.
In the end, Cooper brought a super high energy, loud, pseudo gory and fun show. The crowd ate it up ... and so did I.
Setlist:
Hello Hooray
House of Fire
No More Nice Guy
Billion Dollar Babies
I'll Bite Your Face Off
Is It My Body
Caffeine
Under My Wheels
Hey Stoopid
Poison
Dirty Diamonds
Welcome to my Nightmare
Go To Hell
Devil's Food
Feed My Frankenstein
Ballad of Dwight Fry
Killer School's Out
Encore:
I'm Eighteen
Facebook comments
Disclaimer: Please note that Facebook comments are posted through Facebook and cannot be approved, edited or declined by OnMilwaukee.com. The opinions expressed in Facebook comments do not necessarily reflect those of OnMilwaukee.com or its staff.
Recent Articles & Blogs by Andy Tarnoff