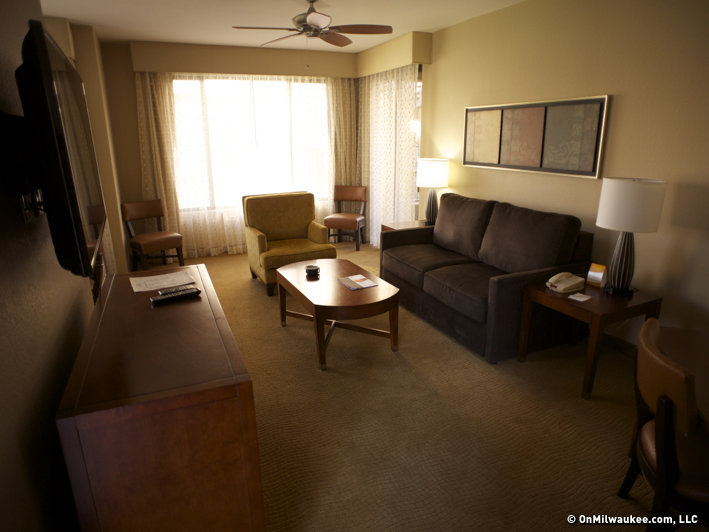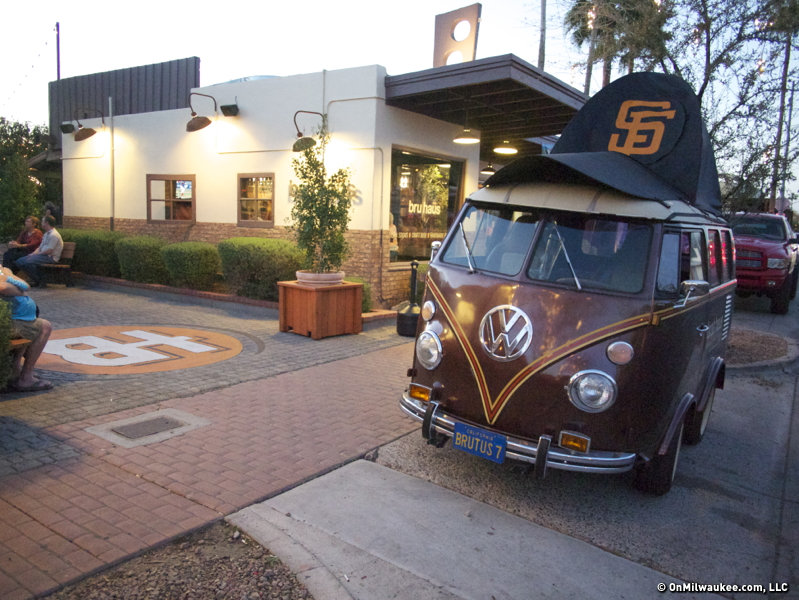 PHOENIX – No amount of sunscreen could keep me from looking like a lobster when I looked in the mirror this morning.
Don't get me wrong, I'm not complaining.
We had a great day in Arizona yesterday. Operation Go Full Throttle And Don't Sleep Until You're Home continued in full force after I filed my last blog posting, and ended (for me, anyway) about six hours ago when I hit the hay.
We began with breakfast in downtown Phoenix at Chloe's Corner, inside CityScape. Eating outside is normal here; presumably doing it behind some sort of group yoga class isn't.
Moving quickly, we checked out of the amazing Palomar and arrived at Maryvale nice and early, two hours before game time. That allowed us to meander through the minor league complex. I had a great conversation about both baseball and life with Al LeBoeuf, who was the Nashville Sounds hitting coach last year and is now a scout while he recovers from cancer.
We talked about our mutual friend, Seth McClung, who's now pitching in Mexico. We watched bunting practice, as a bunch of teenaged Brewers prospects received encouraging words from a coach I didn't recognize.
It was perfect.
Perfection became more perfect when we stowed our press passes in the yacht that is our rental car, grabbed our baseball gloves and aired it out on the putting green quality grass that is omnipresent at Maryvale. Mind you, I haven't even picked up a baseball since last summer, but our plan was to throw the baseball around until our arms fell off.
For this game, we had the opportunity to pay a little more attention than the day before. We alternated between the press box and seats behind home plate. We bought $50 Spring Training T-shirts. We ate funnel cake. We even watched a little baseball, as Khris Davis belted two tape measure homers.
But we just didn't have enough time to stay for the whole game, since plans were made for us. We left in the seventh inning, and on the way out, I saw one of those Spring Training scenes that will be forever etched in my mind.
Nori Aoki was taking a ton of extra batting practice, as Japanese players tend to do. Just him and his translator. He was hitting ball after ball after ball off a tee, then he switched to this soft, slow-motion swing. He was sweating and working very hard in this extremely hot weather. But he stopped his work out to say hello in very good English. He thanked us for stopping by. This is a special kind of a player.
Now famished, we scarfed down carne asada burritos at my beloved Filiberto's and took the 40 minute drive north to our next hotel, the Scottsdale Links Resort.
While we only had 90 minutes before our dinner reservation, we could at least scope this place out. Our three bedroom hotel room was larger than my first house, and better furnished, too. It's a great place for families, with tons of room to roam and activities to keep the little ones happy. The "trim level" here isn't anywhere near as high as the Palomar, but it's both huge and comfortable.
We have a full kitchen and laundry room. We also have an excellent selection of saltwater pools and hot tubs. We sat in both of them for 15 minutes before we showered and hopped in a long cab ride for dinner in Old Town Scottsdale.
We met up with the generous people from the Phoenix and Scottsdale CVBs at the Brat Haus for a very filling meal and, finally, a little relaxed conversation. These groups make this trip possible, setting up our lodging and our meals, and I've gotten to know them over the 15 years I've visited Arizona.
Of course, they thought that picking a gourmet brat restaurant would resonate with our Milwaukee readers, and the owner of this new, popular place does actually hail from the Midwest – Minnesota, to be specific.
We nibbled on big pretzels before our brats arrived. I ordered the spicy brat – everything here is locally sourced and ground on site. It tasted really good, but not like a Milwaukee sausage. Long and skinny, it was char grilled – drier and more well-done than what we have at home. The moisture came from the root beer infused caramelized onions. I love that a gourmet brat place works in this city, and I left very, very full.
But not too full to not avail myself of the Scottsdale nightlife experience, which being the Saturday before St. Patrick's Day, was as crazy as can be. We visited old favorites, including the Coach House and Hotel Valley Ho, before hopping on a golf cart – because that's how super cool public transportation is in Scottsdale – and cruised the Old Town St. Paddy's day block party.
We actually got there a little late for this party, which had been rolling for hours. Still, we didn't miss anything at Dos Gringo's, a favorite of Giants fans and baseball writers alike. That insanity went on for hours and hours before we took the world's most convoluted and expensive cab ride back.
Just 24 more hours of shenanigans to go.
We're heading way west to Glendale for today's Brewers-Dodgers match up, then dinner in Tempe tonight. Then, who knows?
Between Las Vegas and Arizona, I feel like I've been gone for a month, even though it's actually been four days.
Again, not complaining. At. All.
The word "epic" is overused, but this trip has already attained that status – and it's not over yet.
Facebook comments
Disclaimer: Please note that Facebook comments are posted through Facebook and cannot be approved, edited or declined by OnMilwaukee.com. The opinions expressed in Facebook comments do not necessarily reflect those of OnMilwaukee.com or its staff.
Recent Articles & Blogs by Andy Tarnoff