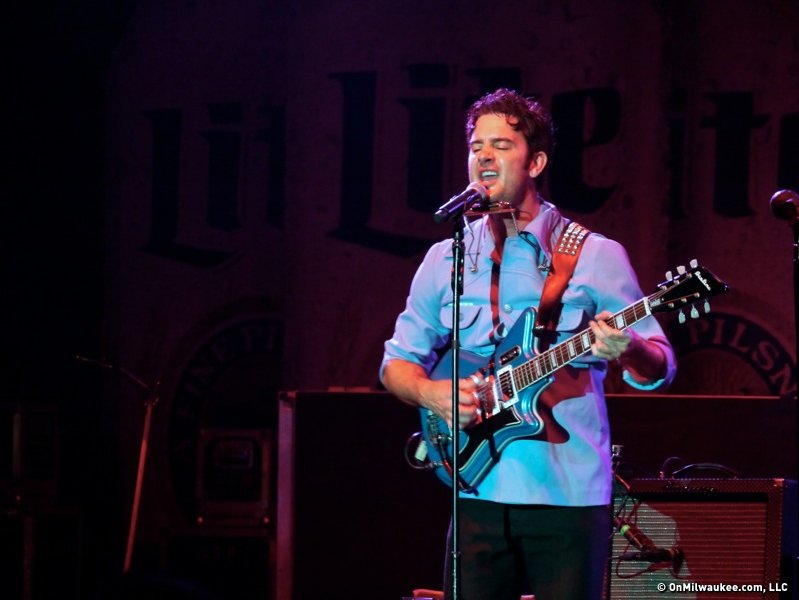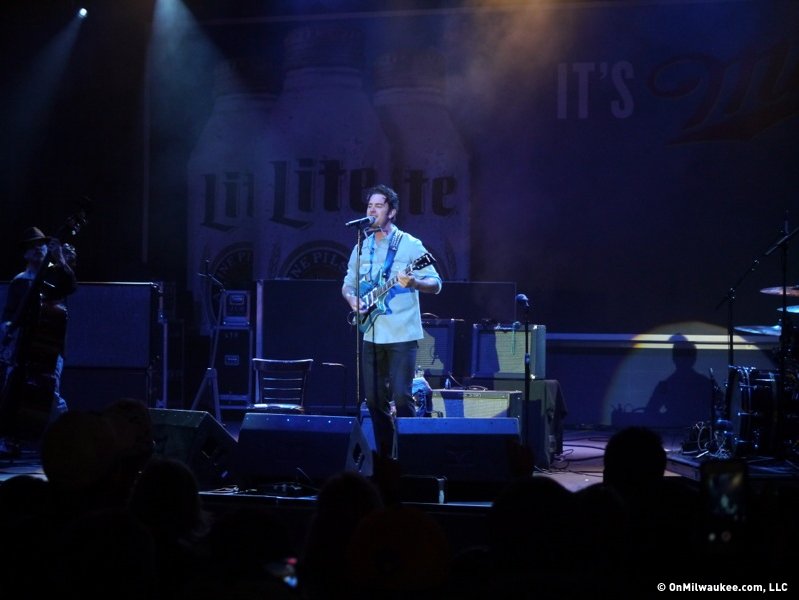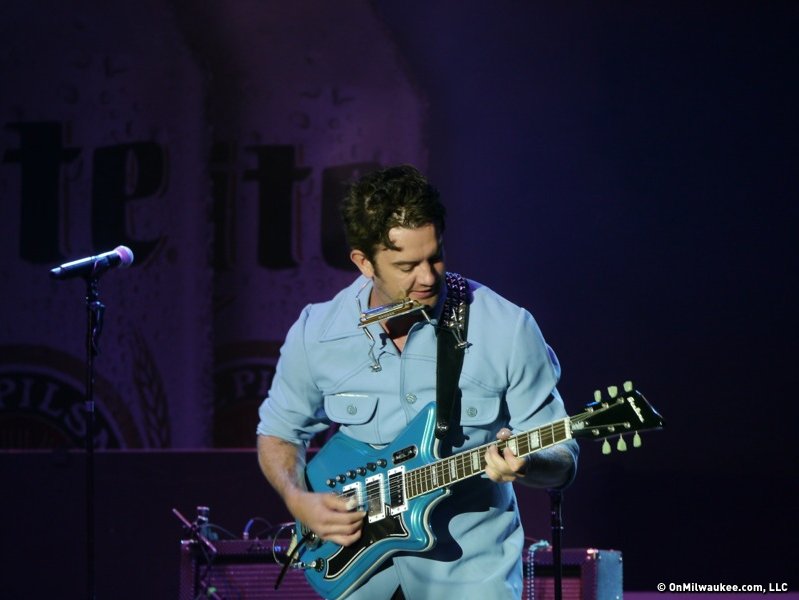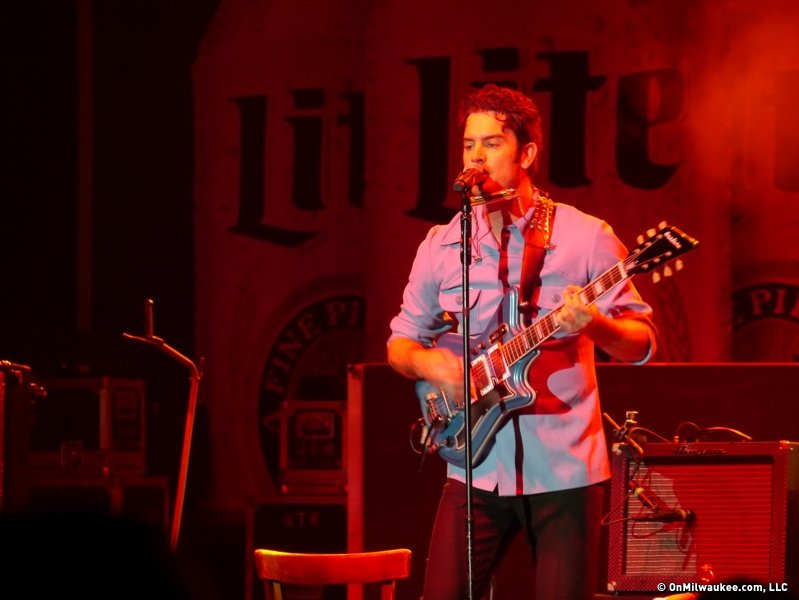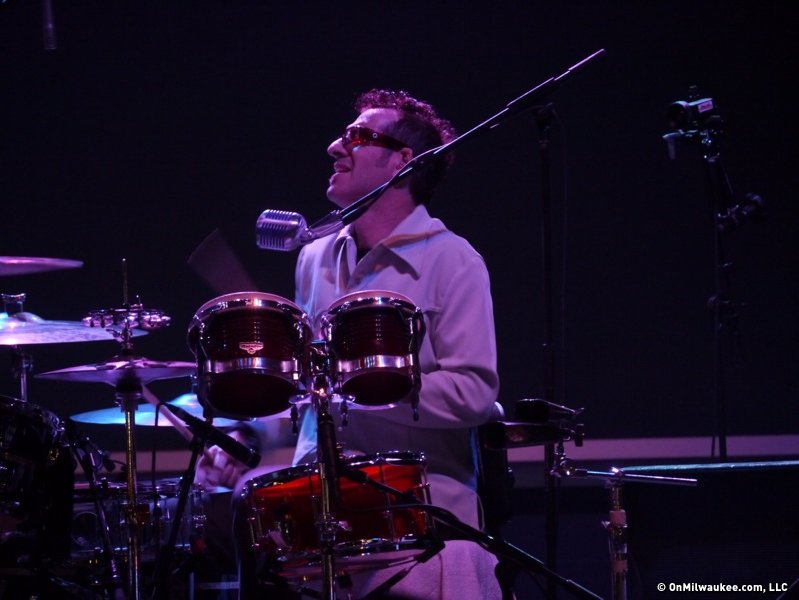 It's been a while since I thought about G. Love & Special Sauce. And by a while, I guess I mean about 17 years since I spent any significant time listening to the Philly alt-hip hop band, back in my apartment on the East Side.
1997's "Yeah, It Was That Easy" was a good album for the time; Garrett Dutton with his laid-back, friendly white guy raps and jangley guitar riffs, the stand-up bass and loose drums. It was a very '90s CD. This was around the time I was listening to Fun Lovin' Criminals, Blues Traveler and bands like that. So G Love brings back nice memories.
But G. Love & Special Sauce, now a 20-years trio, is still around, and they played at the Miller Lite Oasis on a beautiful Tuesday night. They certainly didn't stop making records in the '90s, but to me, they still have that Gen X sound that this, ahem, older audience came to hear.
Touring in support of their new album, "Sugar," the band is also celebrating that 20th anniversary with its original lineup. And the crowd at Summerfest seemed to approve.
But talk about an empty crowd. The front bleachers were less than half full and the back tables were empty – yet the weed smell permeated the crowd within seconds of the first tune. Perhaps the jam band attendance was affected by Rusted Root also at Summerfest tonight. The guy next to me said last year's show here was packed.
G-Love played the explicit version of "Booty Call," and that's when I placed how Dutton sounds in 2014. He reminded me a little of a very white Q-Tip from A Tribe Called Quest. That's a compliment to his cadence and rhymes.
Tonight, we heard plenty of that rapping, plus lots of harmonica and drum solos, and one that transitioned into the Beatles' "Why Don't We Do It In The Road."
Speaking of crossing genres, G Love was way more bluesy than I remembered (which was sometimes good and sometimes bad). Mixing old-school blues with, well, old-school rap, was mostly a unique and pleasantly surprising mash up. Dutton's guitar playing is also better than I recalled. Or at least I didn't notice it back then.
Because of that musicianship, the mellow but happy crowd eagerly sang along to "Cold Beverage" with its extended bass and drum solos. Rusted Root not withstanding, G Love did his own version of a jam band tonight. It worked more than it didn't.
And unlike my recollection of the records, these musicians didn't sound too thin or minimalist. That's a sign of guys who are great at their craft. Keep in mind that this is just a three-piece band. Dutton (aka G. Love), upright bassist James "Jimi Jazz" Prescott and drummer Jeffrey "The Houseman" Clemens, they're still as stripped down as ever. And happy to be here, too.
Everyone cheered when G Love sang/rapped, "Standing by the pay phone in Milwaukee, missing my baby." Nice touch. He recalled his first trip to the Big Gig in 1996 and thanked us all profusely.
Later, "Peace, Love and Happiness" included some back and forth with the crowd, rewarding a fan with his harmonica after the song. "My Baby's Got Sauce" was pretty fun, too.
I guess that sauce was literal, because Dutton busted out a guitar ostensibly made out of a hot sauce oil can, for lack of a better description, near the end of this laid back but never sleepy set. (After all, how could anyone sleep as he lead a "USA" chant for the World Cup team?)
Maybe Dutton should've saved the chant for the never-ending encore that stretched on just too long.
With such a small crowd, there wasn't a ton of volume for the encore, actually, but the band delivered with a bunch of self-indulgent blues stuff (enough, already), old tunes like the drawn-out "Who's Got The Weed" (spoiler alert: everyone) and my favorite, "I-76," mashed up with Cream's "Strange Brew." They ended with a song from their new album called "Weekend Dance."
But really, it was not too shabby for a more than 100-minute show on a gorgeous summer night, although there was an ample amount of farting around with extended bluesy jams. It almost ruined the show, actually, but not quite. They were just too good, even if not very focused.
Even at 41, Dutton is making fun, good-time, party music that is chill in its own way.
Yes, G Love & Special Sauce might be a staple of another decade, but Dutton et al showed tonight they're still growing and evolving. Not always in the right direction, but give this band credit for not standing still.
Facebook comments
Disclaimer: Please note that Facebook comments are posted through Facebook and cannot be approved, edited or declined by OnMilwaukee.com. The opinions expressed in Facebook comments do not necessarily reflect those of OnMilwaukee.com or its staff.
Recent Articles & Blogs by Andy Tarnoff