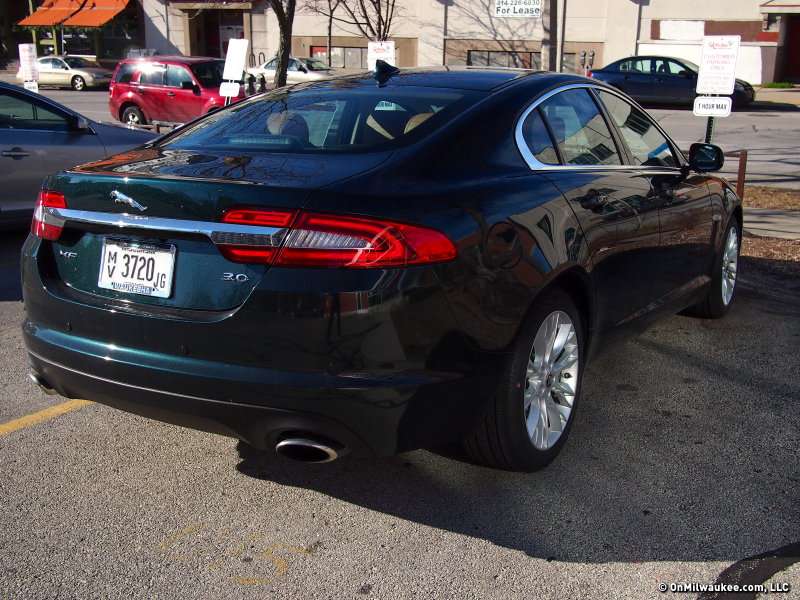 I lust after just two modern cars: the Aston Martin D89 and the Jaguar XK Coupe. However, I accept that both vehicles are well outside my budget, and even if I could afford them, I'm not sure I'd spend my money to own either one.
This week, I spent some time with a third car that tugged at my heart strings, the new Jaguar XF. What's really paining me is that owning (or leasing, anyway) this car is not a completely unrealistic goal.
Our friends at Fields Jaguar saw me drooling over the XF when I visited the dealership to do a blog on the new Range Rover a few weeks ago, so they knew they didn't have to do much persuading to see if I'd like to borrow one to evaluate for a little while. And they were smart about it, because not only did they lend me one Jaguar, they sent me two: first, the "base" XF, then, a few days later, the supercharged, 340 horsepower V6 version.
If the four-cylinder Jag is a beautiful, spritely drive, the supercharged one is a masterpiece. Plain and simple, the fastest car I've ever driven. Its acceleration and handling left me downright shaky. Zero to 60 in 5.7 seconds is fast. Insanely fast.
Which is to take nothing away from the base model. Frankly, I was more impressed with the lines and aggressive styling of this car than its ergonomics and performance, which felt only slightly better than my previous all-time favorite car I've owned, a 2008 BMW 328xi coupe. I mean, this was certainly a nicer car through and through, but with an MSRP of a $46,975, I wouldn't call its rear-wheel drive 240 horsepower, 2.0 liter i4 engine a tremendous bargain.
It certainly turned heads, though, and from the outside, it looked as beautiful as my new dream car, the Jaguar XF 3.0.
It's a little hard to describe this car, but I actually, literally, felt like James Bond while driving the British Racing Green four-door coupe. When you fire up the ignition – a red pulsating button that beats like a heart – the air vents automatically retract and a round shifter rises from the console. Unfortunately, this Jag only comes as an automatic, albeit, with paddle shifters. But when you step on the gas, you immediately cease caring what kind of transmission you're commanding.
The acceleration on this beast is nothing short of jaw-dropping. It throws you back into the seat, its firm European suspension allowing you to somehow feel the road while also dampening the bumps. The inside feels like like a supple baseball glove, with a luxuriously carpeted roof and warm wood throughout. The level of luxury in this model could not be higher.
Keep in mind that Jaguar is no longer owned by Ford; like Range Rover, it's owned by India's Tata Motors. But this car remains all British, and its new stewards have improved build quality; this car feels so solidly constructed with quality throughout.
I'm a stickler for ergonomics, and I didn't adore the XF's instrumentation layout, but that's really my only minor gripe. I feel like the dash is a little minimized, while the touch screen is a bit cluttered.
And, I guess, the car is extremely long. Even though it doesn't feel gigantic while driving it, it barely fits in my garage.
But these are the smallest of nitpicks. To think that this $50,000 car also comes in an AWD version (for $53,000), gets 28 mpg on the highway, and is a visual masterpiece – well, it's no wonder I'm swooning for the Jaguar XF. I cannot even imagine what the 470 and 510 horsepower variants drive like; it's probably for the best that I don't.
Of course, my wife points out that owning a Jaguar is rather pretentious and ostentatious, and she's probably right. It depends on whether you take the "life's too short not to drive a beautiful car" philosophy ... or the "point A to point B" one.
You can tell by now where I stand on this.
Let's just say I was sad to return the XF today. So was my 4-year-old daughter, who mostly likes the angry cat emblem on the humungous grill.
Time will tell whether I've got the guts – and the checking account – to pull the trigger on my new dream car. Not so secretly, I'm hoping I will.
Facebook comments
Disclaimer: Please note that Facebook comments are posted through Facebook and cannot be approved, edited or declined by OnMilwaukee.com. The opinions expressed in Facebook comments do not necessarily reflect those of OnMilwaukee.com or its staff.
Recent Articles & Blogs by Andy Tarnoff