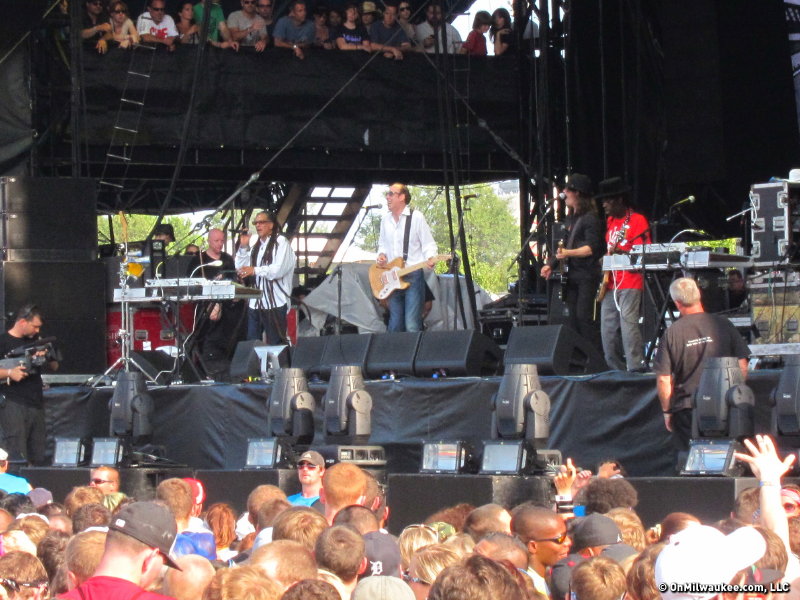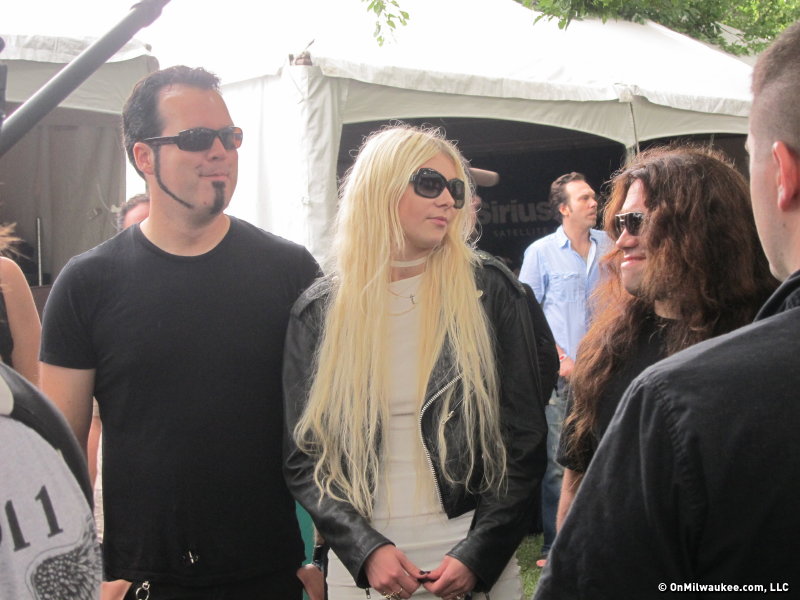 Saturday morning, I made the quick trip down to Chicago for my first-ever (and the 20th annual) Lollapalooza show. I wasn't there all that long, since I was primarily tasked with helping out our friends from FM 102.1, who invited me, but I certainly lingered long enough to make a few impressions.
First of all, witnessing the event from both the press area and the audience's perspective, it's tough not to compare it to Summerfest. In some ways, the Big Gig clobbers Lolla; in others, it could learn something. At the end of the day, I'll stick with Summerfest. Here's why:
The grounds, themselves, were expansive. With 250,000 in attendance, Grant Park felt very spread out, with tons of space between stages. Organizers did a good job of using fences to separate areas, like the hundreds of port-a-potties, from the beer tents and marketplace. All day long, it never felt crowded. We didn't stay to see Eminem, but given the incredible size the festival had to work with, there was lots of room to roam.
However, the grass surface of Grant Park got wet, muddy and stinky on Saturday, and Lollapalooza felt like a farm that reeked of manure. That's not Chicago's fault, of course, but mud would never be a problem at Summerfest.
Concession-wise, Lollapalooza was stacked with food options, and even though I had no interest in a beer in the blazing sun, their choices (Budweiser, of course) were comparable at $5 and $7.
The Lollapalooza App was also very advanced, and technologically speaking, the festival ran circles around the Big Gig. All the details had a mellow, organized feel to them, from top to bottom. It certainly didn't seem "indie" in the least, though; overall, much more corporate that Summerfest.
Not that it's the concern of the fest going public, but Lollapalooza's press access is great. It's a cordoned off area with working wi-fi, tons of technology and beverages to hydrate in the scorching mid-August heat. In addition to the roaming performers and artist-only swag (did someone say free blue jeans?), we saw some random "celebrities" wander through, like Ashlee Simpson, Taylor Momsen and oddly, Tim Meadows (I only recognized Meadows). But, one can't see the bands from this media village, so it also felt very distant. Summerfest's media area is, well, non-existent.
Finally, in terms of music, I found the acoustics to be very good, since most bands had staggered starting times on the stage. I wasn't there to review any shows, specifically and I wasn't listening with a critical ear, but I will say that dollar for dollar, any day of Summerfest had an overall stronger lineup that Friday, Saturday or Sunday. No, Summerfest doesn't get Coldplay, but when you add a Marcus act plus a few side stage headliners, it's a much better value in Milwaukee.
For $215, yes, you have the opportunity to see some pretty big bands in a general admission environment. But even with a daily pass, Lollapalooza is nowhere the bargain that Summerfest is, and to me, not as much fun, either.
Facebook comments
Disclaimer: Please note that Facebook comments are posted through Facebook and cannot be approved, edited or declined by OnMilwaukee.com. The opinions expressed in Facebook comments do not necessarily reflect those of OnMilwaukee.com or its staff.
Recent Articles & Blogs by Andy Tarnoff