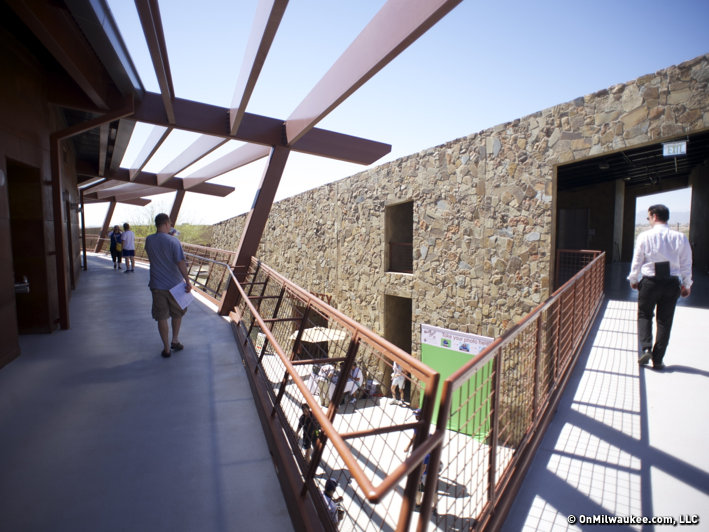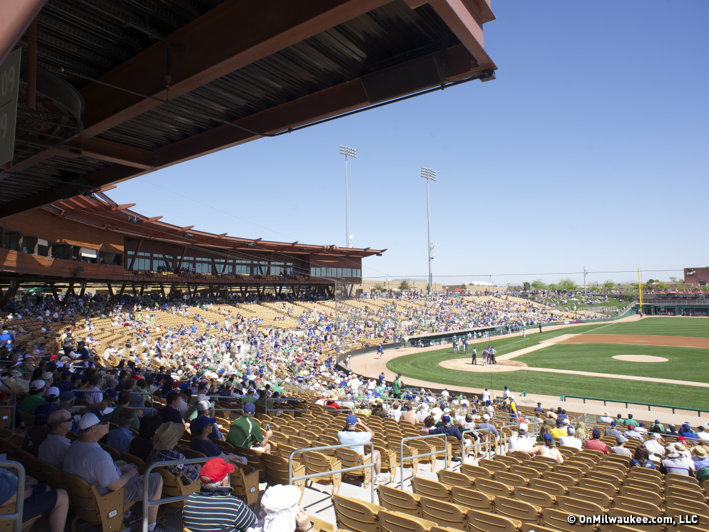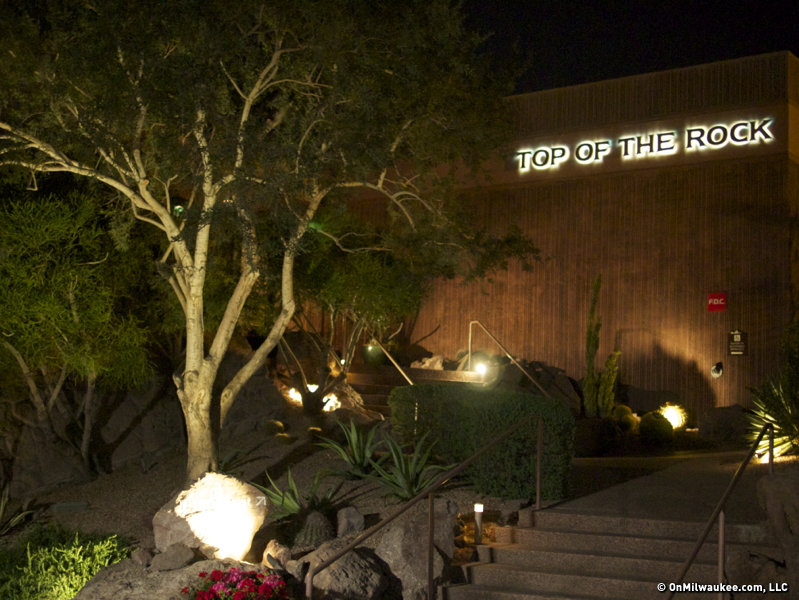 SCOTTSDALE, Ariz. – It's hard to call this spring training trip work. It definitely is, because as I do every year, I strive to take our readers along for the ride. Inevitably, when I tell people I come to Arizona, they always say, with a glint in their eyes, "I've always wanted to do that!"
And I always tell them that they should. But this is among the most fun I have all year, too. I stay in beautiful hotels, eat excellent food, sizzle under the hot desert sun, and most importantly, watch my beloved Brewers train in an intimate and casual setting. On top of that, I bring along friends who are also colleagues, and we go and go and go until we step back on the plane for home and reality.
It's exhaustingly wonderful. It fills that void that arrives after a long, cold winter, and it allows me to write about topics that I'm passionate about. I never sugar-coat the truth, and I'm up front about the gracious freebies that our partners here hook us up with.
The reality is that I don't need to exaggerate stuff. It really is this great. It's the same every year, and yet it's different. Our final 24 hours here were as good as the last.
When I left off yesterday, we were getting ready to depart all the way across the valley to see the Brewers take on the Dodgers in Glendale. We ate breakfast in the gigantic suite that is the Scottsdale Links Resort. Staying in a place that is like a huge apartment means that we can toast bagels, make coffee and even do a load of laundry before leaving. It also, however, means that we don't get housekeeping at any point. This might work for some people – families, specifically – but for others not so much.
I should point out that group this year stayed in two separate locations. The other team lodged at The Villa Mirage in North Scottsdale. A sister resort to The Scottsdale Links, their spacious room layout was similar to our own, but had the advantage of a personal bathroom for each private bedroom.
The Villa Mirage layout consists of eight condo-style buildings surrounding the main building, swimming pool and tennis courts. Our group reported that the hotel seemed to cater to a more mature and sedate crowd, but that it was a very pleasant stay and is conveniently centrally located near many of Scottsdale's premier golf destinations, and its close proximity to the 101 made it a breeze to get to Maryvale, as well.
But back to baseball. At noon, we made the 40 minute drive across town quickly and had just enough time to amble around the Dodgers' gorgeous facility. This ballpark is probably the second nicest in the Cactus League, just behind Salt River Fields at Talking Stick.
Sunday was scorching hot, probably about 90. But it really is a dry heat, and even with the sun beating down, we still grabbed seats in the third row along the first base side. We watched the Brewers get smoked 11-1. Yovani Gallardo wasn't sharp in his two innings of work. John Axford made an appearance in the third inning (hey, it's Spring Training) and Adrian Gonzalez smacked two homers for the Dodgers.
Overall, during this small sample size, the Brewers didn't look great, nor did they look terrible – and I've seen both in Spring Training over the years. I'd wager that the Brewers will be a good, but not playoff-caliber team this year.
And oh yeah, we ran into Larry King, who was at the game with his gaggle of teenage sons.
After the game, we finally took some time to relax, nap and hit the hot tub. At the hot tub, I met the speedy Diamondbacks outfielder Tony Campanas. We talked about baseball and life on the road, and a Dodgers fan named J.R. kept the conversation flowing. Just like everything else out here, it was a mellow, relaxed encounter. One can't help but be happy here.
At 7 p.m., we drove to Tempe for dinner at Top of the Rock, a restaurant at the Phoenix Marriott Tempe at the Buttes. I love visiting Tempe. It's where we stayed that first time in 1998, and though we've moved our social activities away from the ASU campus and into more age-appropriate neighborhoods, Tempe is more than just a college town. If we can ever lengthen this trip a little, I'd love to stay again in Tempe. Places like Four Peaks are a longtime favorite, and there are still many places for us to discover, like this gem of a restaurant.
I'd seen the Top of the Rock before, but only from a distance when at games at the Angels' ballpark, the very cool Tempe Diablo Stadium. Turns out, the restaurant was one of my favorite destinations on this, or any other, trips.
A round dining room with spectacular panoramic views of the valley's skyline, this place is a little hard to describe. The interior looks a bit like the inside of a jet engine, but wooden, or perhaps a European barn. Either way, trust me, it's great.
Then there's the food. Locally-sourced, artisanal cuisine, this was a superb meal. We began with the bacon mac appetizer, and each of us had a version of their steak. I opted for their $32 "signature steak," a shoulder cut of tender beef, sliced into medallions. It was garnished with cholla bud and Anasazi bean relish, roasted garlic and bacon jus. Just delicious.
After dinner, the three of us finally conceded we were tapped out. All this burning the candle at the both ends had caught up. But as it was still St. Patrick's Day, we grabbed one green beer at Twin Peaks, a North Scottsdale sports bar that's not exactly named after mountains nearby (wink, wink), and called it a night.
I think I slept for about 11 hours last night, before rousing myself to post this last Spring Training blog. This afternoon, I hop two flights home, and I'm back to reality tomorrow morning.
All said, this was one of the best trips ever. It always felt rushed, but I haven't yet figured it out how to slow it down. Maybe next year, I'll figure it out. Probably not.
If this trip was "wrong," it felt very, very right, indeed.
Talkbacks
Aardvark | March 21, 2013 at 12:48 p.m. (report)
I agree with photodavie. Why don't you send Jim your sports guy to cover a sports oriented story like spring training? Isn't that what you hired him to do? Does anybody want to hear about Tarnoff just hanging out with his buddies?
Photodavie | March 18, 2013 at 1:01 p.m. (report)
" Id wager that the Brewers will be a good, but not playoff-caliber team this year."

Are you basing this on your 3 half games of springtraining you've witnessed? And are you aware that our star outfielder wasn't in the line-up yet during your trip? Anything to back this up at all? Good thing your getting paid to be out there to offer this "expert" analysis. Back to Jsonline coverage for me...
Facebook comments
Disclaimer: Please note that Facebook comments are posted through Facebook and cannot be approved, edited or declined by OnMilwaukee.com. The opinions expressed in Facebook comments do not necessarily reflect those of OnMilwaukee.com or its staff.
Recent Articles & Blogs by Andy Tarnoff