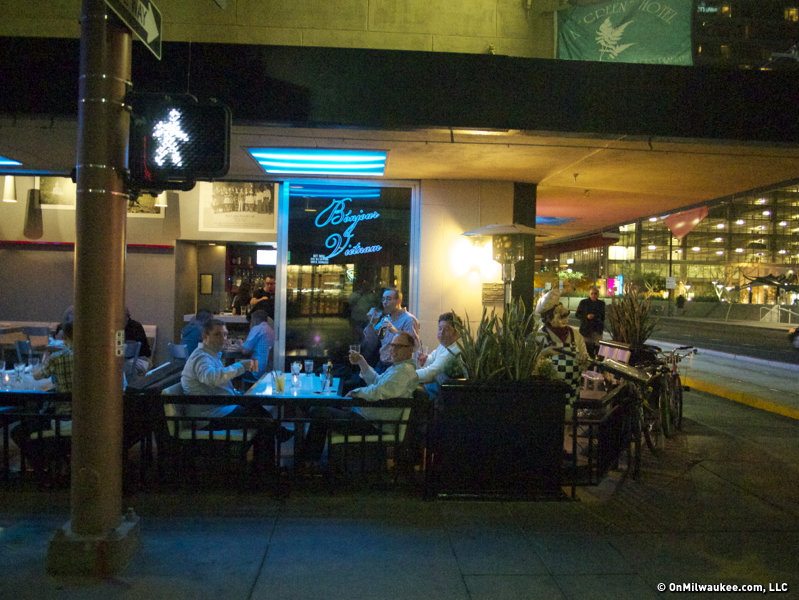 PHOENIX – Last I blogged, we were racing down a mountain, halfway between Vegas and Phoenix, struggling to make it to Maryvale Baseball Park by first pitch.
After hitting every red light in Maricopa County, we arrived in time for the third batter. But we didn't see much baseball, anyway.
The first game on these trips is much more of an acclimating experience for us. Picking up press passes, seeing the baseball writers in the press box for the first time since September, scanning the gift shop, eating some Island Noodles, lying down and taking our shoes off on the right field berm ... what happens on the field that first day is a little secondary.
Technically, we saw Aramis Ramirez get back into action, as well as Jean Segura banging out two runs. Nori Aoki got thrown out stretching a double into a triple, and the Brewers beat the Indians 4-3. But we also spent the game with our old friend from Phoenix, his wife and his two little kids. It was a pretty family-friendly day.
After the game, we checked into the Hotel Palomar in downtown Phoenix, a Kimpton place.  If this foreshadows the new hotel coming to the Third Ward, Milwaukee is in for a treat. The boutique property is gorgeous, with modern styling and a stunning third-floor pool. It's definitely in the top five coolest hotels I've visited in Arizona, and the bar is set pretty high.
A little inflated from the energy of this place, Eron and I took our weary bodies outside for a slow two-mile run around downtown. We circled both Chase Field and the USAirways Arena. Even though I was still operating on three or four hours of sleep from the night before, it's hard to not run when the temperatures are in the mid 80s. (It was a dry heat.)
There was little time to cool down, though, since we had dinner reservations at Copper Blues, inside the CityScape complex, almost a more laid back version of City Center in Vegas with a collection of restaurants, bars and shops connected by open air courtyards and escalators.  Neighborhoods like this have really changed the landscape of downtown Phoenix over the last decade.
Copper Blues was a lot of fun, too. A brew "rock"  pub with an emphasis on nearly wall-to-wall live music perched behind and atop the beer taps, we sampled some Phoenix beers and a whole bunch of appetizers. I probably didn't need my turkey burger entree (which was quite good), but I wisely refrained from even tasting the half pound of bacon with maple syrup for dipping, endearingly called "Pig" on the menu, that the group ordered for some unknown reason.
After dinner, our Phoenix friend took us a on an impromptu light rail pub crawl. We'd talked about this idea for several years, but having never stayed downtown, it never happened. Phoenix has a new and efficient light rail system that is popular with locals as well as tourists. Impeccably clean and quick, it was also very inexpensive, a day pass costing only $4.   After we railed from bar to bar to bar,  we jumped the track and walked to some vibrant places that I'm sure didn't exist last time I spent time in Downtown Phoenix. It made me sad that Milwaukee will probably never have a rail system like this.
I'd even say that this neighborhood, called Roosevelt Row, straddles hipster and art scene, but not exactly in a way like Milwaukee does. For all the times that we've spend in Scottsdale and Tempe, it was fun to see the heart of Phoenix.
And of course, the night finally wrapped up around 2:30, which means I'm again writing on five hours of sleep. Luckily, I have co-conspirators to help me fine tune.  This isn't a very sustainable long-term plan.
Today, it's more baseball at Maryvale, then dinner in Scottsdale, followed by the Old Town St. Patrick's Day block party. It's a hectic desert pace, but I love it.
Facebook comments
Disclaimer: Please note that Facebook comments are posted through Facebook and cannot be approved, edited or declined by OnMilwaukee.com. The opinions expressed in Facebook comments do not necessarily reflect those of OnMilwaukee.com or its staff.
Recent Articles & Blogs by Andy Tarnoff