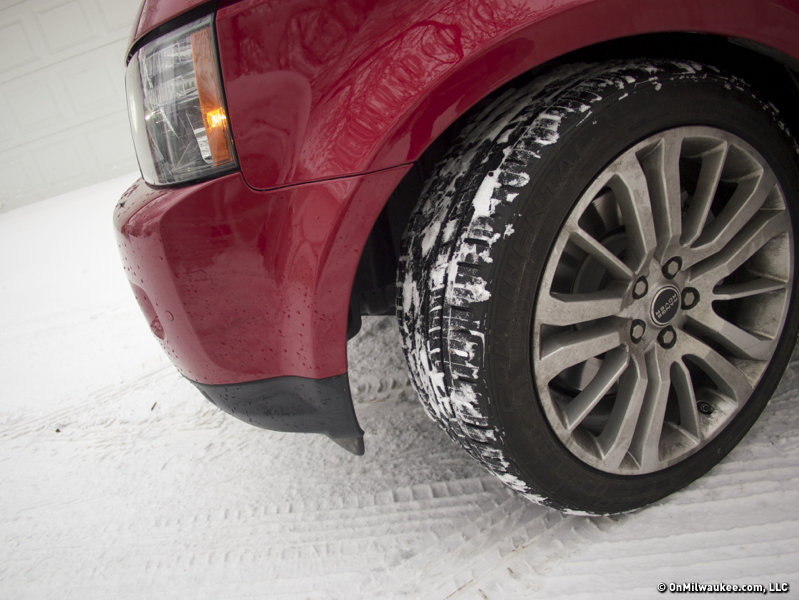 I just spent a few weeks with the amazingly capable Range Rover Sport.
Wow. Just wow.
For this latest vehicle Fields Group in Waukesha offered me for review, it took me about one day to go from ambivalent to adoring of this beast. Just like the Range Rover Evoque before it, it may not be love at first sight, but it doesn't take long to appreciate what the Sport brings to the table.
At first it felt huge and hulking, but I quickly became acclimated to this incredibly powerful, luxury vehicle. In fact, I hated to give it back.
While I really liked the Evoque, the Sport is, in many ways, its opposite. Yes, you'll see similar acceleration, but at twice the weight. The Evoque is styled like a concept car; the Sport is fitting of the British Secret Service.
The biggest similarity, really, is how both cars chew up snow and spit it out. I claimed the Evoque was the best car I've ever driven in the snow, but that was before I drove the Sport.
This is a serious SUV for serious drivers, and it comes with a serious price tag. While the base can be had for $60,045, the car I spent three weeks with checked in at $67,595 – the premium wood, audio and luxury interior pack increase the MSRP. That's a lot of money. But check out these numbers:
The Range Rover Sport boasts a 5.0 liter 375 horsepower naturally-aspirated V8 engine that growls. It produces a balanced 375 foot pounds of torque. It can tow 7,716 pounds and offers 71 cubic feet of space when the back seats are folded flat. With its "command" seating, you ride very high. And, for a truck of this size, it doesn't perform horribly in terms of mileage, either. With an estimated 13 MPG city and 18 highway, I averaged 15.1 MPG in mixed driving over the span of about 500 miles. All this for a truck that can drive through 27.5 inches of water – up to the top of its tires.
Depending on what demographic you fit in, you'll either like or love the interior. I fall into the "like" category, since the 2013 Range Rover Sport hasn't received the Evoque's interior makeover yet. That means a smaller touch screen and more buttons that, two years ago, would've seemed cutting edge. Now, they're a little more conservative – as is this entire leather-wrapped SUV – which makes sense because most owners are several years older than me.
Still, the Sport is loaded with technology, but not in an in-your-face sort of way. Its intuitive parking assist tool makes it a breeze to guide this 6,700 pound boat into tight fits (like my garage). You can toggle the drive mode for your terrain – remember that Range Rover serves a global audience – and during this winter's only hint of a blizzard, it ate the snow for breakfast.
No matter how hard I tried, I couldn't make this car lose its footing.
A lot of the other bells and whistles from the Evoque are present here, too. The little things matter so much to me, like the tiny heated coils in the front windshield that defrost quickly. Or the extremely accurate voice recognition. Or the suspension that can lower substantially to make it easier for kids or shorter adults to climb in and out. This you have to see to believe.
Standard features include pretty much power everything, GPS, Bluetooth audio streaming, power tailgate, a 380 watt 11 speaker audio system (this car was upgraded to 825 thumping watts) and much more. The base version of this truck is more decked out than most luxury vehicles when loaded.
The only hiccup in my experience had an unexpected silver lining. On the last few days of my evaluation, the driver's side windows and electronic seat position stopped working. Yes, this car had maybe 2,000 miles on it, and no, one doesn't expect a blown fuse or whatever felled its electrical system (as the owner of a '75 MGB, I had to laugh about the misunderstood stereotypes of British electrical systems), but every car in the world can encounter a fault.
But here's the positive: the dealership bent over backwards to remedy the problem. They offered to send one of the salespeople or even the manager over to pick up my car at work – all the way from Waukesha – and take the Sport back. They planned to send me another car while they worked on this one.
And this is after they dropped off, at my office, the garage door opener that I left in the Evoque. Lest you think I got special treatment for this evaluation, I can assure you that I did not. Every day, Fields services its customers like it's a relationship. When they are selling cars this expensive, they have to. I've bought several relatively nice cars before at dealers I won't mention here, but I've never seen an approach like this.
To be more concise, even though I tell every dealership that has asked me to review a car that my evaluation will be honest, Fields had little to worry about this time around. The Range Rover Sport and the entire experience of working with this dealer have been top-shelf.
As far as I'm concerned, the Range Rover Sport is one year away from being the most refined, sophisticated and competent full-sized SUV on the market. When the Evoque's ergonomics make their way to this truck, look out. Maybe the BMW X5 is close, but nothing on the road in this class looks better. And while I haven't driven every SUV on the road, I'd be surprised if any of them drive better, either.
Facebook comments
Disclaimer: Please note that Facebook comments are posted through Facebook and cannot be approved, edited or declined by OnMilwaukee.com. The opinions expressed in Facebook comments do not necessarily reflect those of OnMilwaukee.com or its staff.
Recent Articles & Blogs by Andy Tarnoff