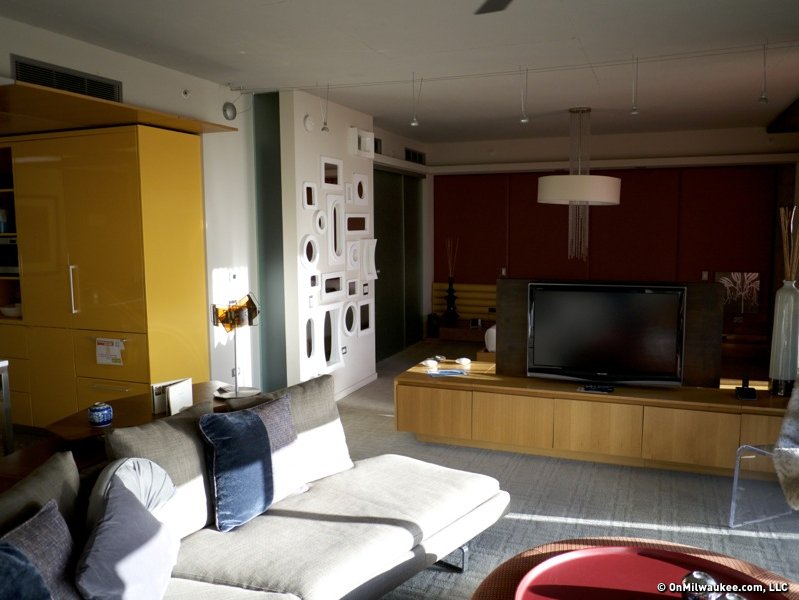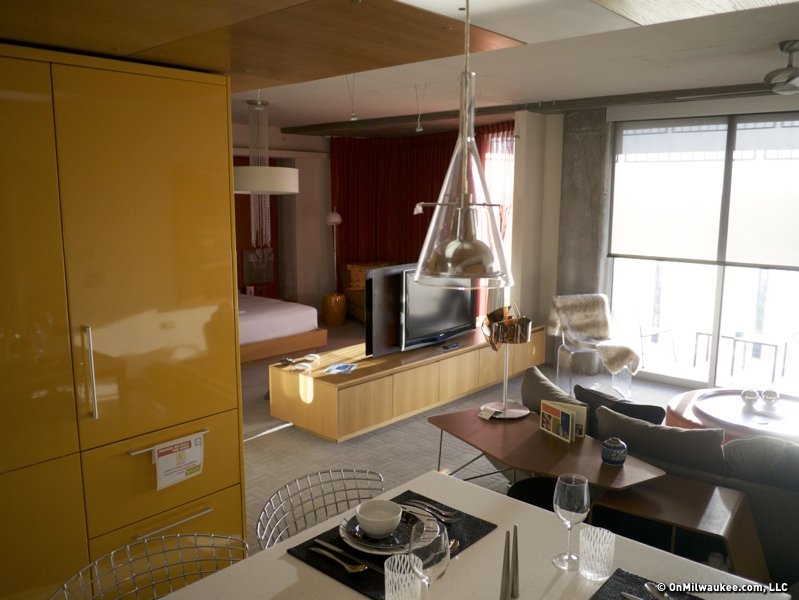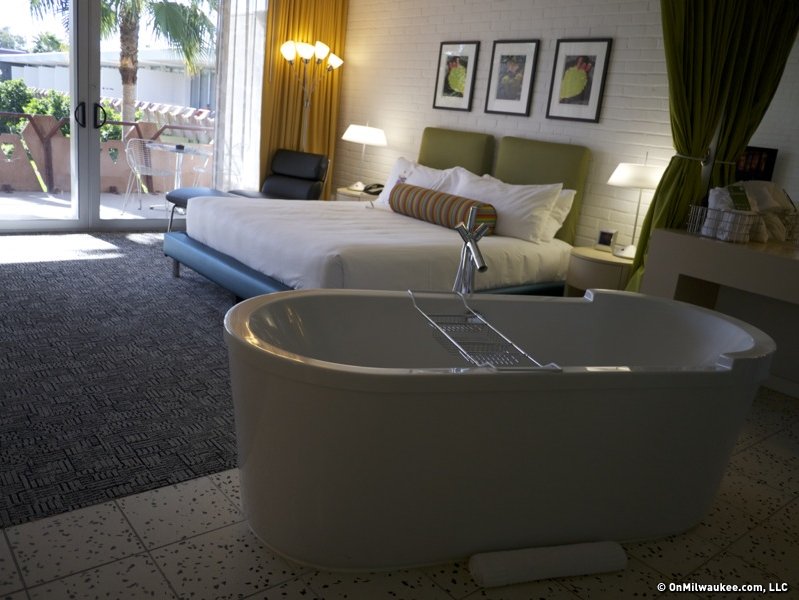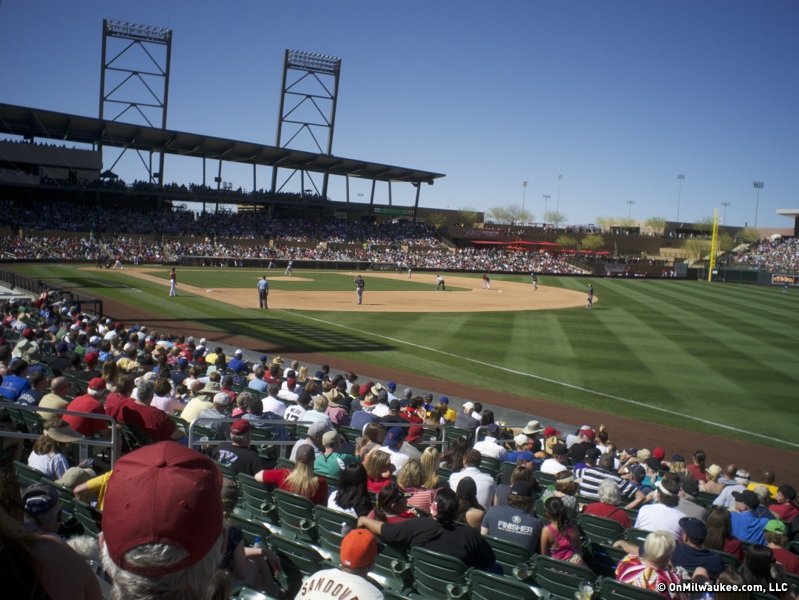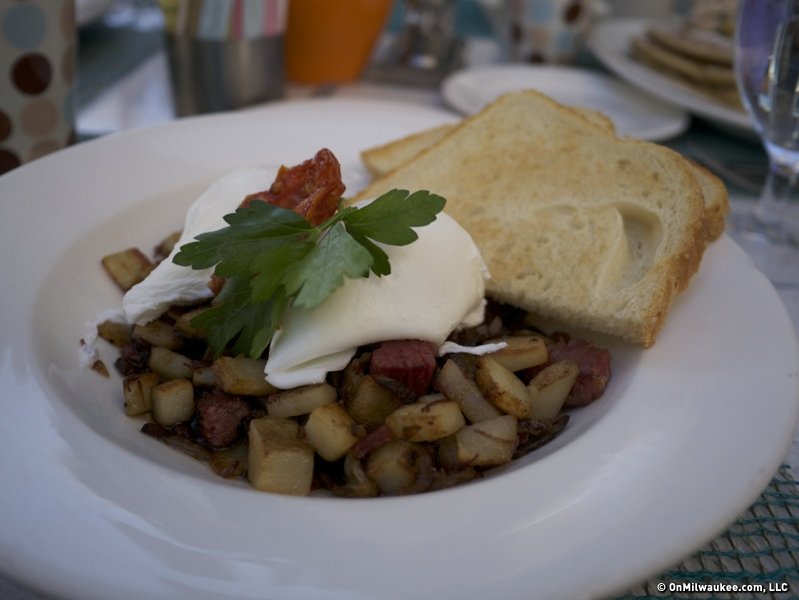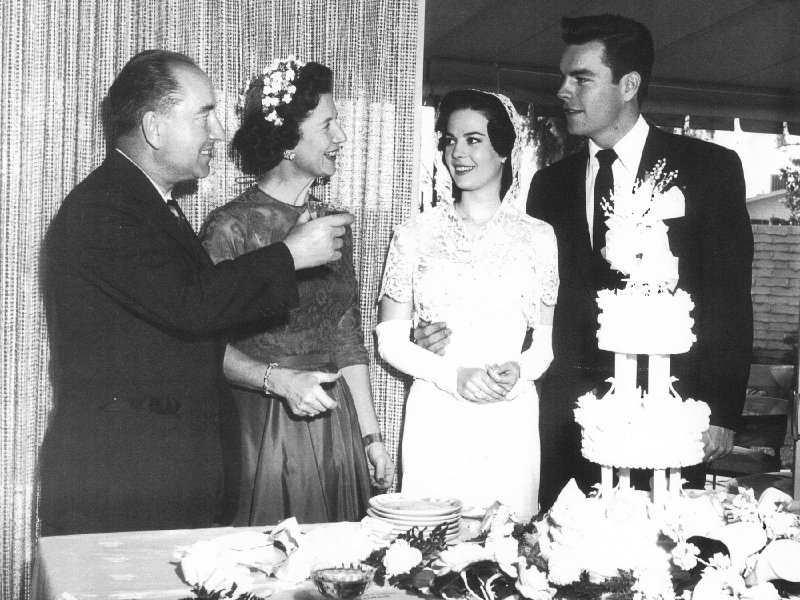 SCOTTSDALE, ARIZ. – When I last left off, it was Saturday night in the desert and we were starving. After a little pool time at the Camelback Inn, we headed to Old Town Scottsdale to see what awaited us.
For dinner, we revisited the Brat Haus, which pretty much makes sense, given its perfect location, and, of course, sausage. When we ate there last March I thought it was good but maybe not great. Saturday, my spicy brat was excellent – but different than how us Milwaukeeans eat them. More char-grilled, this place is a solid choice for visiting Midwesterners. And if you're not a sausage fan (is that possible in Wisconsin?) there are some other great menu choices from the schnitzel sub sandwich to garlic Belgian fries.
We only visited two Scottsdale bars on Saturday – part of my goal on this trip has been to simplify a little and savor – but they were two old favorites. First, we checked out Coach House, the oldest bar in Scottsdale, which isn't really saying much. Then, we walked over to Dos Gringos, a name you've probably heard me mention many times if you read my articles and blogs.
Sunday morning, we said farewell to the Camelback Inn, and got to Salt River Fields at Talking Stick very early (for a change) to the already sold out Brewers-Diamondbacks game. This spectacular stadium that the D'Backs share with the Rockies, reminds me just how insufficient and dilapidated Maryvale seems in comparison. Obviously, the Crew will never get anything like Talking Stick, but if the Brewers plan to stay in the Cactus League (and I hope and pray that they do), they will need to come up with a plan more befitting a team that's striving for World Series rings again someday.
Because the game was sold out, and our press passes aren't exactly tickets, we watched the game from the packed, sizzling hot outfield berm. Khris Davis' booming home run landed three feet in front of me, and Yovani Gallardo had a strong outing before the Brewers lost, 6-5. He helped his own cause, too, with an RBI single.
Remember, the scores don't matter so much out here, which is why it was a little weird that Ron Roenicke got tossed for arguing a play at the plate in the ninth. But I guess the managers are practicing their own skills here in spring training just like the players.
Sunday afternoon we checked into the Hotel Valley Ho, and I have officially solidified my opinion that this is my favorite hotel, anywhere. We stayed here several years ago, but not in rooms like this. My suite (which wasn't comped, but we paid a reduced media rate) is not only larger than my first apartment, it is decorated significantly more nicely than anywhere I've lived.
My Tower Suite looks like something out of an architecture magazine, which gorgeous high end mid-century modern design. In fact, this particular room has a full kitchen, washer and dryer, and other amenities that make it suitable for a long-term visit. That only fuels my daydream of a permanent spring training season that I stay here to enjoy forever. Furnishings at the Valley Ho come from places like Design Within Reach really give it that vintage '50s feel without sacrificing comfort and luxury. There is no amount of gushing that could adequately describe how nice this room is.
But that's just part of HVH's charm. The pool scene reminds me of HBO's "Entourage." Beautiful people lounging about – mostly San Francisco fans, really – we met tons of cool folks in the hot tub, including some front office people from the Giants, who let us try on their World Series rings. It was pretty perfect.
This morning, we met Kristin Heggli, who does the hotel's PR, for breakfast. We talked history, which there's plenty of at the HVH. Wander the halls outside the executive offices on the second floor and you'll see vintage photos of famous guests from yesteryear. Robert Wagner and Natalie Wood, who were friends of the owners at the time, held their wedding reception here.
In 1973 the hotel was purchased by Ramada and the '50s look was scrapped for "classic" '70s decor. But don't worry, when the current owners took over in 2002 they initiated an $80 million project to restore HVH to its mid-century glory. They even got permission to build a new tower in 2008 that exceeds Scottsdale's building height limit, and the new tower rooms closely adhere to the classic design of the rest of the property.
We were lucky enough to take a tour of the different styles of rooms. My takeaway: during high season, HVH can get pretty expensive, but it's not always. Rooms can occasionally be had for less than $100. You owe it to yourself to stay here if you ever visit Arizona. If only for the amazing smelling soap, Icelandic Moonflower, from Red Flower. Go ahead and laugh, but I'm not kidding.
Soon, we'll check out and head over to Maryvale for one more Brewers game, then it's back to Scottsdale to check into The Saguaro for our final night. I've made this trip so many times, but it's shaping up to be one of the absolute best. For more photos, and extra nuggets, check out my tweets and Instagram photos.
Facebook comments
Disclaimer: Please note that Facebook comments are posted through Facebook and cannot be approved, edited or declined by OnMilwaukee.com. The opinions expressed in Facebook comments do not necessarily reflect those of OnMilwaukee.com or its staff.
Recent Articles & Blogs by Andy Tarnoff