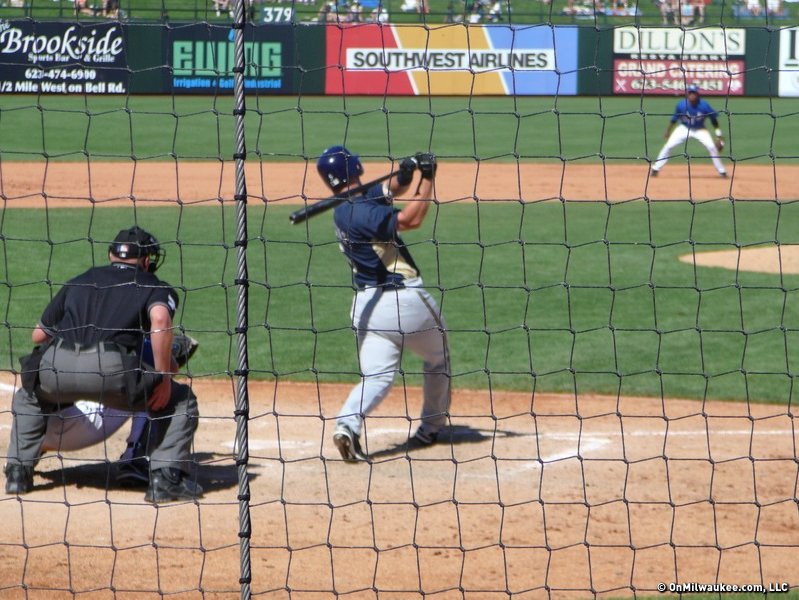 Each March, before I flee Milwaukee and head to sunny Arizona for Brewers spring training, I make myself an informal checklist of what questions I'd like answered on and off the field.
This exhibition season, many questions loom large. Coming off an extremely disappointing year, Brewers' owner Mark Attanasio will spend a record amount to field this team, and we still don't who will man first base.
So, while I'll only see four games during my time out there, March 14-18, it will still be enough time to form some opinions. These are my questions I hope to answer. And if you have some, let me know. I'll report back from Maryvale this weekend.
Who's on first? I wasn't overly enthusiastic when I learned of the Mark Reynolds signing, but I have an open mind. My sentimental side is rooting for Lyle Overbay, who did nothing but hit doubles last time around. But he's quite a bit older. His defense remains sound, but how does he look at the plate? And what about the strikeout-prone Juan Francisco? Did the coaches really fix his swing?
K-Rod distraction? In a way, I'm glad that Francisco Rodriguez is back for yet another hitch with the Brewers, but I'm not sure he's great for bullpen morale, especially if the team is banking on Jim Henderson as the closer of the future. Henderson said all the right things about K-Rod, but he did allude the reputation K-Rod had in Baltimore last year as last to arrive, first to leave. I'll keep an eye on their body language when together.
Which Weeks? Maybe no one else does, but I still believe in Rickie Weeks. When he's healthy, I'm confident that he's a real quality player. Still, he's running out of chances, and he's so, so streaky. Could this be the end of the line for him? Maybe this spring will answer that question.
Braun's sense of humor? I remember a spring training game in 2012 against the Angels in Tempe, when Anaheim fans were heckling Ryan Braun mercilessly. Between innings, he overthrew the guy he was playing catch with, and the ball almost sailed into the stands. The crowd went nuts, screaming about steroids, of course, and Braun actually laughed. But this was before he was suspended. How is Braun handling the hecklers now? It will only get worse.
Maryvale decay? By now, the Brewers' ballpark is definitely the worst in the Cactus League. While it has a certain charm and is undergoing some renovations, I'm concerned of reports of stray dogs running amok. That can't be good. But …
How cute is Hank? I seriously can't wait to meet this little guy. I'm a dog lover, especially of strays, and Hank is a wonderful success story. While this has nothing to do with baseball, I want to meet him, pet him, and take my picture with him. Yes, I'm that guy.
Talkbacks
TosaJim | March 12, 2014 at 6:38 p.m. (report)
K-Rod stepped on a cactus?...what? Does he run around barefoot? And does anyone really think he was delayed because of a visa problem?....he's going to be a big distraction and a bigger disappointment.
brewerfan13 | March 11, 2014 at 12:38 p.m. (report)
Hank is just as cute as the pictures you've been seeing. He's a sweet pup. Didn't notice fans heckling Braun while I was there, but it was pretty early in March and the crowds were light at Maryvale (still a great stadium in my opinion, but all I need is a patch of grass, a hot dog and a Summer Shandy). Go to US Egg for breakfast and get the protein pancakes. You will not be disappointed.
Facebook comments
Disclaimer: Please note that Facebook comments are posted through Facebook and cannot be approved, edited or declined by OnMilwaukee.com. The opinions expressed in Facebook comments do not necessarily reflect those of OnMilwaukee.com or its staff.
Recent Articles & Blogs by Andy Tarnoff