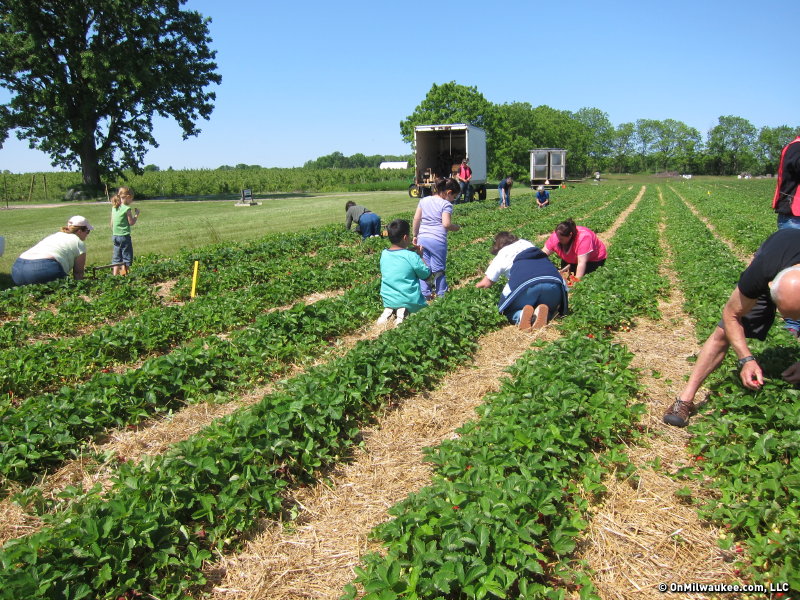 One of my fondest memories as a kid was picking strawberries and raspberries with my mom, sister and grandma. And, even before my daughter was born almost four years ago, I daydreamed about the time when she'd be old enough to pick fruit on a farm with me.
Conveniently, my daughter is going through a "barn" phase right now. She loves to look at barns, the older and more run down the better. So I was easily able to woo her to pick strawberries Saturday at Barthel Fruit Farm, 2246 N. Farmdale Rd. in Mequon, by promising her there was a barn on site.
This weekend was the first opportunity to enjoy the strawberry harvest, which will continue for a few weeks. And it was just about as fun as I remembered.
What I didn't remember is how early you have to get to the farm, since picking ends when the day's supply is gone. Barthel's opens at 7 a.m., and we arrived at 10:15 a.m. The picking hotline couldn't tell me if they'd still be open this late, so we made it to Mequon as quickly as possibly. Fortunately, there were plenty of of berries left to be picked – especially considering my daughter's attention span for plucking strawberries lasted about 20 minutes.
But she was certainly old enough to grasp the concept: Look for the biggest, reddest strawberries and throw them in the basket. Eat a couple along the way to make sure they're sweet (and they are). Stay in your lane. Be gentle with the fruit.
By the end, we had accumulated around two pounds of strawberries, setting me back about $5 and change. I probably spent more in gas than on fruit, but it was well worth it.
Of course, I had to hold up my end of the bargain on the barn part, too, so after our brief stint as berry farmers, we wandered around the barn, looking in windows and lingering about.
On the ride home, I asked my daughter what her favorite part was. "The barn," she replied, obviously. Her second favorite part was eating the strawberries.
For me, I can't pinpoint just one favorite part, because getting to relive one of your favorite childhood memories through your own child is the best part of parenthood. That my kid told my wife to stay home – "This is more of a daddy activity," she declared – made it even more special.
The father-daughter events at this age melt my heart. And now we have plenty of strawberries frozen to remember this event for a long time to come. We'll be back for the apple harvest this fall.
uerawdts
Facebook comments
Disclaimer: Please note that Facebook comments are posted through Facebook and cannot be approved, edited or declined by OnMilwaukee.com. The opinions expressed in Facebook comments do not necessarily reflect those of OnMilwaukee.com or its staff.
Recent Articles & Blogs by Andy Tarnoff
uerawdts