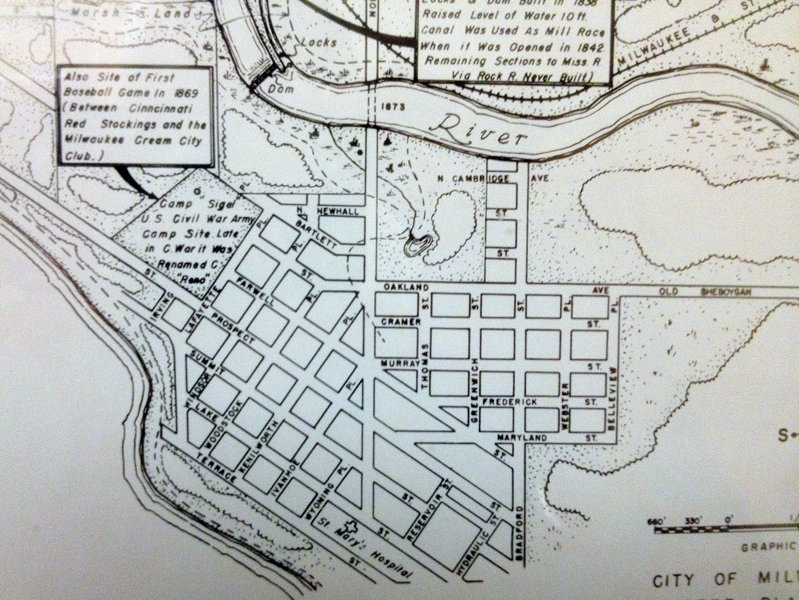 Go ahead and chuckle. It's true. My life has devolved into an arcane search for the minutiae of Milwaukee history, much of it of the hyperlocal kind.
But just when I think no one cares about this stuff, I'm proved wrong. Milwaukeeans are eager to know the history of their homes, their neighborhoods, their schools, the city around them.
The other day, a plaque caught my eye and led to a fury of activity and an article – about one single corner in the city – that will run here in a couple weeks. A co-worker was enthusiastic about it.
The day after that, I posted an image from a Sanborn map to my Facebook page with a note about how MPS expanded its playgrounds in the 1920s and that drew a number of interested comments. One of the images I followed with was of the site of Fernwood Montessori, which at the time of the 1910 map, was home to District 3 school in the Town of Lake. Two small structures nearby on the map appear to be outhouses. More comments.
Yesterday, someone tipped me off to the Wisconsin Historic Aerial Image Finder site, which has great 1937 images of the city. While the images in parts of town built earlier are fun, the real action is in the images shot in the parts of the city that sprung up later. For instance, I posted one photo to Facebook showing early development in Gale Crest (now Enderis) Park, with nothing but empty space to the west and northwest.
More comments.
One of my current ongoing searches is for maps from the 1860s, 1870s and early 1880s that might show the siting of the earlier schoolhouses on the current Maryland Avenue Montessori School property.
Yesterday, I happened upon a map of 1870s Milwaukee hanging on the wall in the hallway of the Common Council offices on the third floor of City Hall. While the map shows schools, for some reason it doesn't show the Murray School on Maryland Avenue.
But there's lots of fun stuff there anyway as you can see in the images above.
Across from the Maryland Avenue School prope…
Read more...