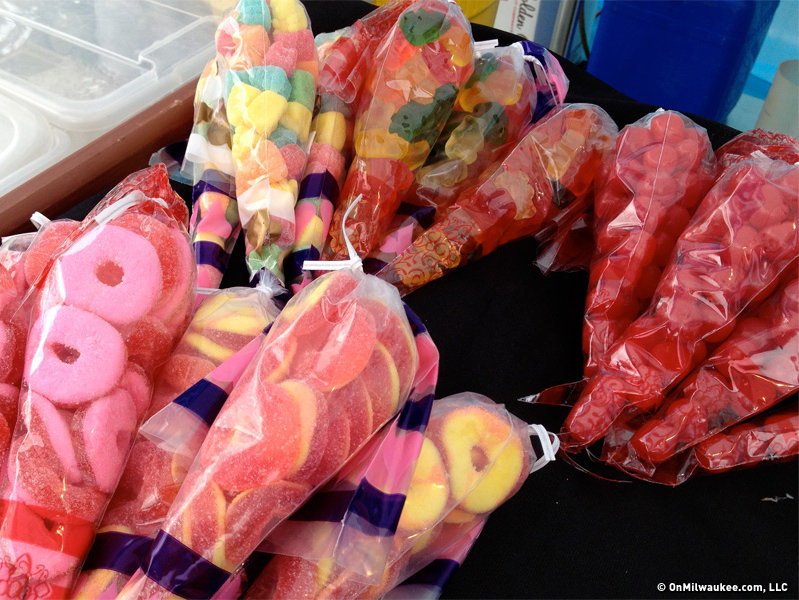 You've had mozzarella sticks, topped them off with eggplant strips, maybe a brat and washed it all down with a beer. It's dessert time at Summerfest and luckily, there are sweets all around – healthy and not so – to make your festival feast complete.
Here are nine great options:
If you enter at the North Gate you'll be greeted by the eye-catching booth erected for Sil's Mini Donuts. Yes, you heard right. Sil's is here at Summerfest. Though the alluring scent of mini donuts has disappeared from North Avenue, you can still experience it at the Big Gig.
Dippin' Dots. You can get the ice cream of the future at a number of booths around the grounds. There's one across from the Johnson Controls World Sound Stage near the north end and another on near the south end, too.
Just up from the north end Dippin' Dots is a roasted nuts vendor selling cinnamon roasted almonds, cashews or pecans, cotton candy, sugary candies and salted cashews for ($5 and up).
Just south of the Mid-Gate is Catalano's Fresh Fruit, selling fresh grapes, strawberries, melon and other healthy sweet treats. They also have fresh squeezed orange juice if you wake up some morning to find you spent the night sleeping in the splash pad after a rough night at the Big Gig.
Just a bit down the road apiece, south toward the Miller Lite Oasis, is Sciortino's stand, selling cannoli, eclairs, tiramisu, Italian cookies, brownies and gelato. You might as well just stop here because it gets no better than this ... at Summerfest or anywhere else.
Kitty-corner to the southeast, facing the Miller Oasis is Cedar Crest, selling sundaes, malts, shakes, cones and dishes of Sconnie-made 'scream. Prices range from $2.75 for a single scoop dish to $5 for sundaes.
Much further south, almost to the Marcus Amphitheater forecourt is Greek Village, where you can nosh delicious baklava for a mere $2.75, perhaps the bargain of the Big Gig.
Near the south end of the Sky Glider, Ultimate Confections has a boo…
Read more...