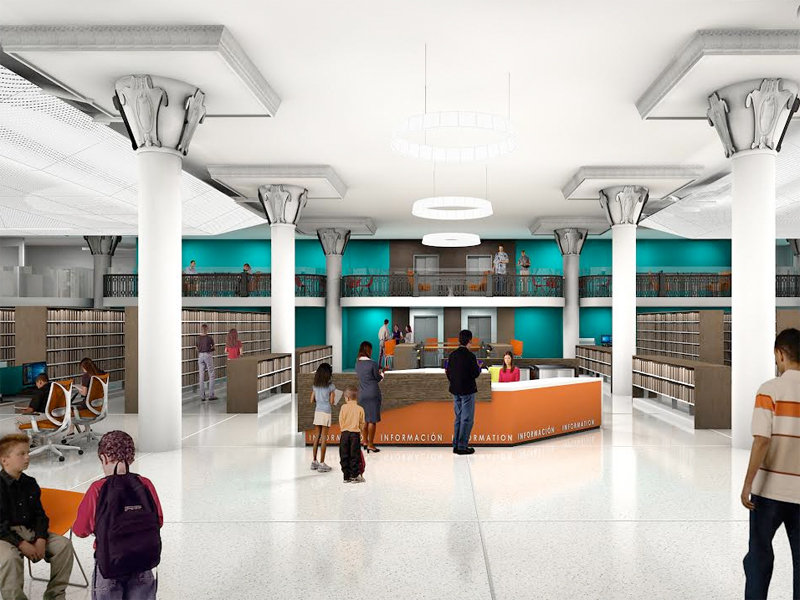 On Wednesday evening, Milwaukee Public Library hosted a community meeting at the Gerald L. Ignace Indian Health Center, on Mitchell Street, about a new branch nearby in the former Hills Building at 906-910 W. Mitchell St.
According to MPL's Sam McGovern-Rowen, about 50 people attended the meeting, including neighborhood alderman Jose Perez and Wisconsin Rep. JoCasta Zamarripa, to hear from library administration – represented by MPL Director Paula Kiely – and representatives of HGA, architects for the project.
The new library would replace the Forest Home Avenue branch, a few blocks west, which opened in 1966.
HGA shared its initial designs and offered an overview of the 22,500-square foot library project, reminding those in attendance that the designs incorporated public input from previous community listening sessions.
"The design was very well received by the audience," said McGovern-Rowen, "so much so that one questioner wondered out loud if the lower level flexible space could be rented out for birthday parties."
After a Q&A session, community members were encouraged to add comments directly onto the images by pasting Post-It notes to copies of the drawings posted on boards.
"I think I can speak for my colleagues at MPL that we are very excited about the design presented by HGA," McGovern-Rowen said Thursday. "They set out to preserve and highlight the historic features of the building while updating the space to accommodate a 21st century, high-tech and flexible library space. I think the design successfully achieves those goals.
"Fitting a library into an existing historic space is a challenge for the architect and our internal design work group. Those challenges presented unique opportunities for the design and programming of the space. For example, the lower level of this library is going to be home to a flexible room that could have a variety of maker space functions – kitchen, video editing, sound recording, etc.
"Another example is…
Read more...