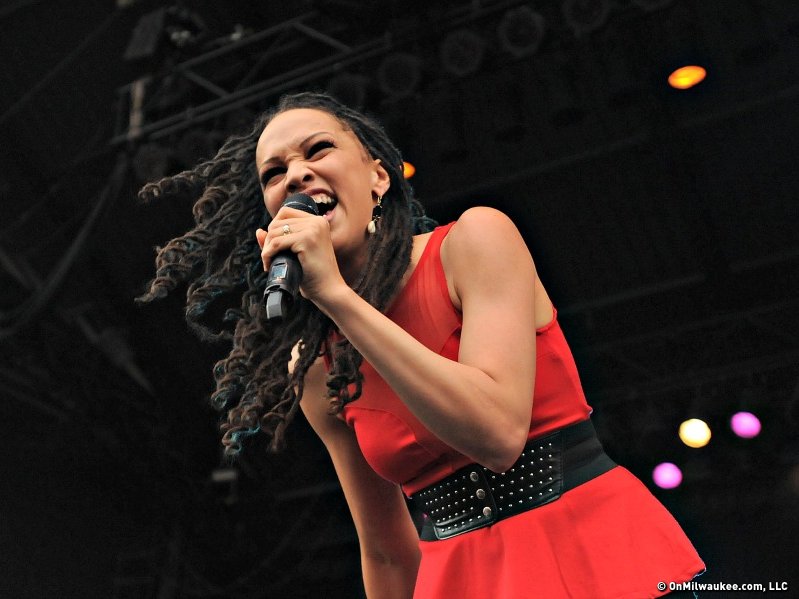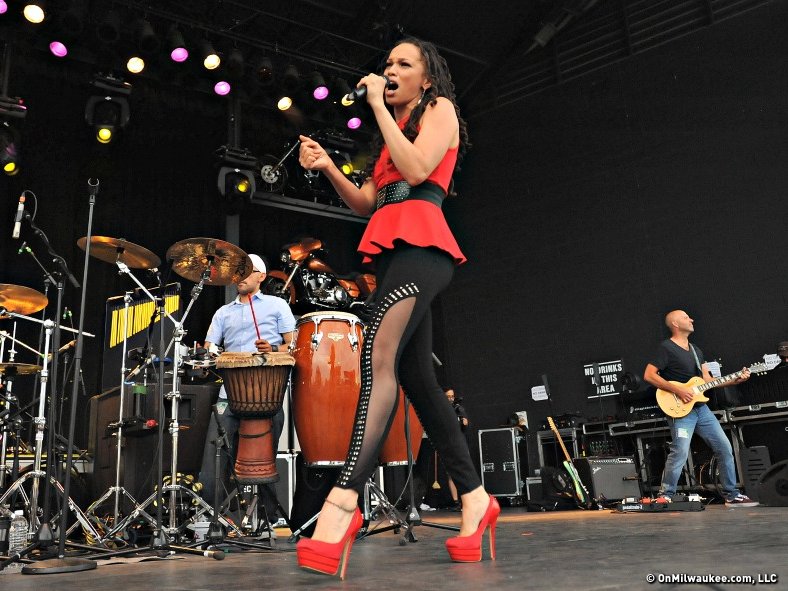 Naima Adedapo, hometown star of "American Idol," used to work at Summerfest. On Saturday night she saw the Big Gig again, but this time as a performer.
During her set she recounted for the audience her days cleaning out dressing rooms, emptying trash bins and cleaning toilets at Summerfest.
"I always visualized myself on the stage and even when I worked there as grounds clean up, I was performing," she told me last week. "I would work until 4 p.m., take off my uniform, jump in my performance clothes and hit the stage at 5 p.m.! But what I will say is now that I have my own band and show, I definitely like this angle a lot more!"
In her performance at the Harley-Davidson Roadhouse Stage, scheduled for 8 p.m. -- but which actually kicked off about 15 minutes early (the first time I've ever witnessed an early start in 32 Summerfests) -- Adedapo was clearly enjoying the view.
In case we couldn't tell for sure, Adedapo performed a rousing cover of Pharell Williams' "Happy" during which the stage filled with dancers, and there was no doubt about her mood.
Adedapo, who splits her time between Brew City and Music City, made a number of references to her new post-"Idol" life in Nashville, where she is currently writing and recording material toward an upcoming release.
Some of that new material was performed Saturday evening in front of what started out as a medium-sized crowd -- reflecting what appeared to be a relatively lightly attended Summerfest at that point of the night -- but that picked up more and more as the 90-minute performance progressed.
One standout was, "#Winning," a tribute to folks like working parents and single mothers who find their hard work pays off.
Adedapo was working hard onstage, prowling from side to side, making eye contact with, and gesturing to, audience members, staging a lively performance and breaking a sweat.
Supporting her was her band, which includes Joe Hite (keys), Jordan Kroeger (bass), the kinetic Olen Franklin (drums), Randy Komberec (guitar), Cecilio Negron (percussion) and backing singers Rodney Cunningham and Joy Bach.
But Adedapo got a little help from some other friends, too, during a cover of Martha & the Vandellas' "Dancing in the Street," when an African drummer and dancers from Ton Ko-Thi dance troupe -- of which her mother is a part -- came out onstage for an African dance interlude before the band segued back into the Motown classic.
The balance of the set continued with a mix of original songs and covers like versions of Sara Bareilles' "Brave" and Alicia Keys' "Girl on Fire."
Adedapo didn't win her season of "American Idol," but not for a lack of charisma, stage presence and talent. On Saturday night all of those combined for the kind of performance that could continue Adedapo's trajectory to broader fame.
Facebook comments
Disclaimer: Please note that Facebook comments are posted through Facebook and cannot be approved, edited or declined by OnMilwaukee.com. The opinions expressed in Facebook comments do not necessarily reflect those of OnMilwaukee.com or its staff.
Recent Articles & Blogs by Bobby Tanzilo